Nurses' Union Sides With Sanders Over Clinton in Democrats' Health Care Battle
The union, which had already endorsed Sanders, took exception when Team Clinton attacked Sanders's single-payer proposal.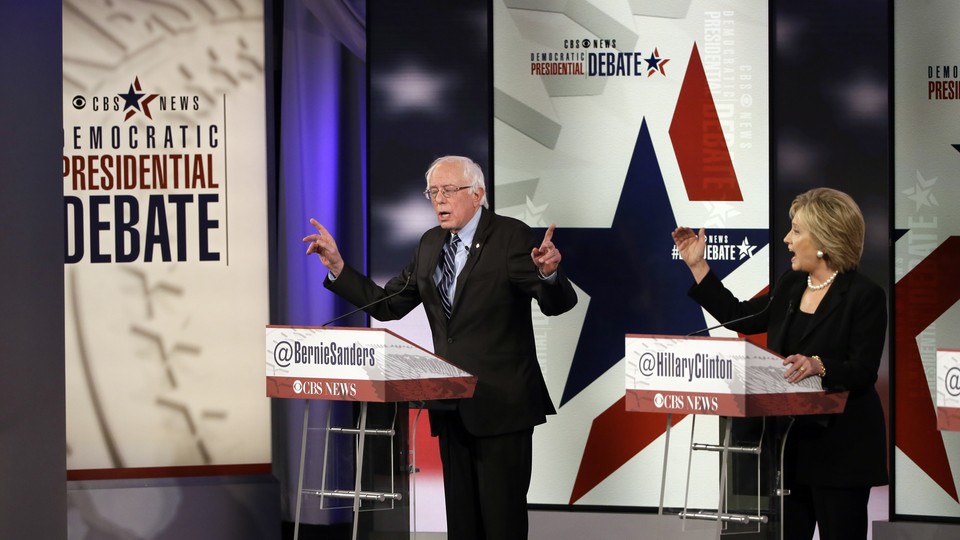 The health care battle between Hillary Clinton and Bernie Sanders intensified Wednesday when a national union ripped Clinton for her criticism of Sanders's plan.
In Saturday night's Democratic debate, Sanders contrasted his plan for a national, single-payer health insurance plan with a more incremental approach from Clinton. And as the work week opened, Clinton's camp struck back, saying Sanders's plan would require large tax hikes for the middle class.
The Clinton attack didn't sit well with National Nurses United, a union of health care workers that had already announced its endorsement of Sanders over Clinton in the Democratic primary.
"Any politician that refuses to finance guaranteed health care has abandoned my patients, and I will never abandon my patients. That's why we support improved Medicare for all, and that's why I support Bernie Sanders," said Jean Ross, copresident of National Nurses United. "While the Affordable Care Act corrected some of the worst injustices in our insurance, profit-based health care system, the work of health care reform is far from done."
Clinton's camp argues that Sanders's plan would hurt middle-class Americans because of the taxes needed to fund it. "Bernie Sanders has called for a roughly 9-percent tax hike on middle-class families just to cover his health care plan," said Clinton spokesman Brian Fallon. "If you are truly concerned about raising incomes for middle-class families, the last thing you should do is cut their take-home pay right off the bat by raising their taxes."
Clinton has aligned with the Affordable Care Act, saying she'll use it as a base and expand on it, particularly its provisions aimed to lower health care costs. Clinton, who worked on health care reform in 1994 during her husband's presidency, conceded in the debate that she had previously supported a single-payer system, but said she has long abandoned the idea. "The revolution never came," she said on Saturday. "And I waited, and I've got the scars to show for it."
Sanders, on the other hand, says Obamacare is a step toward the eventual goal of universal coverage—and he's advocating a single-payer system in which Medicare covers everyone but care would still be delivered in the private sector. Although Sanders introduced a bill creating a single-payer system in 2013, he has not updated the plan during the campaign.
He did, however, hit back at Clinton over her comments on his health care plan.
"In an attempt to divert the public's gaze from Wall Street coziness, the Clinton campaign has launched a false attack on universal health care—something she has previously supported," the Sanders campaign wrote in a statement on Tuesday.
"The Clinton campaign received more contributions from the pharmaceutical industry than any other—Republican or Democrat—through the first six months of the campaign," the statement said. "So, what is this false attack really all about: either Secretary Hillary Clinton is repudiating years of advocating for universal health or she's playing politics with the health of America's families."