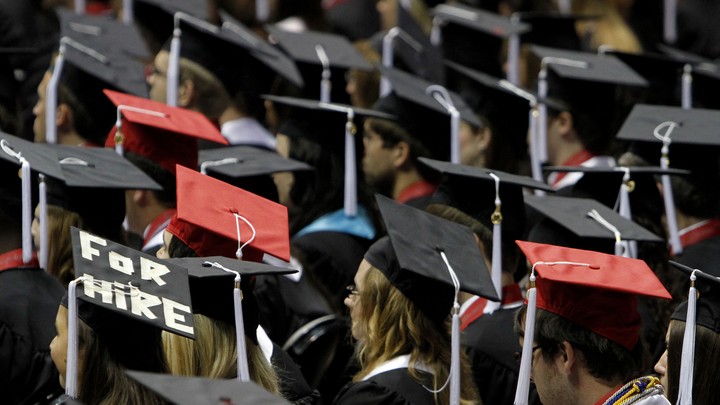 A new survey shows that college graduates now earn higher starting salaries and are less likely to continue on to graduate school. But students split by gender and race on the decision to continue their schooling or jump into the workforce.
According to a new survey from the National Association of Colleges and Employers, men who earned bachelor's degrees in 2015 were more likely to plan to enter the workforce directly after graduation than women. Students of color and international students were more likely than white students to say they planned to continue their schooling. Asians, in particular, reported a growing interest in staying in school than in previous years.
Overall, about 61 percent of 2015 graduates said they planned to enter the workforce, while about 23 percent planned to continue their education. White men (about 63 percent) were most likely to say they were headed for jobs, while Asian-American and multiracial women (about 47 percent) were the least likely to say they planned to join the workforce. White and Latino men (at around 19 percent) were the least likely to say they planned to continue their schooling, while both international men and women (at around 30 percent) were the most likely to plan to stay in school.  
Members of the Class of 2015 are starting their careers with higher salaries than last year's graduates, on average. Those with a bachelor's degree earn an average $50,651, a 5.2 percent jump over last year's average of $48,127, according to the survey.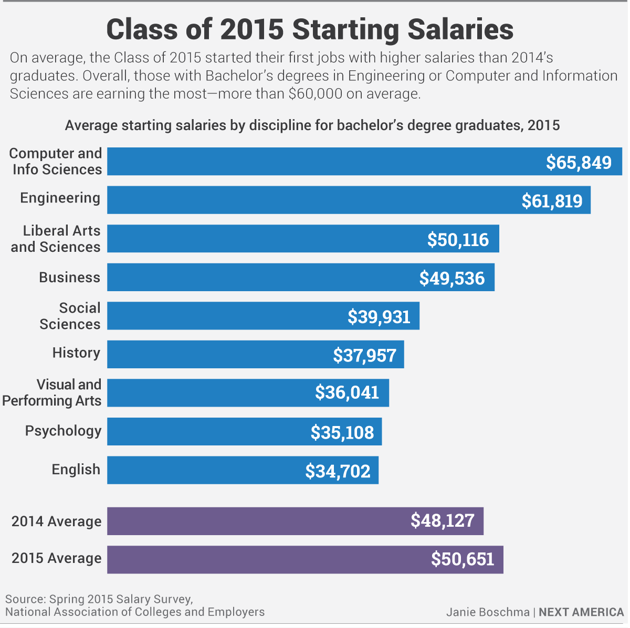 The usual breadwinners came out on top, with those graduating in computer and information sciences or engineering earning more than $60,000. Both high-earning fields are dominated by males, which could suggest why men are more likely to opt into the workforce out of college.
Liberal-arts graduates reported an average starting salary higher ($50,116) than for business graduates ($49,536), though the survey notes that a smaller sample size for liberal-arts graduates limits findings so soon after graduation. (The survey collected data from only 264 liberal-arts graduates compared to almost 5,000 working in business.) English degree-holders earned the lowest starting salary this year, an average of $34,702.
The report notes that the job market for students planning to enter the workforce appears to have improved slightly from recent years. The percentage of students planning to go to graduate school declined to 22.7 percent from around 23.4 percent in previous years. While that likely indicates increasing confidence that there are job opportunities, it may also reflect growing concern about student debt, which has ballooned beyond a trillion dollars in recent years.
This story is part of our Next America: Workforce project, which is supported by a grant from the Annie E. Casey Foundation.
We want to hear what you think about this article. Submit a letter to the editor or write to letters@theatlantic.com.
Emily DeRuy
is a former staff writer at
The Atlantic
, where she covered education.
Janie Boschma
is a former senior associate editor at
The Atlantic.