New Bill Would Ban Warrantless Cell-Phone Tracking
Rep. Jason Chaffetz wants local police to follow the same rules as federal agents for using fake cell towers for surveillance.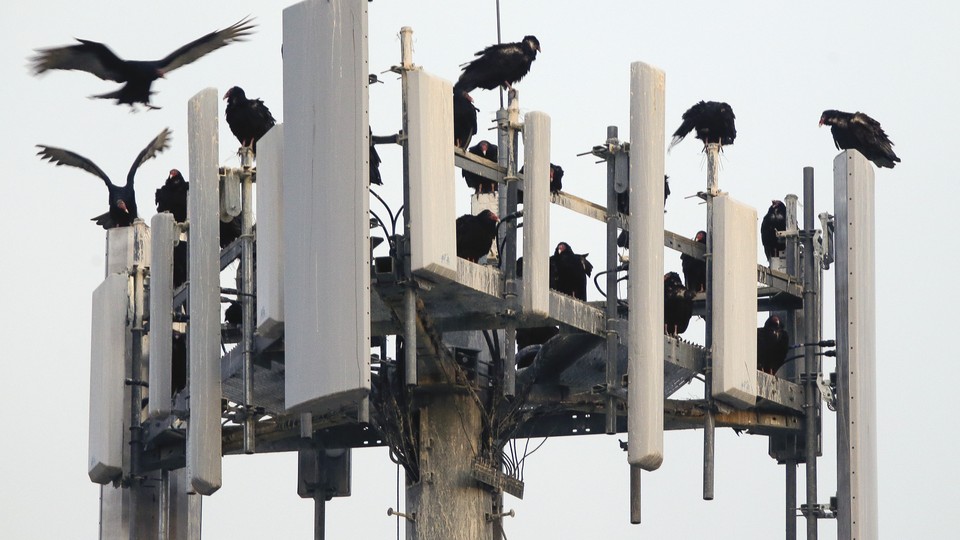 A bill introduced Monday would make it illegal for law enforcement agencies to use a controversial cell-phone surveillance technology without a warrant.
Introduced by Rep. Jason Chaffetz, a Utah Republican, the bill takes direct aim at "cell-site simulators," which are often known by the name of a common model, the Stingray.
Cell-site-simulator technology operates by imitating a cell tower and forcing nearby devices to establish a connection with it. It can then scan all the connected devices to find a target, and use the signal from the target device to find its location.
Since law enforcement use of Stingrays and other cell-site simulators first came into the spotlight late last year, lawmakers and civil rights activists have pushed for more transparency and restraint in their use. Critics have panned the surveillance technology for its dragnet approach to surveillance: To find a target, it must first scoop up identifying information from all devices within range, often temporarily cutting off cell service to bystanders.
Chaffetz's Stingray Privacy Act, which was cosponsored by Democratic Reps. John Conyers and Peter Welch, would extend Stingray policies recently released by the Justice Department and the Department of Homeland Security.
Those policies require most federal law enforcement agents under those departments to obtain warrants before using cell-site simulators. Under certain "exceptional circumstances," however, the Justice Department policy would allow the devices to be used for warrantless surveillance, and the DHS policy carved out an allowance for Secret Service to use them without warrants.
These exceptions are included in the bill introduced Monday; it allows for warrantless Stingray use when required by national security or situations governed by the Foreign Intelligence Surveillance Act, which allows wiretapping of certain foreigners without warrants.
Where the Chaffetz bill builds on the existing policies is in breadth. The policies from the DOJ and DHS leave out all state and local law enforcement—which is where the vast majority of policing takes place—and do not apply to federal law enforcement that operates outside those departments. The new bill would extend warrant restrictions to all agencies.
"The fact that law enforcement agencies, and non-law enforcement agencies such as the IRS, have invested in these devices raises serious questions about who is using this technology and why," Chaffetz said in a Monday statement. "These questions demonstrate the need for strict guidelines that carry the weight of the law."
The introduction of the new Stingray bill comes a week after documents obtained by The Guardian revealed that the Internal Revenue Service purchased cell-site simulators in 2009 and 2012 from the company that produces Stingrays. The IRS is the 13th federal agency known to operate the devices, joining 57 state and local agencies that own and operate their own, according to research from the American Civil Liberties Union.
The day after the tax agency's Stingrays were exposed, IRS Commissioner John Koskinen told the Senate Finance Committee that his agents obtain court orders before using the surveillance technology, and use them only in criminal investigations. He said the devices the IRS used could pick up only texting, not voice communications.
(Chaffetz has repeatedly called for Koskinen to resign, over a separate investigation of his agency's treatment of conservative groups.)
Despite Koskinen's assurances, an ACLU investigation found that Stingrays are capable of more than that. Documents obtained in a lawsuit showed that the devices could intercept voice communications and even turn a target's cell phone into a "bug" to listen in on private conversations.
Neema Singh Guliani, a legislative counsel at the ACLU, said Monday that any legislation should focus on all surveillance technology that reveals targets' locations, not just cell-site-simulator technology. "Congress needs to pass comprehensive legislation that prohibits the collection of sensitive location without a warrant, whether it's by a Stingray or some future technology," said Guliani. "Such legislation needs to exclude the types of loopholes in the Justice Department guidance, which leave Americans' information vulnerable."
The new bill is the second move against warrantless Stingray use from Chaffetz, the chairman of the House Oversight Committee. Chaffetz previously teamed up with Sen. Ron Wyden, a Democrat from Oregon and longtime privacy advocate, on the GPS Act, which would restrict the use of  technologies that can capture individuals' geo-location information.
Chaffetz and Wyden first introduced the GPS Act in 2011. It has never moved out of  committee, but interest in Stingray technology, and ways to keep it in check, have increased lately. Last week, the top senators on the Judiciary Committee, Sens. Chuck Grassley and Patrick Leahy, probed the IRS for information about its cell-phone surveillance—indicating that Chaffetz may find more momentum this time around.