Netanyahu Attempts to Patch Rifts With Progressives
After the Iran deal, the Israeil leader tries to stress shared values with the Left at the Center for American Progress.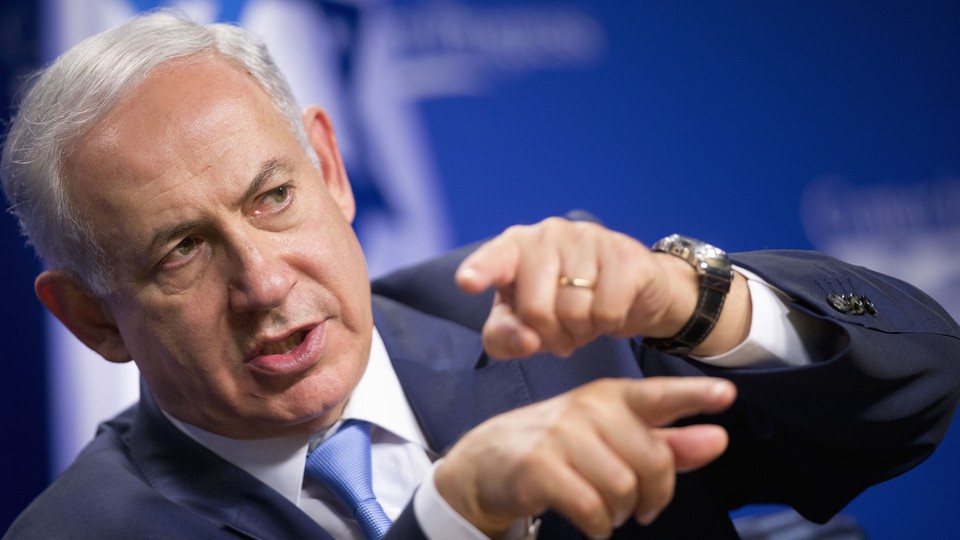 With the Iran nuclear agreement essentially a done deal, Israeli Prime Minister Benjamin Netanyahu came to the United States—and the Center for American Progress—hoping to repair relationships with Democrats and liberals.
As part of a Washington jaunt that also included meeting with President Obama, with whom he has had a tense relationship, Netanyahu earned some positive feedback at the decidedly left-wing think tank.
"While we have disagreed on some issues, including the Iran nuclear deal," said Center for American Progress President Neera Tanden, "we also believe deeply that the U.S.-Israel relationship is vital."
Netanyahu acknowledged the disagreement over Iran but also said he and the Obama administration have no disagreement about the future, including "holding Iran's feet to the fire" by making sure the country lives up to its obligations.
"His only comments on Iran were positive," Greg Rosenbaum, chairman of the National Jewish Democratic Council, told the press afterwards. "He didn't threaten to do everything to undermine the deal."
When asked by Tanden about the future of Israel and whether it would continue to control Gaza and occupy the West Bank, Netanyahu stressed the need for a Palestinian state that is not committed to Israel's destruction and that there be an Israeli security presence in case a Palestinian state is taken over by extremists.
The White House has seemed to acknowledge that peace prospects are dim for Obama's term in office. Last week, an administration official said the White House recognized that the prospect for two-state solution is "not in the cards in the time that's remaining."
Dan Shapiro, U.S. ambassador to Israel, who attended the Netanyahu event, said the administration will continue to advocate for a two-state solution.
"But we recognize that it may be difficult to achieve in the near term," Shapiro told National Journal. "Therefore, we look to all parties—Israelis, Palestinians, and others—to take steps on the ground that can at least point in the direction of that transition."
All of the senators who supported the Iran nuclear deal were Democrats, and a number of Democratic lawmakers—angered that then-House Speaker John Boehner had invited Netanyahu to make a joint address to Congress without consulting with the White House— skipped his speech earlier this year.
Still, Netanyahu stressed Tuesday that he wanted support for Israel to be a sentiment that transcends partisanship in the U.S.
"I think it is vital for me that Israel remain an issue of bipartisan consensus," he said in his opening statements. When he could, Netanyahu attempted to highlight areas where progressives might applaud Israel, such as women's rights and gay rights, and contrasted that with Iran's treatment of LGBT people.
Matt Duss, president of the Foundation for Middle East Peace, who was once a policy analyst at CAP, said it is clear what Netanyahu's goal was in addressing the organization.
"It's to kind of demonstrate to Israeli voters that, despite the fact that he had been working against President Obama's agenda quite openly and that he had been criticized for undermining the U.S.-Israel relationship, this is his way of showing that it's all fine," Duss told National Journal before the event.
Former Obama adviser David Axelrod, who also attended, praised Netanyahu for speaking to the organization.
"The fact is there's always been a broad American consensus and support for Israel," Axelrod told National Journal. "I don't think concerns are resolved in one visit, but I strongly disagree with the notion that there shouldn't be dialogue."