Nashville's Case for Progressive Immigration Policy
How Nashville shed its anti-immigrant past to become one of the most welcoming cities in the country.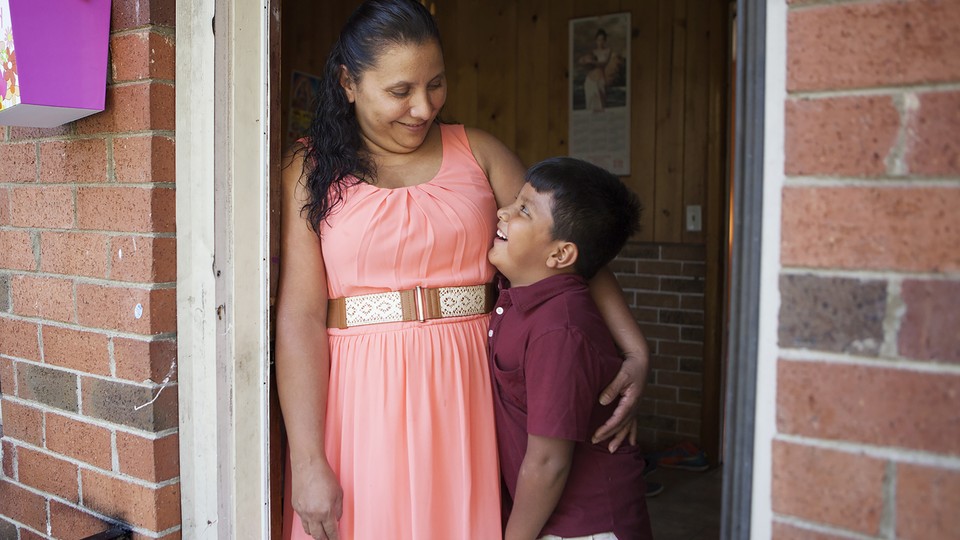 NASHVILLE—Juana Villegas pushed her son out into the world while she was shackled to a hospital bed.
Seven years on, Gael sometimes asks, "Mom, why were you crying?" as he looks through old newspaper clippings that recount some of the details. "What happened?"
Sometimes Villegas will let herself talk about it, about holding him with one arm as the other was handcuffed to a hospital bed, under the suspicious gaze of a police officer. Gael knows as much as a little boy can possibly know about such circumstances. But he doesn't quite understand why his mom was treated like a dangerous criminal.
The Arrest
Juana Villegas saw red and blue lights in her truck's rearview mirror. What had she done? Her mind raced with possible reasons for being pulled over. Did she forget a turn signal? She wasn't speeding. Was one of her taillights out? She didn't blow a stop sign. Her windows weren't tinted. The police cruiser was driving from the opposite direction. What did the officer see?
It was an 89-degree July day in 2008 on a South Nashville residential block when Villegas was pulled over for "careless driving." The officer saw something that warranted a traffic stop. Her three children were restless, having just spent some of their precious summer day in a prenatal clinic with their mom, who was nine months pregnant, just a few days shy of giving birth. Her children are Americans. She was an undocumented Mexican immigrant who had been living in the U.S. since 1994. Davidson County, which encompasses the Nashville metro area, was a U.S. Immigration and Customs Enforcement 287(g) jurisdiction, which effectively meant any undocumented immigrant could be deported for a minor traffic violation.
As she waited for a friend with a license to come take care of the children, the officer, Tim Coleman, who's shown in a police-car video, grew increasingly frustrated by the language barrier between him and Villegas.
"Give your baby a kiss," the officer told her. "Kiss your baby. You are going with me to jail, carcel. You don't have a driver's license."
Villegas didn't speak much English. When she was pulled over, her 14-year-old son Broyer translated for her. But as she was led to the police cruiser, she reached out her hand to her children, looked to the officer, and said in limited English, "No, please, no." Tears carried her fear of being deported. She'd been deported before after entering the country illegally in 1997. But in the 10 years since arriving in Nashville, she had never encountered law enforcement.
She didn't kiss her children goodbye. She was put in the police car, the crying of her children muted by the slamming of the door as she was driven off to the jail in downtown Nashville.
The traffic stop was routine in Nashville back then. Just a year earlier, Davidson County adopted the controversial deportation program which allows local law enforcement to ask about immigration status. The program followed the death of a woman killed after she was hit head-on by a drunk undocumented immigrant who had previously been deported. Sheriff Daron Hall at the time said the program would go after only the most violent criminals threatening the safety of Middle Tennessee. Instead, it "was just a dragnet in the business of ethnic cleansing," says local immigration lawyer Elliott Ozment. "The police were out of control, stopping every Hispanic they could just to check for a driver's license."
Villegas was another undocumented immigrant without a license.
Gael's Birth
Villegas's water broke two days later while sitting in a jail cell. "My baby is coming," she yelled, as she started going into labor. When the ambulance arrived, however, she was placed on a gurney and cuffed at her ankles and wrists, her hands lying over her stomach. She would remain shackled for most of the next 36 hours.
Today, sitting in Ozment's office, she fights through tears as she describes what is normally a joyous day. She had to undress with two male police officers in the room. When she had to use the bathroom, her legs were shackled. In the many hours of labor, going through contractions, her right arm and left leg were bound to the bed by handcuffs. For the first time, her husband, Cirilo Carachure, would not see the birth of one of his children because the police never told him his wife was in the hospital. And because Villegas couldn't move her legs, she was in constant fear for the baby's life.
"It was a nightmare," she says through an interpreter. "It was just horrible."
One police officer came on duty two hours before she gave birth and heeded the calls by doctors and nurses to unshackle Villegas. When Gael came, she was free, if only for a couple hours. When the officer's shift ended, he bound her once more, while Gael lay just out of reach of his mother.
Just two days after she had given birth—before she fully healed, and while she was still breastfeeding—police took her back to the downtown jail. "When they took the child, I don't know who they gave the child to," she says, crying once again. "My husband was not there. No one was there."
Officers at the jail did not allow her to use a breast pump, nor did they give her medicine that doctors prescribed. For her pain, she was given a multivitamin, she says. She would finally see her husband when they went to immigration court a few days after she gave birth.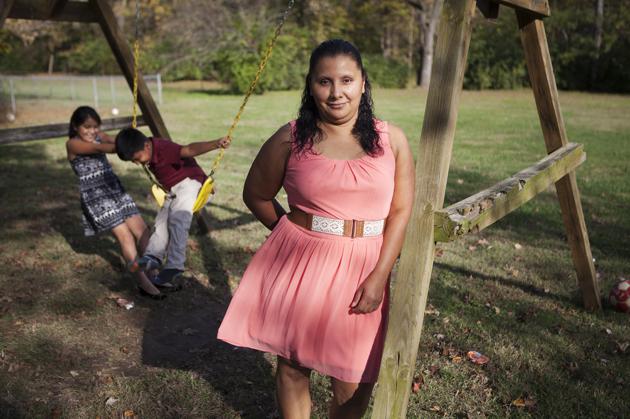 In the six years of court cases that followed for Villegas, a clinical psychiatrist testified that she suffered from post-traumatic stress disorder because of the ordeal, saying in part, "Her core sense of self, as a human being with value, has been shaken. Her sense of security has been shattered." Doctors also said she got an infection from not being able to use a breast pump.
Ozment argued that because of this suffering, her constitutional right against cruel and unusual punishment was violated.
U.S. District Court Judge William Haynes agreed enough to award Villegas $200,000 in damages in 2011. And in 2014, he signed a Form I-918 Supplement B, granting her U Nonimmigrant Status, which meant that she could legally live in the United States after a judicial official found that she was a victim of a crime and had cooperated with authorities.
As a result, she and her husband have legal status and employment authorization. Today, Villegas is an assistant manager at a McDonald's. In two years, they can apply for a green card.
"It was sort of strange that we're in effect saying that she was the victim of egregious civil-rights violations, and that the people who ordinarily sign the Supplement B were the ones that imposed this inhumane treatment on her," says Ozment, a white-haired Tennessean with a bellowing Southern accent.
Shifting Nashville
Music City had very few immigrants in 1990, when Latinos made up less than 1 percent of the population, according to U.S. Census figures. Then the Olympics came to Atlanta in 1996, bringing waves of immigrants to fill construction, food-service, and other blue-collar jobs across the South. The labor markets in California and Texas, where there had been more immigrant workers, became oversaturated and the cost of living became too high. The South's economy was heating up, and housing was cheap.
The '90s were a honeymoon period, says David Lubell, the executive director of Welcoming America, an organization that fosters inclusive communities. "It was welcoming enough," he says. "Not hugely welcoming, but not hostile."
That changed in 2001, partly because of 9/11, but more because of the DMV. That year, Tennessee stopped requiring a Social Security number to get a driver's license. With the loosened restrictions, 30,000 people applied for a license in the first two months, according to the Los Angeles Times.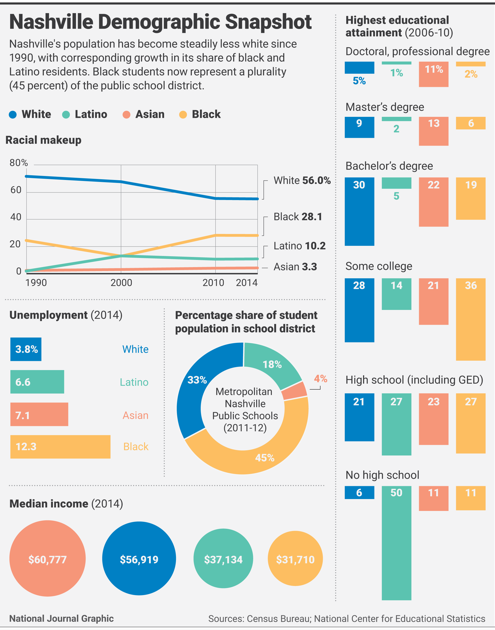 "I guess people hadn't noticed the new diversity," says Lubell. "But when immigrants were showing up more than they ever had at the DMV, then that was in people's faces more. That increased fear and it started the anti-immigrant momentum that picked up pretty quickly."
Nashville became the catalyst for an anti-immigrant movement in the country, which was highlighted in a 2006 piece in The Nation magazine called "White Heat." That year, Lubell says, the state legislature introduced 65 different bills that targeted immigrants. The next year, the Davidson County Sheriff's Office implemented the 287(g) program.
In 2001, Lubell started and ran the Tennessee Immigrant and Refugee Rights Coalition to fight discrimination against the foreign-born population. Three years later, he launched the Welcoming Tennessee Initiative, the precursor of Welcoming America, designed to reach out to everyday Tennesseans who had growing fears about immigrants.
The group put billboards around the state to combat misconceptions about immigrants. They also started dialogues in churches and chambers of commerce, which helped connect people and ease fears.
Generalized fears came to a head in 2007 after the Metropolitan Council, a governing body that encompasses Nashville and the rest of Davidson County, passed an English-only ordinance that would have made Nashville the largest city in the country to prohibit local government from providing any translation services. The mayor at the time, Democrat Bill Purcell, vetoed it, partly because of Welcoming Tennessee's lobbying.
Just two years later, that English-only ordinance was brought forward as a referendum. Voters soundly rejected it in 2009 after immigrant-rights advocates teamed up with business leaders, who felt that a more welcoming image could help the city economically. Nashville's second-largest industries are tourism and hospitality, which employ many immigrant workers.
"It was our moment of truth," says Lubell. "People wanted Nashville to go in a different direction as a welcoming place."
Mayor Megan Barry, elected in September, was an outspoken opponent on the English-only ordinance when she was a metro councilwoman. Today, she calls the referendum "the pivotal moment" for the city.
"We said we want people who look different, we want people who think different, we want creative energy," she says. "We want what immigrants bring to your community. It was a very positive move for Nashville."
In 2013, the 287(g) program that locked up Villegas, and threatened an estimated 50,000 other undocumented immigrants in Nashville, came to an end.
The Big Picture
Latinos had accounted for less than 1 percent of Nashville's population in 1990; they were 10 percent of the population in 2010, according Census data. During this same period, a flood of Kurdish refugees resettled in the city, which is now colloquially dubbed "Little Kurdistan." Between 2000 and 2012, the foreign-born population accounted for 56 percent of Nashville's population growth, and it now represents 12 percent of Nashville's overall population, according to the Partnership for a New American Economy.
Demographics that hadn't changed substantially over the last 100 years changed dramatically in about 20 years.
And with this population growth came an economic boom. By 2012, Nashville had the fastest job growth of any city in the country. Immigrants in Nashville are now twice as likely to start a small business compared to native-born Nashvillians.
When President Obama wanted to promote immigration reform, he came to Nashville last December and congratulated the efforts of then-Mayor Karl Dean, who started an Office of New Americans, and of community leaders who worked to make the city more inclusive.
"We welcome strivers, we welcome dream-makers from all over the world," Obama said at the 2014 event. "It keeps us young, it keeps us striving, and pushing the boundaries of what's possible. And then we all bind ourselves together around similar ideals."
Barry says she will expand the Office of New Americans as a way to engage the foreign-born population in the city's economy, focusing on entrepreneurs and workforce development.
Ozment, the hellraiser who represented Villegas, says Nashville is now one of the most progressive cities in the country on immigration. "It has been a real cleansing, and I don't mean ethnic," he says. "But for the soul of Nashville."