Moderate Republican Could Spark Primary Clash in Colorado's Senate Race
Ryan Frazier, a former Aurora City Council member, is considering running against Sen. Michael Bennet. But he'd have to defend his positions on guns and abortion in a primary first.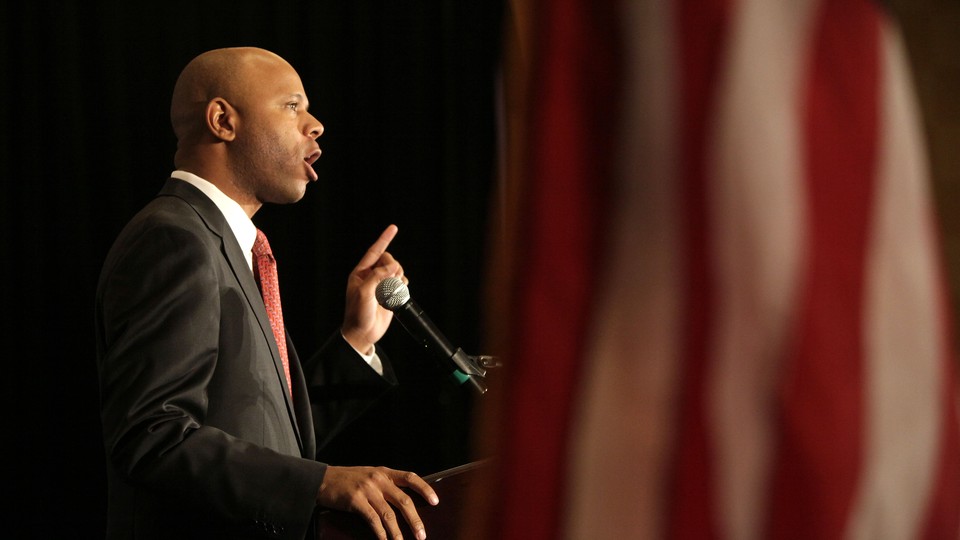 A Republican candidate who supports the current federal background checks for guns and doesn't want the government to prevent women from getting abortions is poised to turn Colorado's Republican Senate primary into an ideological battleground next year.
Former Aurora City Councilman Ryan Frazier, who stepped down from his role as a political commentator for a local news channel last week to take "a close and serious look at the race" for Senate, would line up on the left-hand side of a GOP primary to take on Democratic Sen. Michael Bennet. But the 38-year-old African-American former Navy intelligence officer says he has the "unique profile" to beat the incumbent in a general election.
"As a father, a Navy veteran, a small business owner, a cofounder of a charter school in Colorado … I think I have a very unique profile," Frazier said in an interview Wednesday. "I believe there's some core issues that I really care about that have tremendous crossover appeal … I think I can appeal both to our Republican base, but also to independent and women voters who are ultimately going to decide the election."
Frazier plans to decide whether or not to run for Senate in the coming days. If he does, he'll join a field of Republican candidates already staking out conservative ground for the primary. Since national Republicans' top choices to take on Bennet—Rep. Mike Coffman and District Attorney George Brauchler—turned them down, the contest has largely been a race to the right.
State Sen. Tim Neville, the latest to join the race, is considered one of the most conservative members of the state legislature for his views on guns and abortion. Neville will face competition for conservative voters from a wealthy Colorado Springs businessman, Robert Blaha, who is already lining up campaign staff for a run. Already in the race: El Paso County Commissioner Darryl Glenn, whose website calls him a "constitutional conservative," and former Colorado Small Business Administration Director Greg Lopez.
Frazier's socially moderate, fiscally conservative profile—to the left of Republican Sen. Cory Gardner on some issues—could defuse some of Democrats' favorite attacks in Colorado. In particular, Democrats relentlessly attacked Gardner over his views on abortion issues in 2014, including controversial "personhood" legislation and ballot measures. But to get to a race against Bennet, Frazier would first have to survive a competitive primary, something Gardner didn't have to do.
Frazier said he is pro-Second Amendment rights but believes in the current system of federal background checks for gun owners. He's personally against abortion—but doesn't believe it's the government's place to get involved in women's health decisions.
"As a pro-life individual, we need more of the type of people in the Senate who realize that this is not something the government can or should try to fix," said Frazier. "This is something that we need to have a conversation about just as individuals in a society, about alternatives to abortion, so that women when making that choice know what options they have."
On immigration reform, he said he wants to focus first on border security, then a pathway to legal work status, and eventually citizenship for currently undocumented immigrants.
"What motivates me to run are the economic, national security, fiscal issues facing our country that we need to deal with," said Frazier. "I'm not running for the Senate to try to tackle a lot of the social issues."
Frazier also listed criminal-justice reform and the nation's student-loan crisis—two issues traditionally championed by Democrats, though several GOP presidential candidates have also discussed them at length—as top priorities that he believed would appeal to voter in both parties.
Frazier, who challenged Democratic Rep. Ed Perlmutter in 2010, said he has met with the National Republican Senatorial Committee to discuss the race and spoken with some of Colorado's members of Congress, including Gardner. Frazier briefly launched a campaign against Bennet in 2009, but he ended it to pursue the House seat instead. Frazier said he was first approached about this race more than a year ago, but only began to give it serious consideration in the past two months, as some potential Republican candidates dropped out.
His assessment of the contest reads like it came right out of the NRSC's playbook.
"A great majority of the people in Colorado are not pleased with the direction of our country, and Sen. Michael Bennet has had a lot to do with that," said Frazier. "He voted for Obamacare, which we now learned thousands of Coloradoans are going to be without insurance with the closing of the co-ops; he voted for the Iran deal, which I believe is a bad deal for America, a deal that was brokered with the biggest state sponsor of terrorism; and he's stood on the sidelines as our economy has limped along with lackluster job growth."
Colorado is one of Senate Republicans' few pickup opportunities in 2016, as they already control most of the Senate seats up in the next election. Given Gardner's success in 2014, the GOP immediately looked at Bennet as a potentially vulnerable incumbent in the next election. But while the party has been looking for candidates, Bennet has already amassed an intimidating $5.4 million in campaign funds.
Still, Frazier points to his experience on the Aurora City Council as proof he can break through where other Republicans may not. "I represented the third largest city in the state for eight years, the most diverse city in the state, a city that is urban and suburban and leans Democratic," said Frazier.
CLARIFICATION: The latest version of this article makes clear that while Frazier supports background checks for gun purchases, he does not want to expand them past what's already written in federal law.