Mia Love Finds More Trouble with Travel Expenses
The freshman is returning money to the Treasury for a second time after questions over taxpayer-funded airline tickets.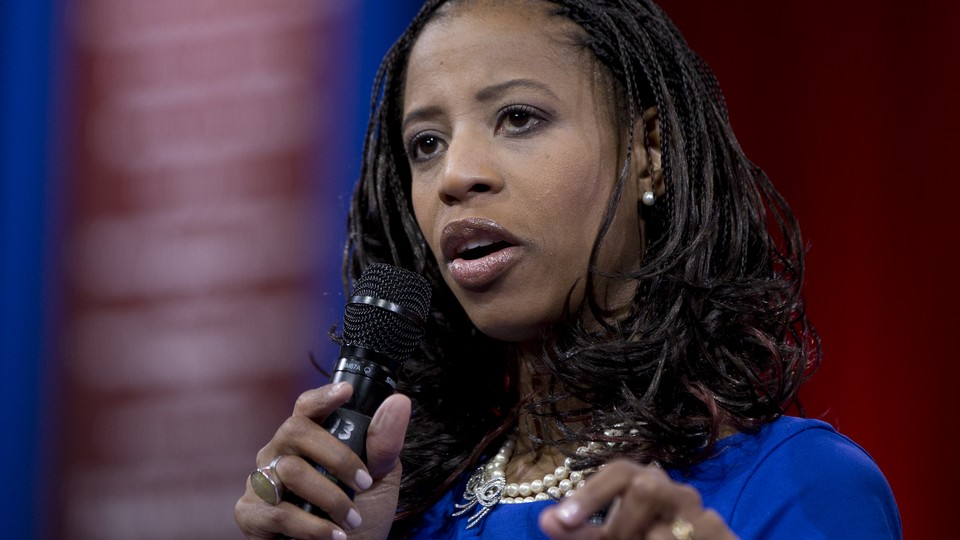 For the second time in 10 months, freshman Rep. Mia Love is promising to refund a travel expense after her office struggled to offer a consistent explanation for her use of taxpayer money.
On Monday, Love told The Salt Lake Tribune and The Hill that she was reimbursing the U.S. Treasury for a $537.10 airline ticket on February 5 that she never used, after reporters had spent several days asking why she had charged taxpayers for the same flight two days in a row. In September, Love also promised to return $1,160 she spent in April on a roundtrip airline fare from Utah to Washington, D.C., during the weekend of the White House Correspondents' Association dinner.
In both cases, Love denied misusing taxpayer funds, but nevertheless promised to return the money. But both are likely to fuel concern that the first-term lawmaker, the first female Republican African-American member of the House, has given Democrats an opening to attack her in a race that polls show is surprisingly competitive against challenger Doug Owens.
In the most recent case, communications director Richard Piatt offered conflicting explanations for the extra ticket.
House records show Love was reimbursed by the government for plane tickets on February 5 and 6 after the House adjourned on February 5. When asked last week why she was reimbursed for two tickets, Piatt said Love wasn't sure which day she wanted to fly back to her district in Utah, so she bought two tickets, planning to return the cost of the extra ticket to the Treasury when she decided to take the February 6 flight.
But neither of Love's quarterly office disbursement reports, which run through June 30, indicate Love gave back any money—which would show that if Love refunded taxpayers for the extra money, she waited months to do so.
On Monday, Piatt backpedaled on his description of why Love was reimbursed for two tickets.
"I wouldn't characterize it like that," he told National Journal, when his explanation was repeated to him. "The truth is, I don't know why there were two flights booked. That was in February, when we first started. And I know that sometimes the members book flights to give themselves options. But in this particular circumstance, I honestly—like, off the record—I have no idea why she did that."
When reminded that he was speaking on the record and asked why his description changed, he responded: "All right, so—I don't know. The reason I called was just because you had called earlier, and I just wanted to let you know that we were issuing a statement. I'll just send it to you."
There are other inconsistencies with Piatt's explanation for the extra reimbursement. Last week, Piatt told National Journal that there was no record of Love giving back the extra money because reimbursement checks written to the Treasury aren't recorded by House disbursement statements.
But House Chief Administration Officer spokesman Dan Weiser said the disbursement reports do include money that members give back to the Treasury. The reports clearly show that other members have given money back: The first-quarter statement of disbursements shows that then-Rep. Aaron Schock, who pledged to return thousands in travel expenses, returned $7,739.98.
On Monday, Piatt acknowledged that reimbursements are reported publicly. When asked when Love gave the money back, Piatt said he did not know—not even what quarter of the year she gave it back. Piatt told The Hill that the money has been repaid, although The Salt Lake Tribune reported that Love "will reimburse taxpayers."
Another inconsistency: Airlines allow members of Congress to book multiple flights without paying for the tickets upfront, said Craig Holman, a lobbyist for consumer-advocacy nonprofit Public Citizen. That would negate the need for Love to receive multiple reimbursements for the tickets in the first place.
Love's office released a statement on Monday saying it employs a certified public accountant, Thomas Anfinson. "Office procedures are taken very seriously, which is why the office goes above and beyond typical congressional bookkeeping practices by employing a CPA to manage the Member's Representational Allowance (MRA)," the statement says. "He has been on board since January 2015, which marks the beginning of the 114th Congress. In addition to performing regular Financial Administration Services, our accountant performs a standard end-of-year audit to ensure that all expenses are properly reimbursed and in compliance with House rules. The flight from DC to SLC on February 5, which was reimbursed by the MRA, has been paid back to the U.S. Treasury."
This isn't the first time Piatt and Love have given inconsistent answers to questions about her travel expenses. After Love promised to give back the $1,160 it cost to fly on the weekend of the White House Correspondents' Association dinner, she told The Hill that she used office funds because the real purpose of the flight was to attend an official meeting with her staff. But Piatt later told National Journal that there was no formal or specific meeting set and that Love only met informally with her staff that weekend. Love also originally told The Hill that she had gotten permission for the taxpayer-funded tickets from the House Ethics Committee and the House Administration Committee. But Piatt later told National Journal that the Administration Committee had simply sent her a copy of House rules on travel, rather than giving her permission or specific advice.
When National Journal asked Love in September about the inconsistencies, she responded: "I've already put up a state­ment. It's over. It's not an issue. There isn't any­thing to talk about."