Meet the Democratic Operatives Fighting Their Party Establishment Over Its Future
The same consulting firm in Washington is helping not only Bernie Sanders's presidential campaign but two underdog Senate candidates fighting party-approved Democrats in primaries.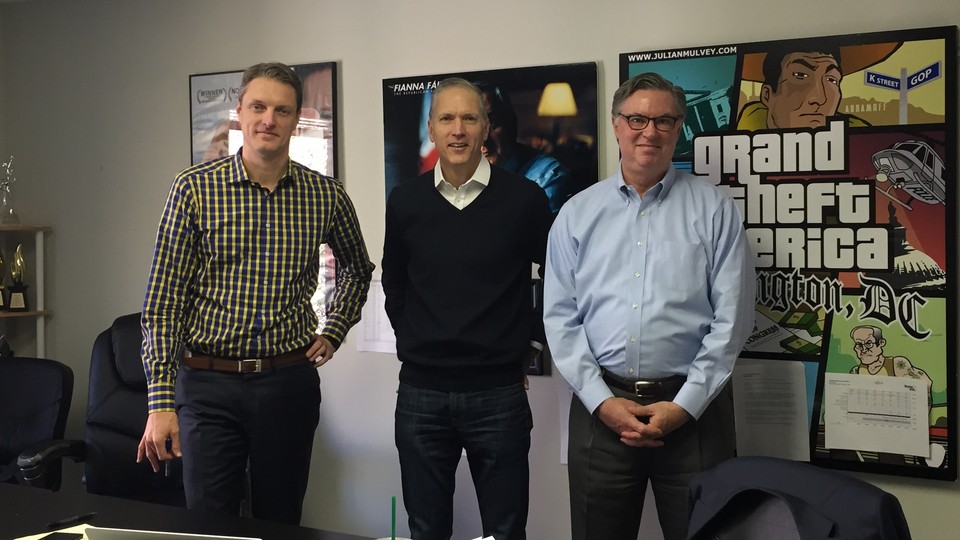 Tucked away in a condo complex in Washington, D.C.'s quiet Glover Park neighborhood, three veteran political operatives tap away at laptops around a single conference table. Surrounded by campaign signs from liberal past clients like Edward Kennedy, the men pop in and out of conversation to answer phone calls, forward emails, and refuel on caffeine.
This is the headquarters of the Democratic insurgency.
Tad Devine, Julian Mulvey, and Mark Longabaugh—together Devine Mulvey Longabaugh—represent as clients not only Bernie Sanders, the avowed socialist presidential candidate taking on Hillary Clinton, but also two little-known, underdog Democratic Senate candidates running against party-approved favorites: Cincinnati Councilman P.G. Sittenfeld and former Chicago Urban League CEO Andrea Zopp.
All regulars on the Democratic campaign circuit, the three consultants insist they're not trying to ruffle any feathers with their party. Rather, they're trying to save it.
"Listen, I'm a Democrat. I want the Democrats to control the House and the Senate," Devine said in an interview with National Journal. "But I'm also somebody who for a long time has felt that the decisions about who's the strongest candidate … these are decisions that are best made by voters. If you let the insiders make decisions about candidates before anyone has even cast a vote, I think you run a great risk of the strongest candidate not being the nominee of your party."
So Devine Mulvey Longabaugh has embarked on a battle against the party establishment—including the party committees the three men also count among past clients. The firm's client in Ohio, Sittenfeld, is a 31-year-old city council member running to the left of 74-year-old former Gov. Ted Strickland on issues like guns and the Keystone XL pipeline. In Illinois, the firm represents Zopp, an African-American community leader and former corporate CEO who is waging an outsider campaign against Rep. Tammy Duckworth, the Washington favorite. Both Duckworth and Strickland have already been endorsed by the Democratic Senatorial Campaign Committee.
The firm believes the Democratic Party as a whole has become more progressive since its last set of major primaries. And energizing a more progressive party, the three operatives say, requires candidates who aren't afraid to articulate their issues.
"If you look at our firm as a whole, we work for progressive candidates and progressive causes," said Longabaugh, who has worked on the insurgent presidential campaigns of Bill Bradley and Richard Gephardt. "Ideologically, we ended up with these candidates because of what we believe and what we stand for.
"If we'd wanted to cash in, we could have gone into corporate work a long time ago," he added.
Indeed, the firm's noncandidate client list says plenty about the men's politics. The American Civil Liberties Union, the Natural Resources Defense Council, Mayors Against Illegal Guns, and the League of Conservation Voters represent the liberal backbone of the Democratic Party.
Longabaugh, a Cincinnati native, and Devine, of Rhode Island, have worked together and against each other on Democratic campaigns for decades. Devine met Mulvey, who grew up in England, while teaching at Boston University, and followed the younger man's career as he entered into the campaign world. When Devine's old business partner retired in 2007, he went into business with Mulvey, and Longabaugh joined the two in 2011.
Their resumes don't exactly scream "political outsiders." But they do share a penchant for campaigns that were initially overlooked by others in Washington.
"I've been doing this for people outside the sort of inside lane of politics for many years, and a lot of them have turned out to be very successful candidates who won very surprising elections," said Devine, who notes that John Edwards was "an unknown trial lawyer from North Carolina" when he met him. "We've all done our fair share of working for candidates who weren't the favorite candidate when they started the race, but many of them wound up getting elected to office and having really good political careers."
"One of my first wins that got some attention was [former Rep.] Chris Carney in 2006," said Mulvey. "It took us months to convince Washington this is viable!"
Longabaugh points to his work on the 2008 campaigns of now-Sen. Jeff Merkley of Oregon and former Sen. Kay Hagan of North Carolina. "I went into both of those races with an [independent expenditure] basically funded by organized labor, and the Senate committee was sitting on the sidelines in both races, frankly. … By Labor Day, all the sudden the Senate committee is like, 'Oh, actually, we can win these races.'"
Already this election, Sanders has exceeded early expectations. And while he and the two Senate candidates are still considered distant long-shots in their primaries, the firm is harnessing what it sees as a breakthrough moment for liberals in down-ballot races.
The firm's first TV ads for Zopp and Sittenfeld, which ran during the first Democratic presidential debate, called for primary debates at the Senate level. Both candidates touted their unique backgrounds—Sittenfeld as a millennial politician and Zopp as a prosecutor and business leader—and pitched progressive policy platforms.
"The message terrain in a lot of these races across the country is similar whether it's a presidential race or a race for Senate," said Devine. "We're trying to take advantage of an opportunity to break through in all of these races, and for each one of them, that's worked out very well."
Longabaugh pointed to a piece of direct mail Sanders signed for the Democratic Senatorial Campaign Committee as proof that the Democratic Party, even at an organizational level, "realizes the tremendous power and influence Bernie is bringing."
Asked whether any of them were concerned about putting relationships with their party in jeopardy, none batted an eye.
"As for the fallout ... I'm not going to worry about the fallout," said Devine. "The way to succeed in politics is to work for people in tough races and help them win. And if you do that, a lot of other people are going to want you to work for them, and I think party institutions will as well."