Meet the Bicoastal, Bipartisan Team That Signed On to Defeat David Vitter
A California Republican paired up with two Democratic pollsters to work for an anti-Vitter super PAC. The Louisiana Water Coalition was the first to directly raise Vitter's prostitution scandal on the airwaves this year.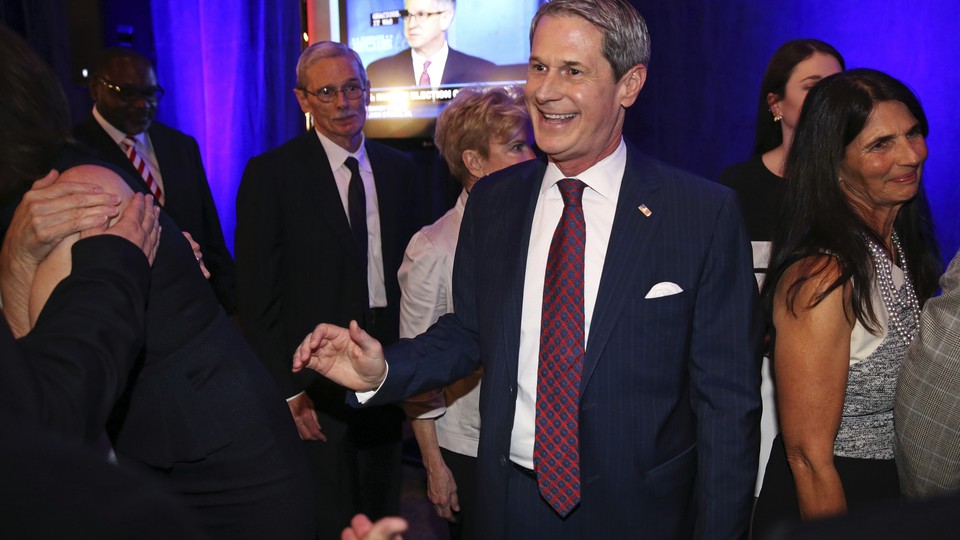 In September, the super PAC Louisiana Water Coalition was the first group to air TV ads taking direct aim at Sen. David Vitter for his prostitution scandal, an issue largely credited with his stunning failure to win the state's governor's race.
The identity of those responsible for the ad's message, however, was never revealed—until now.
California-based Republican operative Rob Stutzman oversaw the creation of the PAC's television ads, and the three ads that they ran were informed by research and polling done by Washington D.C.-based Democratic pollsters Rob Green and Adam Rosenblatt.
When the Louisiana Water Coalition launched in early September, the only participants identified were a spokesperson, a legal adviser and the Baton Rouge-based law firm funding the group. The PAC was described as a "bipartisan independent group" designed to support Vitter alternatives, who were, as they put it, "better than Vitter." The law firm in question, Talbot, Carmouche & Marcello, provided all of the PAC's $1.7 million in funding. One of the firm's partners, Don Carmouche told The Advocate in early October, "We just want to defeat David Vitter."
Green said the Carmouche firm reached out to him asking if he'd get involved in the primary in an effort to prevent Vitter from making the runoff, and gave him the freedom to employ whatever message he felt was best. Green in turn reached out to Stutzman after sample polling found that the best way to get Republicans to abandon Vitter was by targeting conservatives who would vote for another Republican, particularly Republican women. Stutzman is a Republican ad maker based in Sacramento who previously worked as a top aide to former Gov. Arnold Schwarzenegger, and as an adviser to 2010 GOP gubernatorial candidate Meg Whitman.
The three men have paired up in the past to work on races in California, most recently on a $12 million competitive state Senate race featuring two Democrats. "What we were doing in Louisiana was kind of born of jungle primary politics in California," Green said.
Stutzman said he was compelled to get involved because he felt that Vitter was a flawed candidate who would imperil what should be a safe Republican seat. Stutzman said he supported GOP primary candidate Scott Angelle. "My view is the herd should be thinned of our bad candidates, and he might be one of the worst candidates we had anywhere in the country as an incumbent," Stutzman said.
Most assumed that Vitter's prostitution scandal was a buried issue after he handily won reelection to his Senate seat in 2010, and questioned the usefulness of bringing it up again. But Green said survey research showed Vitter was still very vulnerable with a message that emphasized ethics, character, and judgment—not just morality. Given the presence of two other Republicans in the primary, the trio made it their mission to demonstrate to voters that they had other options.
The three TV ads that the PAC ran directly brought up Vitter's link to the D.C. Madam prostitution ring, and his separate decision to keep on a staffer who was previously accused of threatening his girlfriend, which Rosenblatt said they actually found to be one of the most persuasive arguments to move conservative women away from Vitter—though the issue was never again raised by any other group or candidate. A third ad emphasized trust and Vitter's refusal to answer to whether he ever broke the law.
The team felt Vitter had already demonstrated he could answer to the sin part, by explaining that his wife forgave him. They felt they had to make the critique not about the prostitution itself, but about its broader implications. "We always knew Wendy Vitter would show up, or Willie Robertson or proxies like him and say they'd forgiven him," Stutzman said.
"If the focus is more on prostitution and so forth, I mean, everybody sins. What this fight was really about in our minds wasn't so much about the 'serious sin' or the prostitution. It was about judgment and character, especially judgment, and it was about women's concerns," Green said. "My goal was to tell the story that needed to be told, not some sensationalized Blaze Starr story," Green continued, referring to the New Orleans stripper and burlesque star who had an affair with former Louisiana Gov. Earl Long in the late 1950s.
In 2010 Senate race, the small number of TV ads that Democrat Charlie Melancon ran late in the game against Vitter mostly served to remind voters of the prostitution ordeal, with ads with titles like "Forgotten Crimes," that didn't draw much of an ethical contrast and didn't have the backing of significant funding.
In the one attack ad that Democratic Gov.-elect John Bel Edwards ran in the runoff, he too avoided making it solely about the sin itself, and focused on Vitter's choice to skip House votes as a member of Congress to engage in "extracurricular activities," as Edwards puts it.
"I will tell you, it wasn't just the issue between him and his wife," Edwards said last Monday. "He was neglecting the duties he was in Congress to tend to. He wasn't casting key votes on the floor of the House because he chose, rather than to do the job he was elected to do, he chose to engage in all those 'extracurricular activities,' if you will. And so it's not just a personal issue between him and his wife, it is a failing of his duties, and I believe that is an appropriate area for people to take into consideration."
Stutzman said their initial goal was to try to lower Vitter's numbers to 18 percent in the October primary, to allow space for Angelle or fellow GOP candidate Lt. Gov. Jay Dardenne room "over the wall that we'd lowered to climb over." That goal was not reached. But the three said they are pleased their initial effort helped resurrect and inject the Vitter scandal into the race, and ultimately contribute to his demise. Vitter actually singled out the PAC during his first one-on-one debate with Edwards after the Oct. 24 primary. Vitter lamented that he'd been the subject of negative advertising, citing the lawyer-backed PAC in particular.
Dardenne first dropped a casual mention of Vitter's past during a candidate forum in April, and Angelle and Dardenne both alluded to Vitter's scandal in TV ads of their own and in subsequent debates. But one can argue that the Louisiana Water Coalition got the ball rolling when they moved first to take Vitter to task directly.
Green, Rosenblatt and Stutzman didn't stay involved after the primary, but credit the anti-Vitter Gumbo PAC for picking up where they left off and keeping the race focused on Vitter's vulnerabilities. A different ad firm was responsible for making the Louisiana Water Coalition's fourth and final spot, a positive pro-Edwards ad that aired during the final week of the runoff. The Gumbo PAC ads were funded by the Democratic Governors Association. DGA executive director Elisabeth Pearson said they too were intent on focusing on Vitter's character and judgment. "It was about who you trust to be your governor," said Pearson.