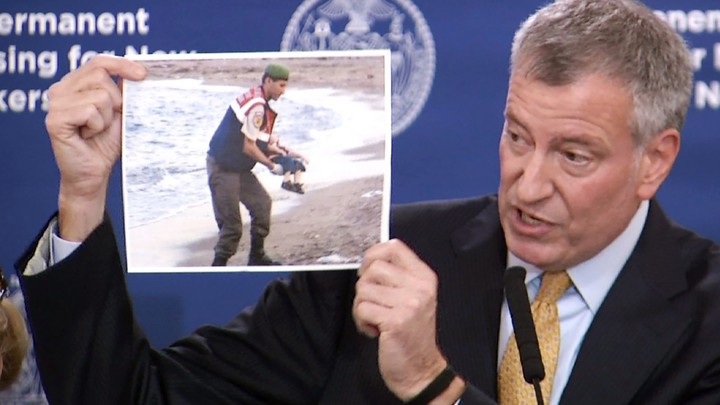 Eighteen mayors signed a letter in September telling President Obama that they could take in even more Syrian refugees. The leaders of New York City, Los Angeles, Chicago, and other cities urged the president to increase the number of refugees that the U.S. plans to admit.
Since the Nov. 13 attacks in Paris, the political landscape has shifted. The governors of more than half of U.S. states have said, with varying degrees of intensity, that they do not want any Syrian refugees resettling within their borders. All but one of them, New Hampshire Gov. Maggie Hassan, is a Republican.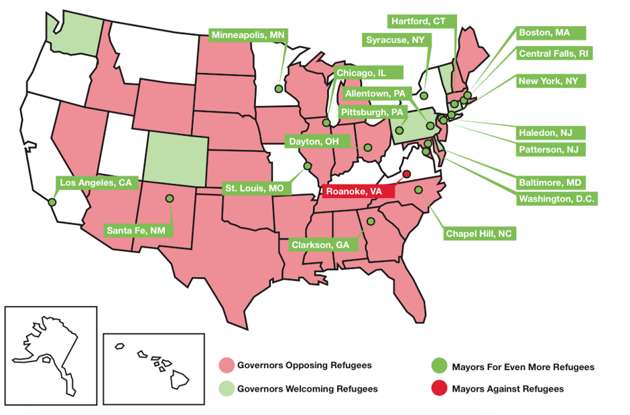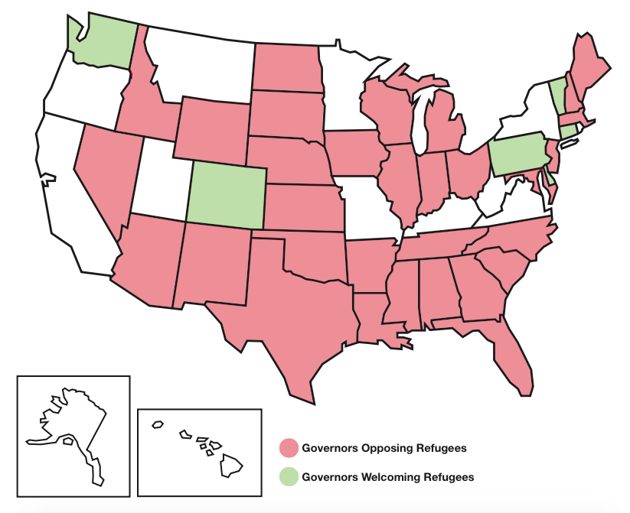 Within the last week, mayors in anti-refugee states have publicly pledged their support for resettling Syrian refugees. Here's a working list of leaders from the largest ones who have spoken out on refugee resettlement:
Now, with this list we can't hope to name every city whose mayor has issued a statement about refugee resettlement. (It is being updated to account for mayors in anti-refugee states who do.) And there are, of course mayors, in pro-refugee states, including Seattle Mayor Ed Murray, who are making note of their support for Syrian war refugees.
And it's not just large metro areas, either. Christopher Taylor, the mayor of Swisher, Iowa—a town of just 900 people—issued a statement welcoming Syrians in need of aid. Some states, such as Mississippi, have not been approached about resettling any Syrian refugees at all, but nevertheless oppose it. The lone Republican governor who has not announced his opposition to refugee resettlement, Utah Gov. Gary Herbert, has simply acknowledged that governors cannot make that decision. Salt Lake County Mayor Ben McAdams (a Democrat) has joined him on this neutral point.
At the federal level, Republican Sen. Rand Paul of Kentucky has introduced a bill that would stop the U.S. from supporting Syrian refugee resettlement. President Obama has threatened to veto any such legislation. (UPDATE: The House passed a bill that would "pause" Syrian refugee resettlement by a bipartisan 289–137 vote.) At the state level, leaders can't stop the federal government from resettling refugees within their borders, but governors are able to gum up the works since most states distribute the federal funds that provide refugees with cash assistance, medical aid, and employment services.
At the local level, mayors can no more stop the placement of refugees than governors. So the provocative statement from Roanoke Mayor David Bowers—that the threat of ISIS might now justify placing Syrian refugees in internment camps like those used to imprison Japanese Americans during World War II—is little more than historically insensitive bluster.
The mayors who are speaking up in support of Syrian refugee resettlement are the leaders of the communities where those Syrians are bound to make their homes. It's no small thing that the mayors of Los Angeles, Chicago, New York, and Houston are insisting that their communities will welcome Syrian refugees even after the 11/13 attacks. These cities have long been the destination for the more than 3 million refugees who have settled peacefully in the U.S. since 1980. Many of the governors denouncing resettlement this week have far less at stake than these mayors.
While New York City Mayor Bill de Blasio was slow to answer questions about refugees last week, Wednesday he ripped into New Jersey Governor Chris Christie over his statements about Syrian orphans. In a press conference, the mayor held up a notorious photo of a drowned Syrian boy.
"This is the cost of not bringing in people who are innocent victims of a humanitarian crisis. This child's death was on the front pages of newspapers all over the world," Mayor de Blasio said. "Governor Christie specifically said he did not think it was appropriate for small children to be brought in. Is this what he wants to see happen to people? Is this what he wants to see happen to children? We don't accept that here in New York City."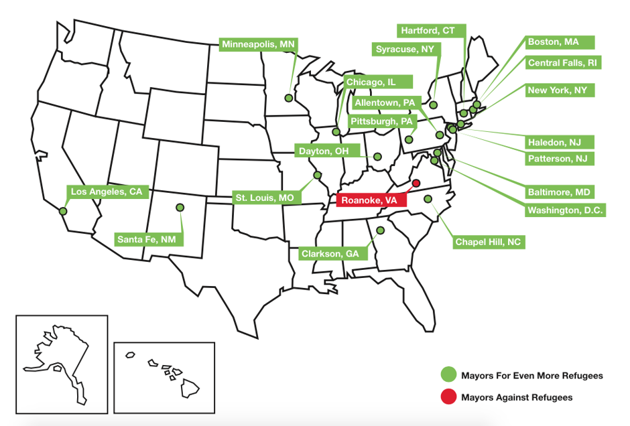 This article is part of our Next America: Communities project, which is supported by a grant from Emerson Collective.
We want to hear what you think about this article. Submit a letter to the editor or write to letters@theatlantic.com.