Matt Bevin's Kentucky Win Is the End of an Era—and That Should Scare Democrats Everywhere
The Republican governor-elect ran an untraditional campaign. But the outsider's commanding, surprising victory underscores why the old rules of politics don't apply anymore.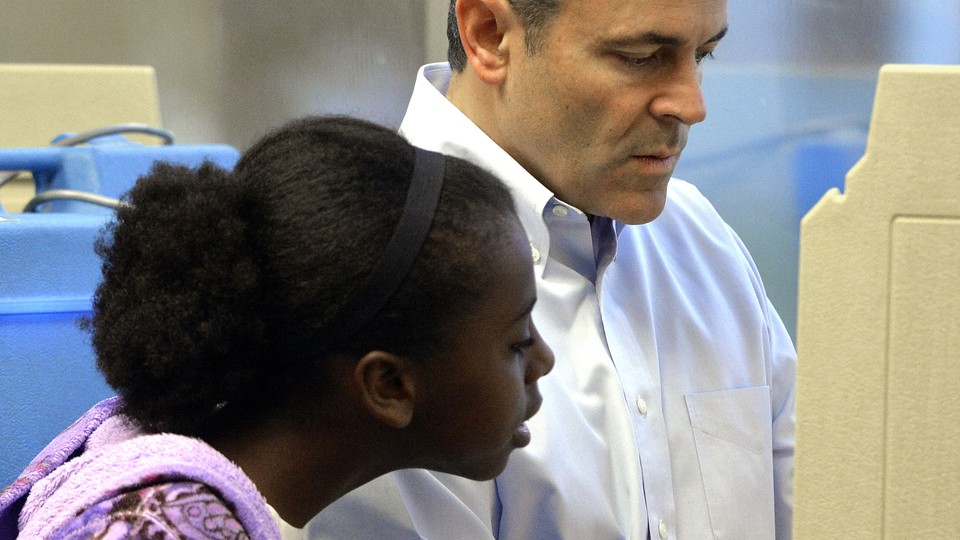 Former House Speaker Tip O'Neill famously said, "all politics is local." After Republican Matt Bevin's surprisingly convincing victory to become Kentucky's next governor, the maxim should be reversed. All local politics are now national. Bevin, with help from the Republican Governors Association, effectively utilized national issues—gay marriage, Planned Parenthood, federal energy policy, President Obama's health care law—to bludgeon Democrat Jack Conway, who tried to distance himself from his party's national brand to no avail.
And the biggest drag of all for Conway was Obama. The RGA unleashed a last-week $1 million ad blitz connecting the Democratic state attorney general to Obama—a potent line of attack in a state where the president's disapproval rating is near 70 percent.
Just as the Kentucky gubernatorial campaign carried national overtones, the results from Tuesday night's election carry national lessons. Here are four of the most significant takeaways:
1. You can't trust the polls anymore. Nearly every public poll during the Kentucky governor's race, and even the private partisan surveys we heard about, showed Conway with a small, consistent advantage throughout the general election. The final Bluegrass poll, conducted between Oct. 23-26 by the automated pollster SurveyUSA, showed Conway leading Bevin by five points, 45 percent to 40 percent. Bevin ended up winning convincingly, 53-44. The poll showed Kentucky Democrats winning all but one of the statewide offices. Instead, they came close to being entirely shut out, with only state attorney general candidate Andy Beshear and Secretary of State Alison Lundergan Grimes barely prevailing.
Polling in Kentucky has had a particularly precarious track record lately. Just last year, public polling suggested that Sen. Mitch McConnell would face a much more competitive race against Grimes than he actually did. The Bluegrass poll showed Grimes leading McConnell in September, and only trailing by five points in their final preelection poll. The preelection Real Clear Politics polling average showed McConnell leading, but under the 50-percent mark considered safe territory for a targeted incumbent. McConnell ended up winning with 56 percent of the vote, trouncing Grimes by 16 points.
This is not just a Kentucky phenomenon. In the run-up to the 2014 midterms, many pundits focused on tracking the plethora of Senate polls missed the big picture, and underplayed how toxic the national environment was for Democrats last year. Donald Trump, one of the GOP front-runners, spends much of his speeches hyping his polls—no matter how methodologically flawed they are. Internationally, British and Israeli media saw recent election results for prime minister entirely at odds with the preelection narrative suggested by the polls.
There are lots of theories why polling has been so problematic lately. It's increasingly hard to secure a representative sample of voters, with a near-majority of Americans using cell phones instead of landlines. Figuring out who will show up on Election Day—the likely voter model—has become trickier to calibrate. Many of the polls conducted are done on the cheap, with automated-dial technology or online panels. Many of these pollsters' techniques are still hotly disputed in the polling world, but they're becoming an accepted part of the media ecosystem. (And in fairness to the polling upstarts, the track record of the traditional pollsters hasn't been that good, either.)
What's ironic is that coverage of political campaigns is increasingly dependent on the polls, even as the polls themselves are increasingly flawed. The tenor of the presidential primary is being dictated by the daily stream of horse race polling. Credible candidates are being left off the main debate stage because of minuscule differences with some opponents in national surveys. In Kentucky, Bevin's offbeat campaign strategy was widely mocked, with the flawed public polling providing support for the thesis. If he was leading in the polls throughout, perhaps the all-important "narrative" would have been different.
The once-tiresome cliche, "The only poll that matters is the one on Election Day," actually is a worthwhile adage this year. In the past, politicians used the line to dismiss polling unfavorable to their side. But now, they can more credibly dismiss the horse race polling as fundamentally flawed.
2. The GOP's outreach to African-American voters is consequential—even if it isn't providing immediate dividends. Bevin wasn't just a Republican outsider because of his apolitical biography. His campaign also looked a lot different than previous candidates, and he traveled to parts of the state that Republicans rarely ventured. At his victory speech Tuesday night, he was accompanied by his nine children—four adopted from Ethiopia—and his African-American running mate Jenean Hampton, who becomes the first black statewide officeholder in the state's 223-year history.
One of the most interesting events I attended on the Kentucky campaign trail last week was at a west Louisville soup kitchen, where Bevin and Hampton campaigned for school choice, accompanied by black pastors who argued that Democrats in the state took the black community for granted. "Vote your values, not your party!" Bevin inveighed. He noted that it was shameful that Democrats had never elected a minority officeholder in state history, and underscored his own commitment to diversity. Bevin's message was amplified by Americans for Prosperity, which aired two powerful ads in the Louisville market arguing that Conway was "forcing kids into failing schools" because of his opposition to public funds going to charter schools. An Americans for Prosperity spokesman said their internal polling in Kentucky showed education was the second most-important issue for voters, behind jobs.
It's remarkable that, given how overwhelmingly Democratic the African-American vote is, many leading Republicans are confident they can pick off some of that support in the run-up to next year's presidential race. Sen. Rand Paul launched his presidential campaign by underscoring how he was a different type of Republican, complete with aggressive outreach at historically black universities. The current polling leader for the GOP presidential nomination is neurosurgeon Ben Carson, the only African-American candidate in the 15-person field. South Carolina GOP Sen. Tim Scott, one of only two black U.S. senators, is emerging as a political kingmaker in the pivotal presidential battleground. Just last year, Illinois Gov. Bruce Rauner spent the final week of the campaign on Chicago's South Side, trying to pick off disaffected black voters. Bevin's outreach is only the latest from conservatives hoping to break the Democrats' stranglehold on their core constituency.
It's not clear whether Bevin made any notable inroads with black voters. He carried 39 percent of the vote in Jefferson County (Louisville), around the same level of support as previous Republican victors. But even if Bevin's outreach didn't make much of a difference in the outcome, his victory shows that campaigning beyond traditional GOP communities can pay dividends. If Bevin can deliver on his promise to expand charter schools in Louisville and improve educational outcomes for minorities, it would be a powerful argument for Republicans to use in other heavily Democratic communities going forward.
3. Obamacare is the gift that keeps on giving—for Republicans. Before the election, Democratic Gov. Steve Beshear confidently predicted to The Washington Post that Democrats would "pound Republicans into the dust" by making the case for the president's health care law, expecting to cite a Conway victory as proof of its popularity. Beshear used an executive order to expand Medicaid in the state and create a state-run exchange. His actions sharply reduced the number of uninsured Kentuckians, but the issue of health care remained a major dividing line between the two gubernatorial candidates. Conway supported the Medicaid expansion; Bevin initially said he'd reverse the expansion, but backtracked in the general election, saying he'd narrow the number of people eligible for the entitlement. Bevin also pledged to dismantle the state exchange, known in Kentucky as Kynect.
If anything, Bevin's clear victory will only embolden Republicans to continue attacking Obama's health care law as part of its messaging for the presidential race. The issue was the driving force behind the GOP's takeover of the House in 2010, and was the leading issue that Senate Republicans advertised on in winning back the upper chamber in 2014. If the law was an effective cudgel against Democrats in Kentucky—where the law escaped some of the enrollment pitfalls that sent some state projects into a tailspin—they're likely to continue to find success with it on a national stage.
Meanwhile, Republicans will also be watching closely to see how aggressively a Gov. Bevin attempts to roll back the law. Republicans know that it's a lot easier to campaign against the president's health care law than to actually roll back benefits that people have received. Bevin will be an early test case over the political viability in actually replacing Obamacare with a conservative alternative.
4. Rand Paul can breathe easier.  The Republican wave in Kentucky Tuesday night was a capstone to the GOP's near-total dominance of the South. Not only did Bevin win the governorship, but Republicans swept four of the six statewide offices—and came very close to defeating the governor's son (Andy Beshear, running for state attorney general) and Grimes (running for secretary of state). Republicans are now looking to win back the Kentucky House, the only Southern state legislative chamber still under Democratic control.
One of the biggest losers Tuesday night was state Auditor Adam Edelen, who had been mulling a challenge to Rand Paul—if he won reelection last night, as many expected. With Edelen's loss, there is no obvious Democratic challenger against Paul for the Senate next year. That means Paul can continue to focus on his presidential campaign, and not feel as pressured to quickly pivot back to a Senate campaign.
Make no mistake: Paul's standing in the state has suffered as a result of his struggles in the presidential campaign. But Kentucky now looks so solidly Republican that Democrats would need something of a political miracle to unseat any sitting GOP senator.