Marco Rubio Makes Inroads With Walker's Wisconsin Allies
Now that the Wisconsin governor is no longer a presidential candidate, state GOP lawmakers and fundraisers are helping Rubio's campaign.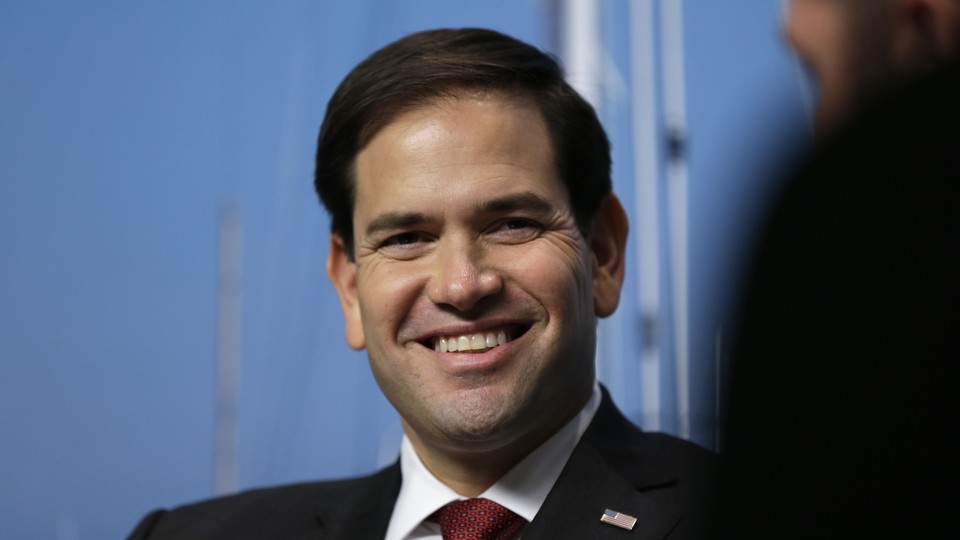 WAUKESHA, Wisconsin—Seven weeks after abruptly dropping out of the 2016 presidential race, Scott Walker isn't ready to throw his support behind another Republican candidate just yet. But some of his allies in Wisconsin are beginning to line up behind one contender: Marco Rubio.
Looking to take full advantage of the void left by Walker, Rubio has been quick to make inroads with the Wisconsin governor's supporters at the state Capitol and the donor world. One-third of the GOP caucus in the state Assembly, as well as two state senators, endorsed Rubio for president. And the Florida senator attended a luncheon benefiting his campaign in Milwaukee Monday afternoon that featured some of the most generous donors to Walker and other Republicans in Wisconsin in recent years, as well as a few big names from the region's business community.
There are still plenty of other major Walker supporters up for grabs. But those who have made up their minds are drawn to Rubio's appeal as a relative newcomer to the national political scene who can most effectively contrast with Hillary Clinton in a general election—an appeal that reminds them of why they initially backed Walker.
"In so many ways, I think that Senator Rubio is very close for people from Wisconsin to what they see from Governor Walker," said Robin Vos, the speaker of the state Assembly, who signed on as a cochair of Rubio's Wisconsin campaign less than three weeks after Walker exited the race. "Governor Walker in Wisconsin is articulate, he's passionate, he's been able to get things done. I think they see in Senator Rubio the same passion, the same ability to communicate, and the same hopeful attitude that maybe Washington can change and be more like Wisconsin."
Vos is just one of 23 Wisconsin lawmakers to endorse Rubio over the past two months. Leah Vukmir, the assistant majority leader in the state senate and another key ally of Walker's during his tenure as governor, joined as a campaign cochair last month. And Jessie Rodriguez, the state's lone Hispanic Republican legislator, is one of the most recent additions to the list. No other Wisconsin GOP lawmaker has publicly backed a White House hopeful since Walker ended his campaign. On the congressional side, Rep. Sean Duffy of Wisconsin endorsed Rubio last month.
Rubio attended fundraisers for Vos's campaign and the Wisconsin Assembly GOP caucus Monday in Burlington, a town in southern Wisconsin. Vos said that Rubio had agreed to appear at those events before Walker ended his presidential campaign. Walker and local conservative radio host Charlie Sykes were also scheduled to be in attendance.
Earlier in the afternoon, Rubio held a fundraiser for his own campaign at the Milwaukee Athletic Club, which Mary Stitt, who has helped raise cash for Walker and other prominent Republicans in the state over the years, played a role in organizing. Of the 19 names listed as cohosts for the event, six donated at least $1,000 to Walker's presidential campaign, and all but three had donated substantially to his gubernatorial bids.
Two of the individuals listed also contributed to the Unintimidated PAC, the super PAC that backed Walker's White House run. Russ Darrow, the CEO of a car dealership company who unsuccessfully ran for Senate in 2004, donated $25,000 to Walker's super PAC, and he and his wife each gave the maximum primary contribution of $2,700 to Walker's campaign. And William E. Johnson, the president of Johnson Timber Corp., also maxed out to Walker's campaign, while his company gave $20,000 to the super PAC.
Only one couple who appeared on the invitation had given an itemized donation to Rubio through the end of September, signaling that the majority of the fundraiser's hosts were new to the campaign. William D. Perez, a retired Chicago businessman, and his wife both cut $2,700 checks to Rubio in the second fundraising quarter of the year. He also sent $25,000 to the main pro-Rubio super PAC.
In addition to the fundraising swing, Rubio took time to meet with voters Monday afternoon during a rally in Pewaukee, where Vukmir introduced him as the next president of the "United States of Wisconsin" before quickly correcting the last word to "America." Rubio delivered his usual stump speech, highlighting his humble upbringing and plans to strengthen the economy, education, and the military. But for the Wisconsin Republicans in the audience, many of whom were hearing Rubio in person for the first time, the 20-minute address sounded a lot like one Walker might have given on the campaign trail.
"I wish Marco Rubio had Scott Walker's on-the-ground experience, and meld the two of them, and they'd be the perfect candidate," said Stewart Friend, a 68-year-old landlord from the area who supported Walker's bid and is now planning to vote for Rubio. "But Rubio's one of the best candidates I've seen."
Given Walker's candidacy and the fact that Wisconsin's primary won't take place until April 5, the state hasn't received much attention from presidential hopefuls this year. Rubio's campaign fundraiser marked the first official event held by a Republican candidate, aside from Walker, in the state this election cycle, according to data compiled in National Journal's Travel Tracker.
But a few other candidates are also holding their own campaign events around the fourth Republican debate Tuesday in Milwaukee. About an hour after Rubio finished speaking in Pewaukee, Bush appeared at an event highlighting school choice alongside Walker 15 minutes down the road. Bush opened his remarks at La Casa de Esperanza, a charter school in Waukesha, with praise for Walker, saying he "admired" his one-time rival.
"It isn't the easiest thing in the world to take on really powerful and entrenched interests," Bush said. "This guy did it, not just in education, but across the board, and continues to do it each and every day."
Bush, who has received endorsements from former Wisconsin Gov. Tommy Thompson and former state Republican Party chairman Richard Graber, also attended a fundraiser in Milwaukee Monday night.
Meanwhile, Carly Fiorina plans to hold a fundraiser in Milwaukee on Wednesday, the morning after the debate. The list of cohosts isn't nearly as long as the one for Rubio's event, but it still features a handful of Walker donors. John and Kathryn Burke, two GOP donors from Milwaukee, were listed as hosts for both the Rubio and Fiorina events. Milwaukee-based venture capitalist Stephen Einhorn and his wife, Nancy, are also set to cohost the fundraiser.
And as for an endorsement from Walker himself? It will be highly sought after in the coming weeks. Rubio reportedly asked for the governor's support last week. But don't expect Walker to pick sides anytime soon.
"We're just happy to have them all in Wisconsin," Walker said after his event with Bush.