Kirsten Gillibrand's Army
New York's junior senator is quietly building up a loyal base of allies inside the Capitol—and donors outside of it.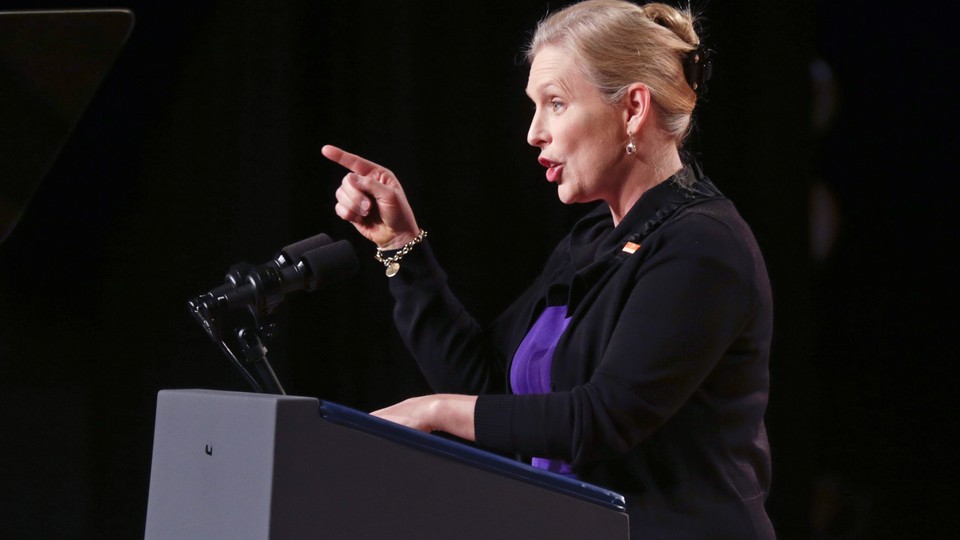 Sen. Kirsten Gillibrand has gotten used to the spotlight.
The 48-year-old Democrat has a loyal following of young, female supporters, she's often mentioned as a future presidential candidate (a position she says she does not "aspire to"), and her high-profile campaign to combat sexual assaults in the military (a battle that she says is ongoing and "going to take a long time") and on college campuses has brought her far more attention than is typical for a junior senator.
With 2016 approaching, the New Yorker now finds that attention is shifting, both to her predecessor who could become the next president of the United States and to her senior senator, who is in line to become the Democratic leader of the Senate when Harry Reid retires at the end of this term.
But even with the spotlight elsewhere, Gillibrand is quietly building up an army of donors, political activists, and members of Congress who all hold one thing in common: They're women who owe their political careers and interest, in part, to her.
"WE'RE STALLED"
Gillibrand founded the Off the Sidelines PAC in 2011 with the goal of electing more women to Congress and getting women across the country to take a more active role in the political process. The senator said she was inspired by her grandmother, a secretary in the New York State legislature, who grew tired of the lack of women's voices in state politics and founded the Albany Women's Democratic Club.
When she entered the Senate as an appointee in 2009, Gillibrand said she realized that while there were several groups pushing so-called "women's issues," there was no real women's movement. "I really had this aha moment where I was feeling that the women's movement was largely dead, that we didn't have a cohesive women's movement," Gillibrand said. "No grassroots movement, no effort to get women's voices heard, no effort to move women to change outcomes of elections. And so I wanted to create that."
It's slow-going. There were 99 women in Congress (including nonvoting delegates) when Gillibrand started Off the Sidelines in 2011, now there are 108, according to statistics from the Congressional Research Service. During the 2010 elections, the number of women in Congress actually stayed flat for the first time in 30 years.
It's not easy, Gillibrand admitted in an interview in her Capitol Hill office. In part, she blames the Supreme Court's Citizens United decision, which has increased the flow of undisclosed money that benefits a largely male incumbent class and provides for highly negative advertising that has dissuaded many potential female candidates from running for office.
"I don't know if it's getting harder, but it's not getting easier," Gillibrand said. "I feel we're stalled out on our percentage."
Going into 2016, Gillibrand is supporting eight female candidates for the Senate who—if they all manage to win their races—would represent a net-gain of five seats for women in the Senate. (Sen. Patty Murray is running for reelection, and California Attorney General Kamala Harris and Maryland Rep. Donna Edwards would replace retiring female senators.) "That would be huge," Gillibrand says emphatically, noting women would make up a quarter of the Senate. That's not sufficient for Gillibrand, but it's a start.
But more than just recruiting, advising, and funding female candidates, Gillibrand is building up a grassroots movement that could prove even more powerful.
A ROLODEX OF DONORS
While Off the Sidelines has grabbed headlines for its mission to elect more women to Congress and its staggering fundraising numbers, its larger goal is to activate a brand-new class of female donors and activists.
In that, Gillibrand has found success. At Off the Sidelines, Gillibrand has created a symbiotic system that empowers the group's supporters while also benefiting the politicians she supports. She has pushed Off the Sidelines donors to find issues they care about and use their financial support to encourage candidates to champion them, while also building an issue-based list of potential donors to introduce to candidates. The group's frequent email petitions not only build up her email list but ignite new activists and donors on her preferred issues that they might not otherwise have heard about. It's a win-win relationship that Gillibrand embraces.
That's part of what makes Gillibrand unique, Rep. Cheri Bustos said, a beneficiary of Off the Sidelines' support and donor introductions. Oftentimes, Bustos said, donors only hear from candidates when they need a contribution; it's a one-way transaction. "But what she does is she engages her supporters and they get inspiration in return. And especially for women that means a lot," she said.
Gillibrand's rolodex of donors and their issues has been beneficial for many women in Congress seeking reelection and for candidates hoping to come to Capitol Hill in 2017.
Sen. Tammy Baldwin, who first befriended Gillibrand when both served in the House, said that those donor relationships were invaluable in her first Senate run in 2010. "She had told me all about Off the Sidelines and said, 'I have this incredible network of not just New York-based women, primarily women, but frankly a network throughout the country,'" Baldwin said. "Certainly when I was going to be in New York, she wanted [to give me] the opportunity to be able to meet some of the movers and shakers in Off the Sidelines that she had organized around the idea that we need more women with a seat at the table."
Gillibrand is clearly bringing brand-new donors into Off the Sidelines, Baldwin said, and introducing them to female candidates across the country. (Gillibrand's office noted that she does not sell her donor or email lists to campaigns but makes an effort to personally connect Off the Sidelines donors with members and candidates that support their issues.)
That assistance has left Gillibrand with a lot of allies on both sides of the Capitol. Bustos, an Illinois Democrat, said that Gillibrand called her in 2012 during her first campaign for the House, asked how she could help and hasn't stopped since. "She was there for me, and again, that means a heck of a lot. Sen. Gillibrand is viewed as a leader, she's somebody whose name you know if you follow politics, and this senator from New York is there for you," Bustos said. "I guess unless you've run for office at some point and especially if you're running for the first time, I can't say enough about how much it means when someone like Sen. Gillibrand comes in and offers help. There's a psychological lift."
The two members have since become good friends through the women's congressional softball team and Gillibrand has become a role model for the Illinois Democrat. Bustos was tapped by the Democratic Congressional Campaign Committee earlier this year as a vice chairwoman for recruiting where, she said, she's focusing on electing more women and people of color to the House. Bustos said that whenever she reaches out to a potential female candidate now, she recommends that they reach out to Gillibrand. "More often than not," she said, Gillibrand has already called them.
BUILDING AN AGENDA
Those relationships are paying off dividends for Gillibrand as well. The New Yorker has used her cachet with female members on both sides of the Capitol to earn support for her legislative efforts, including her recent effort to combat sexual assaults on college campuses. And her work with the women of Off the Sidelines has helped her to craft national backing for a woman-focused agenda, one which in many ways resembles her own.
Gillibrand believes that electing more women to Congress, whether they be the Democrats she has helped or even Republicans, will be good for the institution, but it will also help her to pass legislation.
Since coming to the Senate, Gillibrand has frequently worked with her female colleagues, both Democrats and Republicans, on an issue-first basis, a tactic that has worked well for her in her six years in the Senate. She notes key relationships with Sens. Susan Collins and Lisa Murkowski as well as former Sen. Olympia Snowe that helped to pass the "Don't Ask, Don't Tell" repeal as well as finding a way to pay for the 9/11 first-responders health care bill that Republicans would accept.
"Women govern differently," Gillibrand said. "They often leave partisan politics at the door and find common ground more easily. They often are very good listeners; often they're very good consensus-builders. And, as a result, they find what we can do and at least move that forward. And so every bill I've ever passed, I've had strong Republican women helping me," Gillibrand said. "And every bill I have now, whether it's sexual assault in the military, sexual assault on college campuses, or paid leave, I'm working with large coalitions of women, which I think is exciting."
Those relationships with women in power and those on the ground across the country as well as her legislative accomplishment could be helpful to Gillibrand in the future, whatever she decides to pursue. While she does not aspire to the White House (she declined to say "never"), Gillibrand said that she sees public service as a lifelong calling for her, though "it doesn't necessarily have to be in the U.S. Senate."
For now, she's happy with what she's doing and with taking the long road ahead of her a few steps at a time.
"I don't want to die in the Senate, that's also not my ambition. … But I like helping people, and I do like using this platform in particular to create national narratives about reforms I think are really necessary and I feel like I can make a difference here. I feel like the day I can't make a difference would be the day I want to leave," Gillibrand said. "But I feel like I'm still making a difference, we can still get more done."