A Slick Gambit by the Makers of the Keystone Pipeline
Why TransCanada, the company angling to build the controversial $8 billion oil project, asked the State Department to delay its application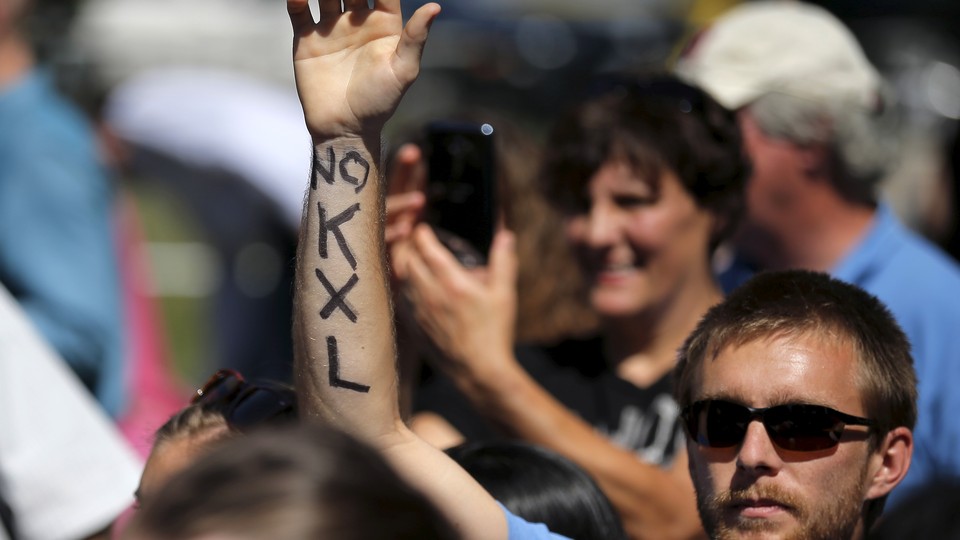 Updated at 5:20 p.m. on November 3, 2015
In a move that further complicates an already protracted drama, TransCanada, the company behind the $8 billion Keystone XL pipeline, has formally asked the State Department to delay its review of the controversial project.
"In order to allow time for certainty regarding the Nebraska route, TransCanada requests that the State Department pause in its review of the presidential permit application for KeystoneXL," the company's president wrote in a letter to U.S. Secretary of State John Kerry.
Invoking Nebraska, where landowners have long been haggling with the company over possible routes for the pipeline, is a piquant twist in the years-long political saga. As my colleague Russell Berman reported in January, after Nebraska's Supreme Court threw out a legal challenge to the project, the pipeline's Republican supporters urged President Obama to approve it without delay. "No more excuses for President Obama," former House Speaker John Boehner tweeted at the time.
Several months later, the more likely rationale for the request is that the State Department appears poised to finally shoot down TransCanada's bid.
"TransCanada's move comes as the State Department was in the final stages of review, with a decision to reject the permit expected as soon as this week, according to people familiar with the matter," reported Amy Harder at The Wall Street Journal.
With global oil prices low and new Canadian Prime Minister Justin Trudeau, seen as a less ardent supporter of the project, now in office, the surprise decision to request a delay is being viewed by some as a gambit to stall a decision until more favorable conditions return—like when President Obama is no longer in office.
The proposed 1,200-mile conduit, which would carry oil from the Canada sands to the Gulf of Mexico, has so far only carried venom between the consortium of liberal politicians and environmentalists that vigorously oppose it and the conservatives that vigorously support it. That latter camp includes all Republican presidential candidates.
Back in September, Democratic frontrunner Hillary Clinton, who oversaw the early stages of the recommendation process, finally announced her opposition to the project. On Tuesday, her rival Bernie Sanders, who has opposed the project since in 2011, reiterated his disapproval.
In the meantime, TransCanada's request doesn't mean that the State Department is obligated to stop its review of the project. However, should the delay be granted, the company may have just assured that the issue finds its way back into the 2016 spotlight. (Update: White House officials told reporters that President Obama intends to decide on whether to approve the Keystone XL pipeline before he leaves office.)