Kentucky's Trump
If the next president doesn't heal our politics, angry voters may reach further to the dangerous fringes.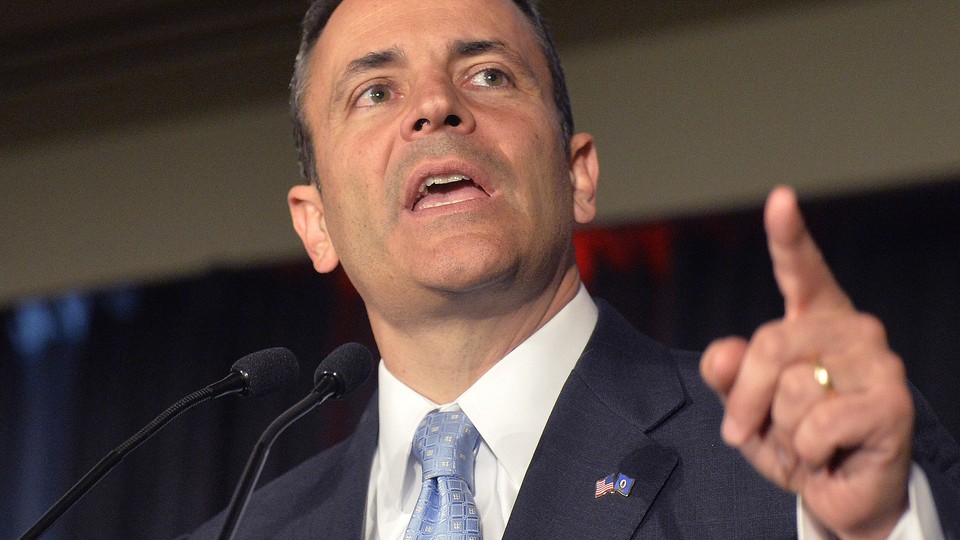 You don't think Donald Trump could be president? Let me tell you about a wealthy GOP businessman called a "pathological liar" and an "East Coast con man" by his fellow Republicans, a guy who thumbed his nose at the establishment and won.
You don't think Ben Carson could be president? Read here about political novice whose awkward charisma and go-it-alone style shocked the political world on Election Day.
You think you know everything about politics? You're sure Hillary Clinton has nailed down the Democratic nomination, and you assume an establishment Republican will eventually overtake Trump and Carson? You may be right: History, conventional wisdom, and the traditional political rules favor your case.
But did you see what happened in Kentucky? From Sam Youngman at the Lexington Herald-Leader:
Republican Matt Bevin, who trailed in every public poll since winning the Republican primary in May by 83 votes, shocked Democrat Jack Conway on Tuesday to become the next governor of Kentucky.

With help from national Republicans he has shunned repeatedly, Bevin was able to overcome a campaign of missteps and self-inflicted wounds to become the first Republican governor since Ernie Fletcher's 2003 victory and only the second since Louie Nunn left office in 1971.

Bevin was able to defy pundits, political insiders, and polling—including one released by his own campaign in October that showed him losing—and emerge a winner Tuesday night.
The Democratic Governors Association blamed the defeat of its candidate, Jack Conway, on the public's thirst for an outsider and "the unexpected headwinds of Trumpmania."
Like most analogues, this one is flawed: Bevin benefited from a deep disapproval of President Obama in Kentucky and, of course, running for governor in 2015 is nothing like running for president in 2016. But the Kentucky race is merely the latest warning shot fired at the political status quo, a surge of populism playing out at the edges of both parties: The rise of the tea party in 2010; the ouster of House Majority Leader Eric Cantor in 2014; the progressive magnetism of Elizabeth Warren and Bernie Sanders; and, of course, the surprising staying power of Trump. In June, I called the celebrity billionaire a "combed-over reflection of an Angry America."
I'm not smart enough to know whether the presidency will go to an outsider in 2016. But I've spent enough time talking to voters across the country to believe that the anti-establishment fever will not be broken until the political system is healed.
Should the next president—like the past two—break his or her promise to unite the country and address the nation's long-term problems, the anger will boil hotter, voter backlash will hit harder, and the path to power for a hate-spewing megalomaniac will be easier.
You don't think it could happen? You don't think America could elect its own Berlusconi? Or worse? Let me tell you what happens when an angry and e-connected electorate loses faith in all U.S. institutions and realizes it has more power than ever. The unexpected happens. As we saw in Kentucky, the unfathomable seems impossible until it's not.