Jeb Bush's Conundrum
After a rough patch, the Republican presidential candidate is returning his campaign's focus to his tenure as Florida's governor.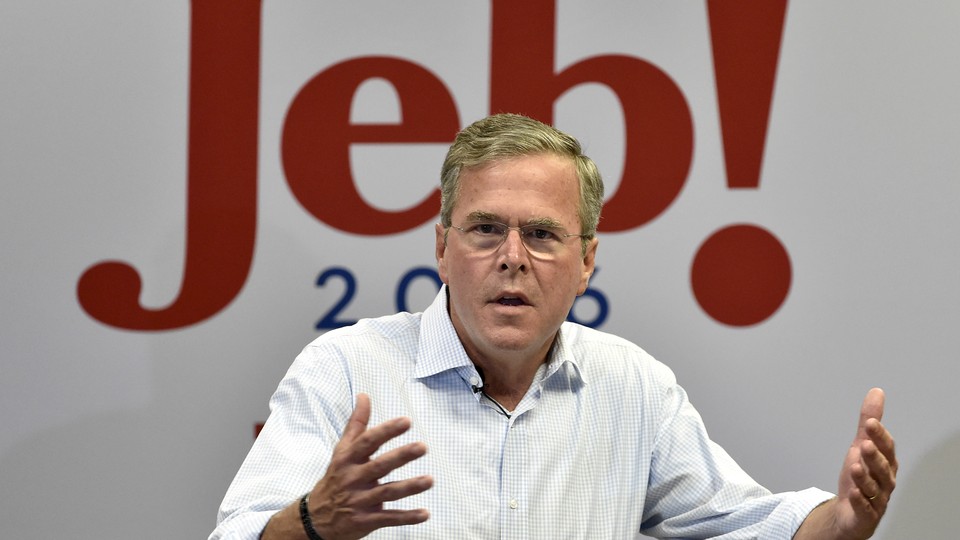 At the start of this year, Jeb Bush was crowned the GOP frontrunner for 2016. And then came Donald Trump. Months later, Bush is polling in the single digits and struggling on the debate stage. So, on Monday, he hit the reset button, taking the focus of his campaign back to his governorship in Florida. But simply doubling down on his record in Florida may not be enough.
Bush launched his "Jeb Can Fix It" tour in his home state of Florida. (The slogan made for numerous jokes in the Twitterverse.) It coincided with the release of his new e-book, Reply All, which shows the correspondence he had with Floridians while governor. And his stump speech quickly shed light on his ailing campaign and the advice he's received to better it.
"Some advice is more strategic. Nail that zinger. Be angrier. Hide your inner wonk," he said, "But I have learned two important things from my time serving the people of Florida: One, I can't be someone I'm not. And, two, getting things done isn't about yelling into a camera, or regurgitating sound bites free of substance." But what's been abundantly clear recently is that Bush has to fix his campaign strategy if he wants to win the nomination.
An NBC/Wall Street Journal poll released on Tuesday shows Bush at 8 percent, trailing Marco Rubio and Ted Cruz. Carson and Trump, meanwhile, continue to hold the top two spots. During the summer, it seemed as though Americans were flirting with the political outsiders, a way of showing discontent with a rattled establishment. And while that may well remain the case, the numbers are startling for Bush, who was long expected to be the favorite.
Bush built his campaign around his tenure as governor. But what he did then seems to matter less now. In September, the percentage of Republicans who thought it was important for a candidate to have an "experience and proven record" dropped to 29 percent compared to 57 percent in March, according to a Pew study. On Monday, Bush took a swing at his opponents without experience, specifically Trump. "You can't just tell Congress, 'You're fired,' and go to a commercial break," Bush said, referring to the real-estate mogul's reality TV show The Apprentice.
But after the latest GOP debate, it's another candidate who's posing a risk to his campaign: Marco Rubio. Bush once mentored the younger Florida politician, but the two are now squaring off, as Bush tries to catch up to the Florida senator. During the debate, Bush went after Rubio for missing votes with no success.
Bush is in a tough position. The success of governors in presidential races has fluctuated over the years. As the Los Angeles Times has written:
In 1876, both parties nominated a governor for president. Although New York Gov. Samuel Tilden won the popular vote, Ohio Gov. Rutherford B. Hayes received the majority in the electoral college. (It was the Bush vs. Gore election of its day.) For 52 of the next 68 years, the Oval Office was occupied by former governors.
In the middle of the 20th century, presidents exhibited a broader range of backgrounds. Herbert Hoover had been a cabinet secretary, Dwight Eisenhower a general, John F. Kennedy a senator, and Richard Nixon a vice president. Starting with Jimmy Carter, though, who took office in the wake of Watergate in 1976, voters turned back to executive experience. Three of the next four presidents were likewise onetime governors. But the current occupant of the oval office is not—and Obama defeated former Massachusetts Governor Mitt Romney in 2012 to win reelection.
Voters, taking a jaundiced view of the political establishment, appear to have swung back toward fresh faces. First-term Senators Marco Rubio and Ted Cruz, for example, have surged in the polls even if, unlike governors, they haven't actually run anything. New Jersey Governor Chris Christie once predicted that, "The American people are done with the experiment of having somebody [as president] who's never run anything before." But, at least among GOP voters, there's little evidence that's the case.
But Bush's campaign shouldn't be written off. Even if touting his tenure as governor doesn't bear fruit, he still has his family legacy, which has secured enormous donations for his Super PAC, and pushed him to the national stage. Bush has tried to downplay those ties in the past—his campaign slogan intentionally laves out his last name—but that's changed. Just last week, Jeb and George W. Bush sat down with donors—a reminder that Jeb hails from a family with extensive experience in politics.
Whether Jeb can convince the public on his three-day bus tour that his tenure as governor ought to earn him a ticket to the White House remains to be seen.