In the Jeb Bush Campaign Reset, Past Is Prologue
"I turned the political culture of Tallahassee upside down. … I'll turn Washington upside down, too."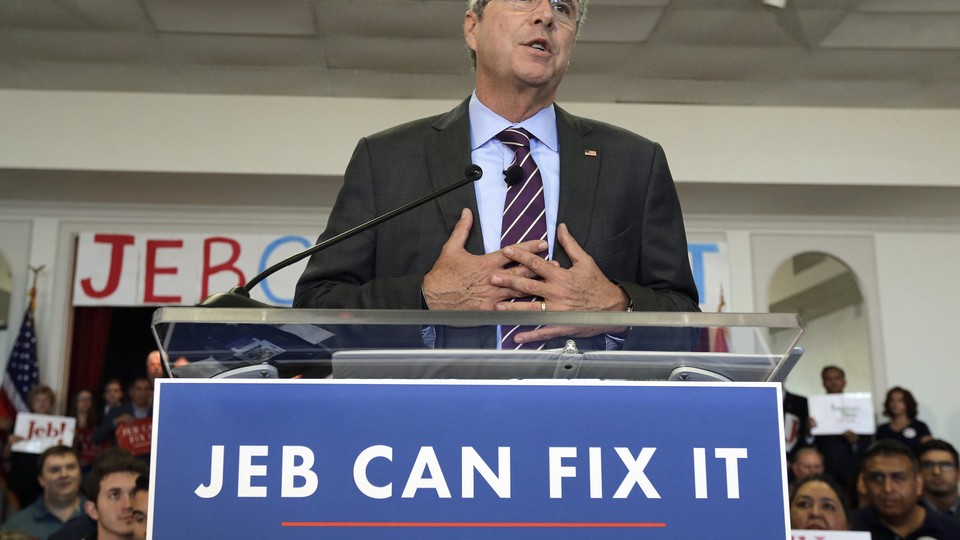 Hoping to refocus his campaign in the wake of a much-criticized debate performance, Jeb Bush circled back Monday to where his political career began: Florida.
The former governor spoke at the Tampa Garden Club to tout the release of a new e-book, Reply All, that features a selection of emails from Bush's time in Florida's executive office.
"I gave out my email address because I wanted Floridians to know that their governor cared about them and wanted to help solve their problems," Bush told the crowd, noting that "this eight-year conversation with Florida shaped my governorship."
The speech in Tampa marked both the launch of the e-book and the beginning of a "Jeb Can Fix It" tour. The Bush campaign is hoping to reset after slipping polls, campaign-staff pay cuts, and a much-criticized debate performance which incited speculation that his presidential run had reached the beginning of the end.
On Monday, Bush returned to Florida to remind voters of his record there as governor. "I turned the political culture of Tallahassee upside down," Bush told the crowd. "I'm putting the Beltway on notice: I'll turn Washington upside down, too.
The Bush campaign also released a new campaign video Monday that largely focuses on Bush's tenure, which ended in 2007. The two-minute spot features Florida officials praising Bush's work in the state.
But as Bush harkened back to his past successes during Monday's speech, he reserved some time to lament the indignities of campaigning in 2015.
"If Lincoln were alive today, imagine the foolishness he would have to suffer," Bush said. "Think about it: Advisers telling him to shave his beard. Cable pundits telling him to lose the top hat. Opposition researchers calling him a five-time loser before he was 50."
Bush sympathized with the hypothetical, 21st-century Lincoln, identifying the critiques he's received on the campaign trail: "I have gotten a lot of advice lately myself—more than enough, thank you. Some is stylistic. 'Take off the suit coat.' 'Ditch the glasses.' 'Get rid of the purple striped tie.'"
That last piece of advice, it seems, was nonnegotiable.
"I like this tie," Bush said, turning around to address the crowd assembled on the stage behind him, displaying the aforementioned adornment. "It only cost twenty bucks."
Bush doled out some criticism of his own, taking swipes both at Democratic leaders and at his competitors for the Republican presidential nomination. He called President Obama a "cynic-in-chief," criticizing both the administration's nuclear deal with Iran and the president's veto of a defense spending bill. Hillary Clinton, he argued, "blames a vast right-wing conspiracy instead of taking personal responsibility."
As for his competitors, Bush appeared to go after both Sen. Marco Rubio ("The answer isn't sending someone from one side of the capital city to the other") and Donald Trump ("You can't just tell Congress … 'You're fired,' and go to a commercial break").
But even as Bush railed against his opponents with a slew of handy one-liners, he criticized the CNBC moderators of last week's debate for encouraging that kind of language: "If you watched the debate, you probably came away thinking this election is about sound bites or fantasy football or which candidate can interrupt the loudest."
Though he criticized the debate's format Monday, earlier he had admitted his performance had some room for improvement, telling Meet the Press's Chuck Todd on Sunday that "I've got to get better at doing the debate."
He plans to be around for many more such contests as the campaign cycle rolls along. "And let me tell you something," he told the crowd in Tampa Monday. "When the dust clears, and the delegates are counted, we're gonna win this campaign."