In My Clinic I See How Hunger Damages Children
"I have witnessed the serious impacts of food insecurity on a child's physical health during my clinical experience."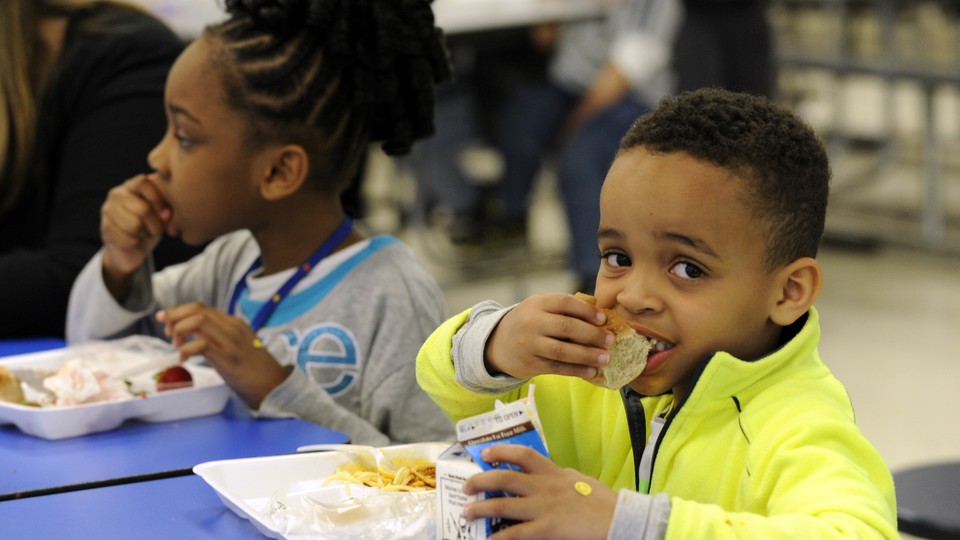 Last week, at my clinic in Southeast Washington, I was puzzled by two brothers, named Dylan* and Kevin, ages 3 and 4. Their smiles were big and bright, but their bodies were smaller than I expected. Neither had gained significant weight since their last doctor's appointments about a year ago.
Dylan and Kevin were born healthy, and their growth was normal during infancy. The boys' mother, Gabby, explained that her sons' growth was hindered not by illness or infection but by a series of tragedies: After their father died about a year ago, the family fell on hard times. After losing their apartment, Gabby found temporary shelter for them, but finding enough food to eat was a challenge because she was inexperienced with using food stamps.
Millions More
This family, like millions of others, is enduring the uncertainties of food insecurity in America. Whether they will have enough food to eat, where that food will come from, and what it will cost are questions of survival for Gabby, Dylan, and Kevin. For our country, they are questions about our national character.
Last year alone, 17.4 million American households (where 16 million children live) were food insecure, meaning the families lacked enough food to meet their needs for a number of reasons, according to the U.S. Department of Agriculture. Some did not have enough money, others lived in neighborhoods with few—or no—sources of healthy food.
These families do what they can to survive. Some rely on charitable food pantries and federal food-assistance programs. Adults skip meals or forego healthy food so their children can eat. In 422,000 American households, children are also going hungry with their parents.
In a recent policy statement, the American Academy of Pediatrics describes how struggles for consistent access to affordable, nutritious food impacts nearly one in five children. Children of color are disproportionately affected: African-American and Latino children make up 15 percent and 24 percent of the American child population respectively, yet 38.5 percent of black households and 31 percent of Latino households with children have been food insecure.
This is a dire situation for future-majority Americans. When families with children four months to 3 years old experience food insecurity, children suffer adverse effects on the development of cognitive, linguistic, fine motor, and social skills. These skills are critical building blocks for school readiness and future academic performance.
Even brief periods of early-childhood food insecurity have negative consequences on how children learn. A study in The Journal of Nutrition showed kindergarteners from households without enough to eat continued to have lower reading and writing skills than their food-secure peers. The very concerning associations between food insecurity and emotional well-being should come as no surprise, as children struggling with hunger are often struggling with behavioral dysregulation as well.
Seeing the Impact
I have witnessed the serious impacts of food insecurity on a child's physical health during my clinical experience.
For example, iron-deficiency anemia can develop long before a child's weight loss is visible, and has been shown to impact physical and neurological development. Additionally, children from food-insecure households have a 90-percent greater chance of their parents describing their health as fair or poor. They also experience a higher rate of hospitalizations and chronic diseases.
Public-health researchers continue to study whether and how food insecurity and obesity are related, but what we do know is that many children in low-income neighborhoods and communities of color are less likely to have easy access to supermarkets with high-quality nutritious food. Like the families I serve, many parents and children in overlooked parts of America resort to low-nutrient, high-calorie food from fast-food restaurants. Thus, we see the counterintuitive phenomena of communities struggling with both food insecurity and obesity.
Between children's minds and bodies, food insecurity clearly has profound and long-lasting effects. Fortunately, there are a range of highly effective federal programs in place for families in need of nutritional assistance.
What Works
While some politicians have scored points from their contempt of the food-stamp program (officially the Supplemental Nutrition Assistance Program, or SNAP), the fact is that it is a lifeline for over 46 million Americans living at or below $26,000 per year (130 percent of the federal poverty level for a family of three).
What's Needed
Right now, Congress has an opportunity to strengthen the nutrition guidelines and administrative performance for WIC, School Breakfast Program, National School Lunch Program, and the CACFP by re-authorizing the Healthy, Hunger-Free Kids Act of 2010.
Federal food assistance programs are more than just rhetoric or parliamentary tactics to food insecure children like my patients Dylan and Kevin. These programs represent the cornerstones of basic health justice for our children. The public-health missions of WIC, SNAP, the school meals programs, and CACFP involve nourishing children so they can have a healthy start, a meaningful education, and a thriving childhood.
Sadly, I am unable to say if Dylan and Kevin's story will have a happy ending because their health, likelihood for adequate development, and future success are partially bound to their fellow Americans and our national commitment to stopping child hunger.
*All names have been changed.
Sanjeev K. Sriram, MD, MPH, is a pediatrician in Southeast Washington, D.C., a minority health-policy expert, and an advocate for health justice.
Say It columns are works of opinion that reflect the writer's viewpoint as supported by evidence. They do not represent the opinions of Next America, its parent company or affiliates.