How The Keystone Pipeline Story Curdled
President Obama's decision, once a mystery, is widely expected to be a rejection.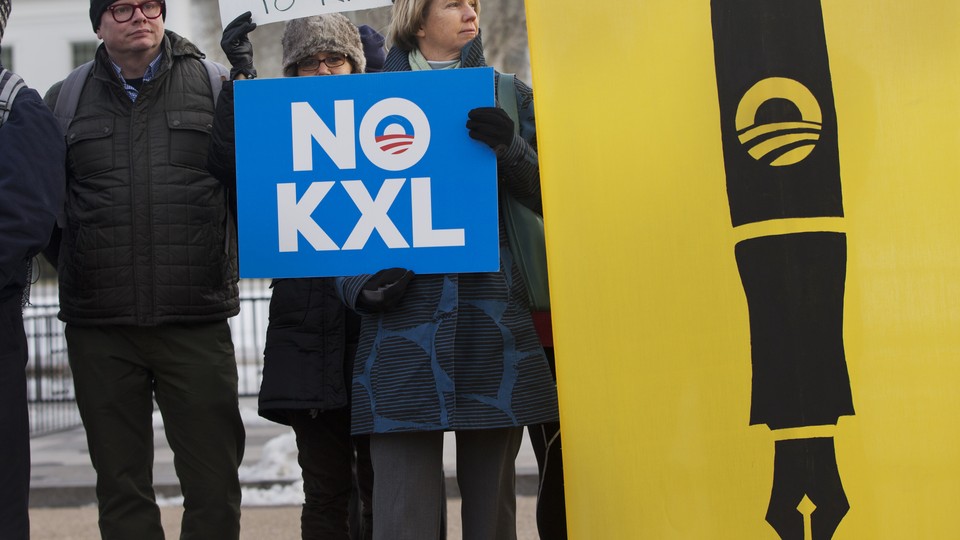 For a vast political and lobbying battle about energy security and the health of the planet, the Keystone pipeline saga has become something unexpected: Predictable.
Consider: On Wednesday, a reporter asked senator and White House hopeful Bernie Sanders whether President Obama should reject the Keystone XL oil sands pipeline ahead of major United Nations climate-change talks, which start this month in Paris.
"Absolutely," Sanders said, urging Obama to act "as soon as possible." Not too long ago, reporters were more likely to ask lawmakers a different Keystone question: whether they knew which direction the White House was leaning on the project.
And that's because for several years, it was anybody's guess as Keystone morphed into one of the highest-profile controversies of Obama's presidency. But now, after many twists and turns in the roughly seven-year review, the consensus is that it's a question of when, not if, Obama will say no to Keystone.
"I think we're just waiting for rejection. I hope I'm wrong, though," said Sen. Thomas Carper, a Delaware Democrat who supports the pipeline. Michael McKenna, an energy industry lobbyist, said he sees "zero chance of approval by this president."
For years, however, Keystone's fate was more mysterious.
Obama's multiple delays and noncommittal, sometimes cryptic comments on TransCanada Corp.'s project produced furious bouts of Kremlinology, such as when he declared in mid-2013 that he would only approve the project if he was convinced it would not "significantly exacerbate" carbon pollution.
What on earth did he mean?!?!
But for months now, there has been a strong sense on both sides of the battle that Obama is moving towards rejection.
The frenzied multiyear battle—which has drawn in powerful lobbying groups, emboldened a more pugilistic wing of the environmental movement, and sparked legislative efforts for years—appears to be nearing its conclusion under Obama.
Predictions that Obama, who has increasingly focused on climate change during his second term, would nix Keystone grew stronger around a year ago when the president became increasingly critical of the project's impact.
"It's very good for Canadian oil companies and it's good for the Canadian oil industry, but it's not going to be a huge benefit to U.S. consumers. It's not even going to be a nominal benefit to U.S. consumers," Obama said in a December press conference.
TransCanada Corp.'s pipeline would bring hundreds of thousands of barrels of oil per day from Alberta's tar sands projects to Gulf Coast refineries.
The company seemed to receive good news in January 2014, when a long-awaited State Department analysis concluded that Keystone would have little effect on climate change, because expansion of greenhouse-gas-intensive oil-sands development would proceed with or without the pipeline.
But the analysis contained what may have become a trapdoor of sorts. The review said that in the unlikely event of a large and sustained drop in oil prices, growth in oil sands production could be curtailed if Keystone and other pipelines did not go forward.
Indeed oil prices began collapsing in mid-2014, and in February of 2015 EPA wrote a letter to State that could bolster a White House decision to reject Keystone. EPA said the effects of the lower price scenario should be given "additional weight."
More broadly, as Obama has made green energy and climate change a major second-term focus, Keystone has appeared less and less likely to go forward.
That's not lost on TransCanada, which this week asked State to suspend the roughly seven-year review pending resolution of a state of Nebraska process on the pipeline route.
The move was widely viewed as a way to hand the federal decision off to a more friendly administration. Republican White House hopefuls support Keystone. But the Obama administration rebuffed the request this week.
Still, even the expected rejection—whenever it comes—won't be the end of the story, given the possibility that a GOP White House would revive the project, and other factors.
Manuel Quinones, who covers Keystone for Environment and Energy Publishing, said questions remain about how the administration will roll out whatever decision it makes, and what comes next if the pipeline is rejected.
"It is not just, will [Obama] reject it or will he not reject it," Quinones said. "It is also, what happens afterward? Will there be an appeal? How will the Canadian government respond? How will lawmakers on Capitol Hill respond?"
"There is," he said, "a lot of action that could follow a rejection."
Jason Plautz contributed.