How Mike Lee Beat Back Talk of a Republican Challenge in Utah
The first-term senator courted some of his biggest critics within the party. Now, they're on his campaign committee.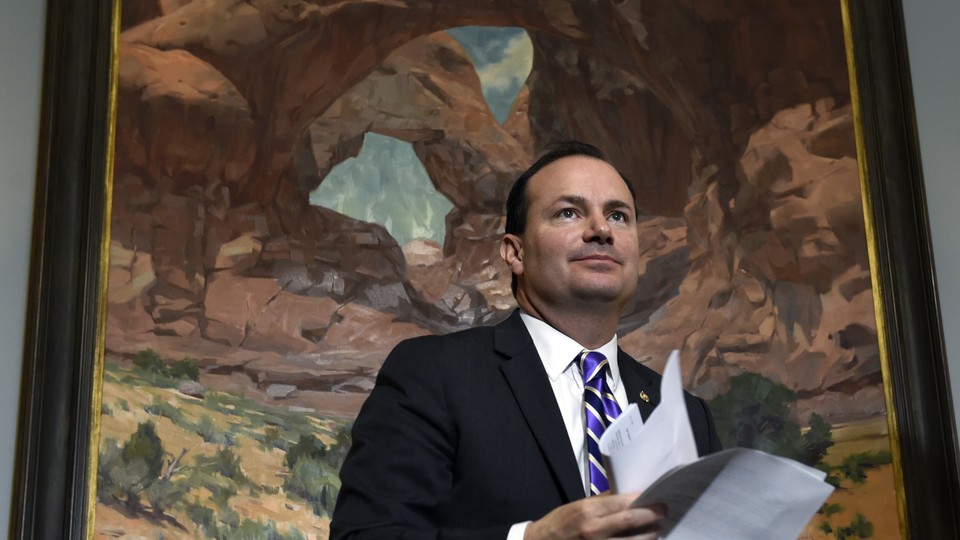 This time last year, Sen. Mike Lee faced calls for a challenge within his own party. But after a quiet campaign of persuasion within the Utah Republican Party, the first-term conservative has all but shut down the prospect of competition at next year's state GOP convention.
Through a series of face-to-face meetings in the spring, along with a strategic staff change, Lee transformed some of Utah's influential business leaders from some of his biggest foes to some of the first names on his campaign committee. And Lee's effort to unite Utah Republicans behind him has been successful enough that that campaign committee has actually slowed down its activity six months from the convention where he looks set to win nomination.
Lee, a tea-party favorite who unseated incumbent GOP Sen. Bob Bennett in his 2010 campaign, drew the ire of Utah's establishment leaders for pushing the 2013 government shutdown. Most notably, in December 2014, Zions Bank president Scott Anderson and former state party chair Jon Huntsman Sr. called Lee an "embarrassment" and an "extremist," and they told Politico they were seeking a candidate to run against him. Anderson, one of the biggest political influencers in the state, commissioned surveys from Utah pollster Dan Jones showing Lee as vulnerable in a primary.
Yet just three months later—after a handful of candidates turned down the opportunity to challenge Lee— Anderson's name appeared on a list of cochairs released by Lee's reelection campaign, along with Huntsman's son, former Gov. Jon Huntsman Jr. In that release, Anderson praised Lee for "[collaborating] on an agenda focused on meaningful reform."
What happened in between, Lee's allies say, was a bit of small-state diplomacy. In meetings set up by his friends in the business community, Lee wooed his critics in Salt Lake City's business elite, a relatively small group, but one with outsized political influence in the state. By winning over figures such as Anderson and Huntsman, Lee effectively chilled the ambitions of anyone hoping to run against him with the state's establishment's backing.
"Mike is a quick study. … He saw that he was having challenges with the mainstream conservatives in this state," said Lew Cramer, CEO of the real-estate brokerage Coldwell Banker Commercial Advisors. Cramer, a self-described moderate and longtime friend of the Lees, helped set up some of the meetings in the hope that his colleagues could see what he sees in Lee: a talented young senator who has matured since 2013.
"There's a lot of Far-Right voices here that helped get him elected, and they're fine individuals, but there's better ways to govern, we think, and I think Mike's come around to that view point as well," said Cramer. "Jon Huntsman's a moderate, Scott Anderson's a moderate, I'm a moderate, and I wanted to ensure that my friends saw that he was more than just a bomb-thrower.
"We got about a dozen people together who sat down and said, 'Senator Lee, we really want to see progress in this country; we want you to be a unifier, not the senator from Ted Cruz country but the senator from Utah,'" said Cramer. "He wants to do the right thing, he's matured in office, and he could be a force going forward for us."
Late last year, Lee also made a strategic change to his office staff. In December, he hired Neil Ashdown, Huntsman Jr.'s former chief of staff, to serve the same role in his Senate office. Lee's then-chief of staff, Boyd Matheson, then took over his political operation in Utah.
Though Ashdown had to step down for personal reasons in April, the hire sent a signal to Utah's old-line Republicans that Lee could work with them.
The effort was successful enough that, since Lee announced his campaign cochairs this spring, that campaign has all but gone into hibernation. After raising close to $800,000 in each of the winter and spring fundraising periods, Lee's most recent quarterly haul was just $400,000. A campaign rollout that was planned for August was postponed, his allies say, and likely won't happen until the first of the year.
"There was just no purpose for it; people are just not thinking about this race for it right now," said Lee adviser Bud Scruggs, a longtime Utah political hand who worked on Sen. Orrin Hatch's campaigns.
"As a campaign, we've been very careful not to make big fundraising demands in the state," said Scruggs. "With 24 Republican senators up this time and a presidential race, people say, 'If this is going to be a fight, we're all in, but if not, let's not save resources.'"
That was always a factor protecting Lee. With so many Republican incumbents around the country facing reelection threats this year, and with high-fundraising groups such as the Club for Growth lining up early with Lee, a Republican challenger might have found it difficult to raise money, especially out of state.
"Many of us said, We'd like to have a Republican president, and anything you're doing that doesn't help that goal is not positive for the state of Utah or this country,'" said Cramer.
Lee's campaign has also put the brakes on hiring additional staff beyond consultant Brooks Kochvar, pollster Chris Wilson, in-state campaign director Marcus Jessop, and Matheson, who pulls double duty as chief of staff and a political adviser.
"It took a long time for folks in Salt Lake City to develop an appreciation for the innovative things Senator Lee is doing," said Scruggs. "Among the Salt Lake establishment, Senator Bennett was really a beloved public official. … Once Senator Lee had the chance to explain what he was trying to accomplish, I think people saw past the caricatured version of him."
Correction: An earlier version of this story misstated which Huntsman is on the campaign committee. It is the former governor, Jon Huntsman Jr.