How Marco Rubio and Ted Cruz Are Already Consolidating Their Wings of the GOP
The two senators are proving popular with other campaigns' donors, showing how they could eventually bring together Republicans currently dispersed across their wings of the party.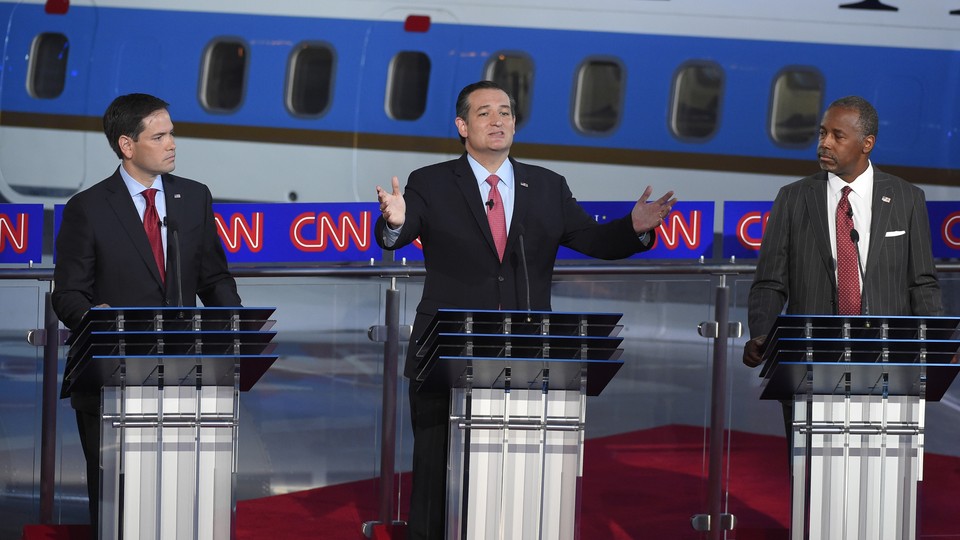 After well-received debate performances last week, it is starting to look more likely that Ted Cruz and Marco Rubio could be the candidates who go head-to-head for the Republican presidential nomination next spring. And already, we can see—based on where they get their money—how the senators could emerge as standard-bearers from different sides of the GOP.
Cruz and Rubio, who polls show to be two of the most broadly liked candidates among Republicans, are each the firm second choices of donors to nearly every other candidate in their respective wings of the Republican Party, according to a National Journal analysis of itemized donations to each GOP presidential campaign.
And while Republicans' money and votes are split among a wide range of candidates right now, Cruz and Rubio's popularity with other campaigns' supporters suggests that they are the most broadly acceptable candidates to supporters of those two "lanes" of the Republican Party—what the Los Angeles Times's Doyle McManus recently called the "mainstream" and "insurgent" wings of the GOP.
Both senators are well positioned to consolidate money and votes on their sides of the party as the field of candidates winnows this winter—if their campaigns continue to win plaudits, as they did in last week's CNBC debate.
For example, among Jeb Bush donors, Rubio has raised substantially more money than any other candidate (except Bush, of course). Rubio has also raised more than other candidates from donors to Carly Fiorina and Lindsey Graham—other campaigners in the "mainstream" lane.
To explore another example: Fiorina's campaign raised about $4.5 million in itemized donations (out of $8.5 million total) through the end of September, according to Federal Election Commission filings. Rubio's own donor rolls include over $484,000 in contributions from people who also gave to Fiorina; no other candidate got more than $364,000 from Fiorina donors.
Rubio is also in a dead heat with Bush for secondary support from John Kasich donors, too, with each raising about $110,000 from the donor pool that gave $4.4 million ($3.7 million of it itemized) to the Ohio governor.
Meanwhile, Cruz is the other candidate of choice among donors to a large group of candidates from the "insurgent" wing of the GOP. No candidate has raised more from Ben Carson donors (besides Ben Carson) than Cruz, who has raised at least $628,000 from Carson's pool of donors this year. And the same is true of donors to Mike Huckabee, Bobby Jindal, Rand Paul, Rick Santorum, and Donald Trump, all of whom gave more money to Cruz than to any other candidate besides their own.
Donors to Rick Perry and Scott Walker, two candidates who dropped out of the presidential race over the summer, have also directed more money to Cruz than to any other candidate. While Rubio has dominated talk of who might take over Walker's financial network since he exited the presidential race in September, Cruz has already raised over $390,000 from Walker backers, though Rubio has also collected a not-insubstantial $220,000 from that group, too.
There was one outlier among major candidates: Chris Christie donors' second choice was Jeb Bush, by some margin. But even though Bush has raised more itemized campaign money than any other GOP candidate (though Cruz has raised slightly more money overall), he is not picking off other campaigns' donors at the rate that Cruz and Rubio are.
This analysis matched the first name, last name, and zip code of contributors across the campaigns' donor lists to find matches. Since financial reports don't have to include supporters who gave less than $200, this analysis necessarily excludes those small donors—who are proving to be an especially big source of income for Carson, Cruz, and others.
There is also danger in these overlaps for Rubio and Cruz: While they could consolidate support if other candidates in their lanes drop out, they are likewise at risk of bleeding their support to others in their lane if they don't catch fire. After last week's debate, though, the match may already be lit.