How Binding Can An International Climate Agreement Get?
With Republicans opposed to a deal, legality looms over the Paris talks.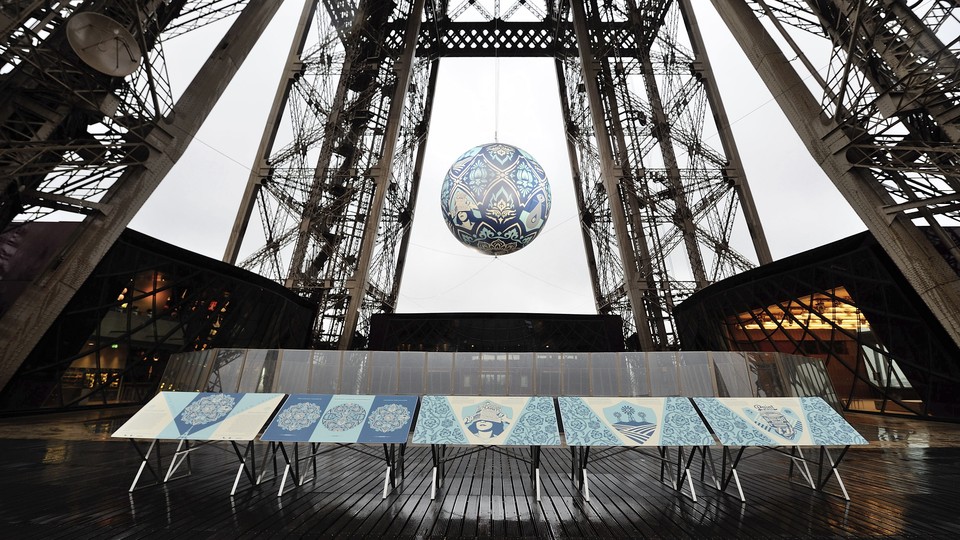 Mitch McConnell and the rest of the Senate Republicans are desperate for a chance to weigh in on—and reject—an agreement to fight climate change crafted at a United Nations summit that starts Monday.
But as White House officials have prepped for the talks, they've largely brushed off those demands. And if U.S. negotiators get their way, they'll be able to sidestep the Senate's demands, thanks to a vote in that very chamber two decades earlier.
Countries are gathering in Paris starting Monday for a two-week summit to try to reach a global deal to combat climate change. Already, 170 countries representing more than 90 percent of the world's emissions have submitted pledges to slash carbon pollution; the two-week summit will seek to stitch those together under a structure that keeps countries on track to limit global warming. It's a huge opportunity, not just for President Obama to seal up his climate legacy, but for the world to take serious, meaningful action.
Opponents say the agreement will lock in an economy-killing regime that moves the country away from fossil fuels and could give other countries a leg up. And while congressional Republicans are using every avenue to attack the individual components of the U.S. pledge, they'd also like the chance to register their disapproval on the Senate floor—or at least throw enough doubt into the mix to imperil the talks.
Sen. Mike Lee and Rep. Mike Kelly introduced resolutions demanding any Paris agreement be submitted to the Senate. And Republicans are vowing to withhold money for the Green Climate Fund—a key part of the deal that would send money to developing nations—unless they get their say. A government funding bill will have to come up by Dec. 11, just at the end of the Paris talks, a confluence of timing that will allow Republicans to send a message.
"The inevitable outcome is a plan with unproven benefits and unreachable goals, but very real costs," wrote Sen. John Barrasso in a Wall Street Journal editorial last week. "It will be up to Congress to check the president's ambition of committing the U.S. to an international green scheme that will produce little or no return."
A legally-binding treaty would need the approval of two-thirds of the Senate, which would be virtually impossible under GOP control (moderate Democrats, notably Sen. Joe Manchin, have also been against the climate plan). And that means that people on both sides will be parsing the words of the agreement to see just how legally binding it is—and whether that means the Senate gets its day with it.
Negotiators see a way around Senate approval—and its roots lie in a floor vote in 1992. That's when the Senate ratified, by a voice vote, the United Nations Framework Convention on Climate Change, a relatively trim document that required that its parties set national strategies to reduce greenhouse-gas emissions and cooperate in future talks to prepare for the impacts of climate change.
The George H.W. Bush administration said at the time that any "protocol or amendment" that set binding greenhouse-gas-reduction targets would have to go through the Senate.
But now the White House is pursuing a hybrid agreement of sorts, one in which countries' individual climate pledges are voluntary, but other provisions—like monitoring of action on national pledges or verification—would be internationally binding. The latter aspect would be covered under the legal authority granted by the UNFCCC and sidestepping the need for any new ratification by the Senate.
"We support a strong and ambitious agreement that holds countries accountable for the emission target that they take on," said Paul Bodnar, senior director for energy and climate change at the National Security Council, on a press call last week. "And the system that we've advocated for, where some provisions are legally binding but targets themselves are not, is the one that we believe is designed to maximize ambitious action from the broadest range of countries."
Nobody wants a purely voluntary treaty that would allow countries to sit out their climate pledges, but some countries are also wary of seeing a legal agreement that infringes on their sovereignty. European nations had been pushing for a more legally-binding document, although the French foreign minister acquiesced this weekend and said that the result would not have to be entirely binding, citing the difficulties in getting it past the U.S. Congress. Still, expect plenty of parsing over words like "must" versus "shall," or the legal meaning of "treaty."
The U.S. has submitted a pledge to cut emissions by 26 to 28 percent of 2005 levels by 2025, using a variety of regulations, headlined by rules slashing carbon-dioxide emissions from power plants.
That approach would be different than the 1997 Kyoto Protocol, which imposed legally-binding emissions cuts. The Senate did not ratify that top-down approach, and the U.S. never entered the agreement, resulting in the new strategy that places the onus on individual countries to set their own targets.
But opponents see it as an end-run around Congress. Lee said at a Heritage Foundation event that the approach smacked of "contempt" for the legislature and that President Obama was relying on "compulsion, not persuasion" to push the climate agenda.
The White House is placing a high priority on the talks to help cement Obama's legacy on climate change. Obama himself will be in Paris at the beginning of the summit, when he'll hold bilateral talks with leaders from China and India and speak at the opening ceremonies with other heads of state. Several other Cabinet members, including Secretary of State John Kerry, will appear throughout the conference to bolster the U.S. position.
Besides the legal nature of the agreement, negotiators will have to set up a system of reporting and transparency to ensure countries are keeping up on their cuts, plus a schedule for future talks. There's also going to be a debate over climate financing to help developing countries.
The pledges alone won't be enough to stop the world's temperatures from rising past the 2-degrees-Celsius threshold that scientists say may be a breaking point, but negotiators say it can put the world on the right path—if the deal goes through.
"I think it's important that we get an agreement that the U.S. can join," said Elliot Diringer, executive vice president of the Center for Climate and Energy Solutions. "If Senate ratification is a hurdle that can't be cleared, it makes sense to negotiate the strongest possible agreement that can be accepted by the president on his own authorities."
Republican legislators are also doing all they can to inject uncertainty into the talks. The House next week will vote on Congressional Review Act resolutions that would overturn the White House's power-plant-emission rules, a bid to convince the world that Congress is not on board with the climate agenda. The White House has promised to veto the measures, which already passed the Senate.
It's also possible that resolutions related to Senate approval will see votes, although none are scheduled. Republican legislators may even make their own trips to Paris to stir up doubt in the talks.
Jake Schmidt, who works on international issues for the Natural Resources Defense Council, said that while the legal nuances of the document are important, what ultimately matters is getting every country's targets in place for the future.
"At the end of the day, the words on the paper, whether it says 'shall' … or something less legally binding than that … eventually come down to whether countries are mobilizing these changes on the ground," Schmidt said. "That becomes the cornerstone of the agreement."