House Vote Gives GOP the Upper Hand in Refugee Fight
Enough Democrats backed Thursday's bill that it will be hard for the White House to head off future efforts.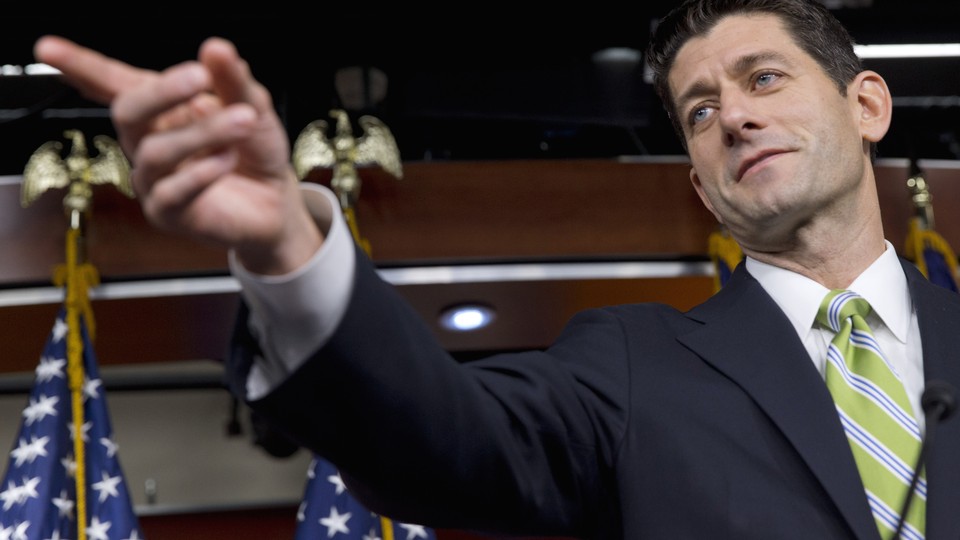 The House bill pausing Syrian refugee resettlements into the U.S. may never become law, but a strong bipartisan House vote all but assures the issue will resurface after the Thanksgiving break with Republicans in a position of strength.
With 47 Democrats joining all but two Republicans to pass the bill to require executive-branch officials to certify every Syrian refugee before they can be admitted into the country, Democratic leaders will be hard pressed to make the case that similar legislation is a poison pill if it is attached to an upcoming must-pass omnibus spending bill.
That emboldens Republicans to press Senate leaders to pass the bill, and President Obama to abandon his veto threat and sign it. Yet even in the instance that the upper chamber stalls or Obama vetoes the bill, House Republicans can make a solid case to include it in ongoing spending discussions.
"That's what's going to happen if we don't get this bill, and that's part of my message to Democrats. This is much more reasonable than what you may see later in an omnibus. This has the best chance of the president signing it," Rep. Richard Hudson, the bill's author, said Thursday. "There are some sincere Democrats on this issue, like Dianne Feinstein and even Chuck Schumer, so my hope is we can work with them now on a path forward with this bill."
House Democrats handed Speaker Paul Ryan a veto-proof majority on the legislation Thursday, despite Minority Leader Nancy Pelosi and Minority Whip Steny Hoyer voting against. Like his House counterparts, Senate Minority Leader Harry Reid has said he will seek to protect Obama's veto, promising that the bill would fail if it came up in the Senate.
"The problem is not with refugees," Reid said Thursday. "I don't think we'll be dealing with it over here."
Still, Republicans are hoping the public pressure builds. Polling shows more than half of Americans want the government to block Syrian refugees' entry in light of the ISIS attacks on Paris last week. Intelligence Committee Chairman Devin Nunes, who is on the GOP task force looking at how to respond to the Paris attacks, said the omnibus would be the next logical place to push the issue, and the bipartisan vote strengthens the GOP's hand.
"This bill is probably not the ultimate final [bill]. This is the start to a process that has got to be combined and finished by the time we leave here in two weeks," Nunes said. "It will be something based on this that will get done by the end of the year, no matter where it has to go."
Republican leaders, however, are under pressure from conservatives and outside groups to choke off funding to agencies tasked with admitting refugees. If they push too far on a spending rider—for instance, with a blanket ban on refugees—they could lose Democratic support. If they craft a narrow measure that mirrors the House-passed bill, they could walk away with a political victory.
Several of the bill's Democratic supporters are already balking at the strategy of rolling it into the omnibus package. "If this bill doesn't go anywhere, I think it's unwise to roll it into an omnibus if you don't have to," Rep. Gerald Connolly said. "The omnibus is going to be complicated enough. ... We don't need, however worthy, other policy riders that just make life more difficult."
Rep. Henry Cuellar, who also backed the bill and is a member of the Appropriations Committee, said he's seen enough funding fights break down over unrelated amendments. "I don't like controversial riders on that," he said. "I don't think this language will go in the [spending] bill."
Others were hopeful that the strong bipartisan support in the House would cause Obama to change his mind on the standalone measure. "I'm hopeful he won't veto it," said Rep. David Scott. "I'm hopeful that we can come to some agreement here."
Although many Republicans have been calling on Ryan and leaders to include a measure in an omnibus, others have urged caution. Rep. Trent Franks, a member of the House Freedom Caucus, said having Democrats on their side sets the issue apart from other, more partisan appropriations rider attempts, but that will only take Republicans so far.
"I think it helps some, but it just depends on, if the Left can get away with it over there, they'll filibuster and once again drive that wedge between the Republican base and Republican leadership. They've been very successful at that," Franks said. "I'm not against that at all, but the problem is it'll be a miracle to get even a consideration in the Senate because of the Senate filibuster. Then what happens is we will have to allow them to shut the government down, for which we will be blamed, of course."
Complicating the process is the hostility with which the issue has been debated. While some have raised alarms over national security, Obama has mocked the GOP for being "scared of widows and orphans."
Many Democrats felt that rhetoric took the wrong tone, lumping those with legitimate national security concerns in with xenophobes. "I don't think it's a time for name-calling," said Rep. Brad Ashford, a Democratic cosponsor of the bill that passed the House Thursday.
Rep. Ron Kind, who chairs the moderate New Democrat Coalition—which broke with most Democrats to help Obama pass trade legislation—also found himself at odds with the White House this week. "Part of the problem we have in this place right now is once one side proposes something, the other side knee-jerk is in opposition," he said, noting that the bill was not the anti-immigrant, anti-Muslim measure it had been made out to be. "To Speaker Ryan's credit, he didn't go over the edge," he said.
Even opponents of the bill said the White House could have done a better job acknowledging Americans' concerns. "If we try to say, 'Well, that's silly' or disregard the fear, the legitimate and very real fear that's out here, I think we're going to get slapped around," said Rep. Emanuel Cleaver. "The White House has been very measured in not acknowledging that it is easy to enter the United States. They've been a little strong in denouncing what they see as a political move."
And many were not convinced by the administration's appeal that the bill would be overly burdensome and slow the refugee process. "A lot of us went in with open minds and really wanted to understand the administration's position on this," said Rep. Sean Patrick Maloney. Ultimately, the White House did not change his mind. "Bring a better argument," he said.
Still, Pelosi defended the White House's pitch. "Some people walked into the room prepared to vote for the bill," she said. "They solved their own problem."
---
Alex Rogers contributed to this article