House Passes Bill that Allows Car Lenders to Discriminate
The bill would reverse a decision made by the CFPB that found auto dealers charged blacks and Latinos more for the same cars than whites.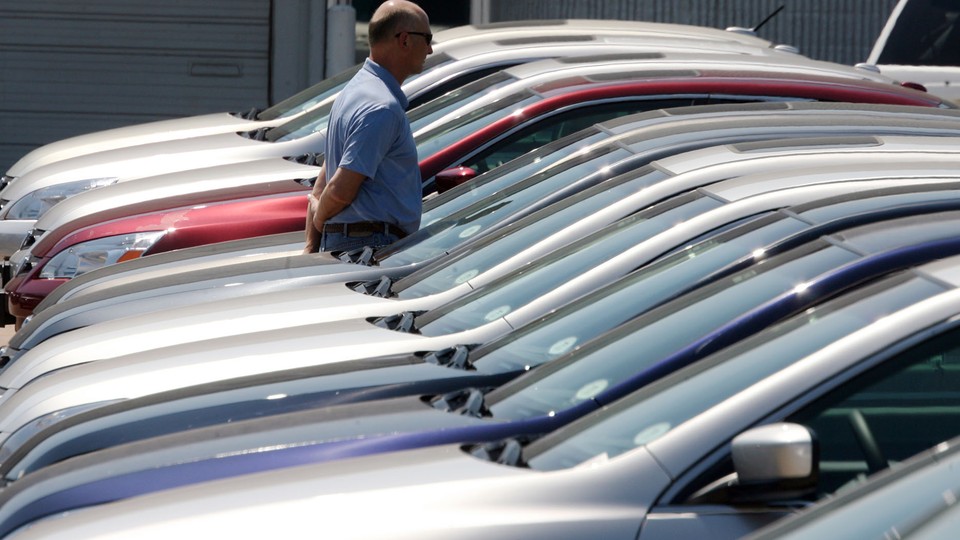 The House of Representatives has passed a bill that critics say allows auto dealers to charge Latino and black buyers more than whites for the same cars.
The bill would reverse a 2013 decision made by the Consumer Financial Protection Bureau, which made "it illegal for a 'creditor' to discriminate in any aspect of a credit transaction because of race, color, religion, national origin, sex …". The controversial bill, called the "Reforming CFPB Indirect Auto Financing Act, was passed with votes from both Republicans and Democrats.
President Obama has already hinted that'd he'd veto such a bill, saying in a statement that "race, color, religion or other characteristics that should have no bearing on loan decisions." The NAACP, the National Council of La Raza, and the National Urban League have come out against the bill. It was sponsored by Rep. Frank Guinta of New Hampshire, and is backed by auto-lending lobbyists.
The way it works is through something called "interest-rate markup," a tactic that landed the American Honda Finance Corporation in quite a bit of trouble. Next America first reported this tactic in July, when Honda agreed to pay a $24 million dollar settlement after the CFPB accused it of discriminatory lending. Excerpts of that article are reprinted below.
Buying While Black at Honda Costs Customers Millions
The government said that Honda's finance company overcharged consumers of color between $150 and $250 on average when compared with white borrowers with similar credit. The investigation found that when a Latino, Asian, or black buyer bought a car, that optional markup rate tended to be much higher. "No one has an idea that this practice exists," says Christopher Kukla, senior vice president of the Center for Responsible Lending.
When salesperson shows a customer a car, it may come with a sticker price taped to the window, and it's often thought that the negotiating all happens with this number. 
Only, it really isn't.
Dealerships sometimes offer in-house financing, as does Honda. An interest rate might seem like something fixed to credit, but dealerships actually have a small say. The "buy rate" is the minimum interest that a finance company will offer a buyer, based on the risk of the loan, which is based on credit. But the dealer can mark up a portion of that rate. Honda's finance company allowed dealers to add up to an additional 2.25 percent markup.
"So as a consumer," says Kukla, "what will happen is the finance person from the dealership says, 'Congratulations, great news, Chris, you got 6.5 percent.' Now I didn't know—and they don't have to disclose—how much of the interest rate is compensation and how much is reflective of my credit risk."
The government's investigation found that when a Latino, Asian, or black buyer bought a car, that optional markup rate tended to be much higher. As part of the settlement, Honda will reduce its allowable markup rate to 1.25 percent. The $24 million will compensate buyers who overpaid. And Honda will also pay an additional $1 million as part of a financial-education program for consumers.
In a statement, Honda Finance said it "strongly opposes any form of discrimination, and we expect our dealers to uphold this principle as well. We firmly believe that our lending practices have been fair and transparent."
Except that a decade ago the Consumer Federation of America wrote a report saying Honda discriminated against buyers in the exact same way. It found that Honda charged just 22 percent of white borrowers the markup, while it charged 44 percent of blacks. Honda did not return a call for comment.
Stuart Rossman, director of litigation at the National Consumer Law Center, says that the practice is widespread. He and his team filed civil suits against Honda and 10 other companies, including Bank of America and Toyota, as far back as 1998 for similar discriminatory lending.
The government doesn't keep records of race when it comes to car loans. So Rossman and his team had to cross-reference lending agreements with driver's license information. The data they found showed that nearly all the companies they looked at, in every region, discriminated similarly. "It was as much of an issue in Wisconsin as it was Alabama."
As part of the settlements, Rossman says, most companies agreed to impose caps on their markup rates. But the companies demanded a five-year limit. "We were hoping that it would become permanent," Rossman says. The last to settle was Toyota, and that self-imposed cap ended a few years ago.