Hillary Clinton: 'Smash the Would-Be Caliphate'
The Democratic presidential frontrunner laid out her strategy to battle ISIS.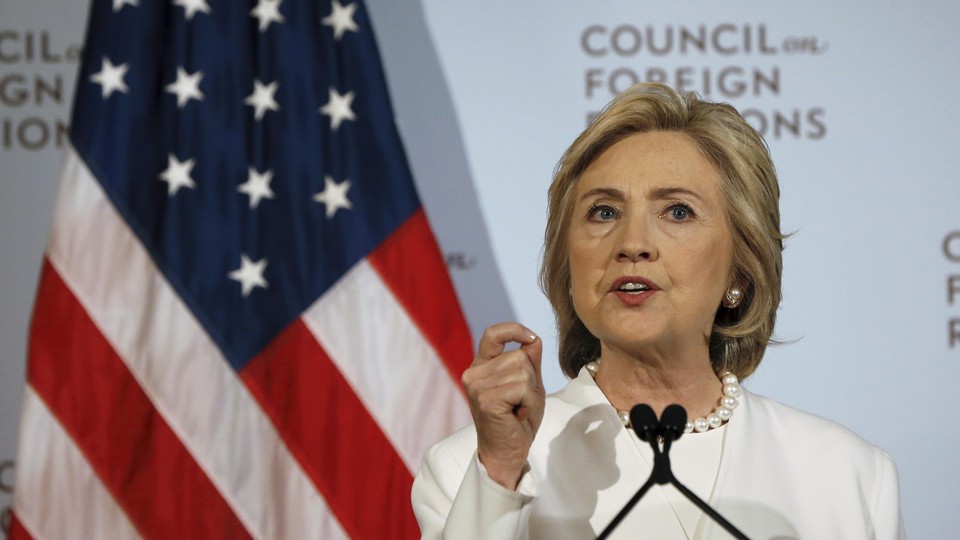 On Thursday, Hillary Clinton joined the Council on Foreign Relations to deliver her plan to battle ISIS in the wake of last week's Paris attacks.
The violence in France seemed to stunt momentum that she'd regained ahead of the second Democratic debate on Saturday. As we noted, following Friday's attacks, Clinton faced tough questions about foreign policy at that debate and about her record on issues that set her to the right of her party.
As my colleague David Graham argued earlier today, the Democratic presidential candidates have generally been loath to take the focus off of domestic issues, where the party's standing is currently strong. Republicans, on the other hand, have been trying to do the opposite.
Providing a detailed strategy to battle the Islamic State presented a number of potential pitfalls for Clinton, who aimed to seem more hawkish than the president under whom she served as secretary of state, but not so critical as to alienate her base or remind voters of her support for the use of force against Iraq in 2002.
And so, in Thursday's speech, Clinton held President Obama's anti-ISIS blueprint close, but not too close; she argued for more American involvement, but also more international involvement.
What we have done with airstrikes has made a difference but now it needs to make a greater difference and we need more of a coalition flying those missions with us.
She also argued for more ground troops, but not American ground troops. More American special ops forces, however, were another thing:
To support them, we should immediately deploy the special operations force President Obama has already authorized, and be prepared to deploy more as more Syrians get into the fight.
A question posed right after the speech perfectly crystallized the dilemma facing Clinton. She was asked whether her plan was an intensification of President Obama's ISIS strategy or a different one entirely. The answer, it turns out, is both.
Well, as I said in the speech, it is, in many ways, an intensification, an acceleration of the strategy. But it has to also intensify and accelerate our efforts in the other arenas.
Clinton called for more firepower from the air and called on Silicon Valley and the private sector to help disrupt terrorist communications, but not at the expense of privacy. She added that arming the Kurds and some Sunni forces in Iraq would be necessary. When given a chance to take a shot at President Obama's now infamous "ISIS is the J.V. team" remark, she passed, but still sought to distinguish herself as a proponent of arming Syrian moderates during the early days of the civil war when she was the secretary of state.
But even when I was still there, which is publicly known, I thought we needed to do more earlier to try to identify indigenous Syrian fighters, so-called "moderates"—and I do think there were some early on—that we could have done more to help them in their fight against Assad.
For listeners on the left, Clinton stressed her opposition to limit the flow of refugees into the United States. "This is no time to be scoring political points," she said, taking a shot at Republican candidates. "We must use every pillar of American power, including our values, to fight terror."
Turning away orphans, applying a religious test, discriminating against Muslims, slamming the door on every Syrian refugee—that is just not who we are. We are better than that.

And remember, many of these refugees are fleeing the same terrorists who threaten us. It would be a cruel irony indeed if ISIS can force families from their homes and then also prevent them from ever finding new ones.
And still yet, Clinton touted her bipartisan bona fides, using the Manhattan venue for her speech to remind everyone that she had also been in power during America's worst encounter with terrorism.
"When New York was attacked on 9/11, we had a Republican president, a Republican governor and a Republican mayor, and I worked with all of them," she said. "We pulled together and put partisanship aside to rebuild our city and protect our country."