Hillary's Stitchery
The girl-power movement has taken back embroidery—and Clinton's 2016 campaign is capitalizing on it.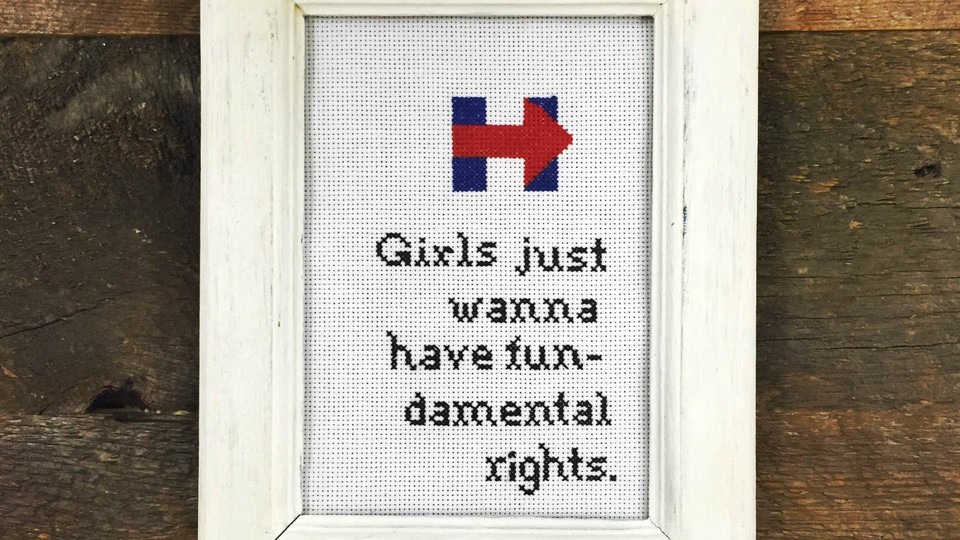 When it comes to presidential campaign merchandise, the U.S. has come a long way since "I Like Ike" buttons. This election season, Rand Paul offers official "I Stand with Rand" flip-flops, Jeb Bush will sell you a guacamole bowl, and Marco Rubio's "Wake Up, America!" travel mug will set you back $35. And Hillary Clinton, the Democratic front-runner, invites you to download a campaign cross-stitch pattern, or purchase a cross-stitch-style throw pillow with the slogan "A woman's place is in the White House." The DIY pattern features Clinton's arrow-through-the-H logo and the line "Girls just wanna have fun-damental rights."
Embroidered goods may seem like an odd offering for a candidate who notoriously dismissed the idea that she would stay home and bake cookies. Only recently, cross-stitching was seen as an activity not just for cookie-baking housewives, but for old ladies. So how did needlework become a viable way for a presidential campaign to connect with hip young voters?
Let's establish that the Clinton campaign is correct that in 2015, embroidery is having a moment as both a craft and an aesthetic. (A quick pause for terminology: Needlepoint and cross-stitch are both types of embroidery.) Last year, for example, Taylor Swift gave Ed Sheeran a Drake-themed needlepoint. The new book Benedict Cumberstitch offers 15 patterns to stitch the Sherlock actor in a variety of settings. And the phenomenon goes beyond kitsch: The Wall Street Journal reported in August that embroidery has taken over high-fashion runways, with brands including Gucci, Valentino, and Christopher Kane offering goods like motorcycle jackets blooming with pink floral stitchery. "After seasons of normcore and minimalism," the paper reported, "such beautiful and tactile clothing resonates." Needlepoint isn't just in vogue this year, it's literally in Vogue.
The broader embrace of traditionally female handicrafts as a hobby for urban, educated women stretches back to the 1990s, according to Emily Matchar, the author of the 2013 book Homeward Bound: Why Women Are Embracing the New Domesticity. During that time, the Riot Grrrl movement began taking "iconically old-fashioned domestic work" like sewing and knitting, and reclaiming it as edgy and political. The new aesthetic included throw pillows with embroidered daggers, patterns for a knit-your-own uterus, and zines like Needle & Hook: Knitting Our Little Punk Rock Hearts Out. Its spirit lives on in cheeky stunts like a feminist group's 2012 invitation to send congressional Republicans a hand-knit vagina or uterus to protest retrograde attitudes toward women's healthcare. The message was, "If you want one to control, here's one of your own," the group's co-founder, and the author of six knitting books, told ABC.
By the early 2000s, knitting's new wave had grown beyond its punk-rock origins and became a bona fide hipster trend, perhaps gently subversive but no longer relentlessly political. The 2004 book Stitch 'n Bitch, written by the editor of the feminist magazine Bust, pitched the hobby to "young, creative, connected chicks with sticks," and included patterns for things like Wonder Woman bikinis. That year, The New York Times ran a column by a woman who reported seeing knitters clacking away all over the city, and was tired of hearing that the cool-again pastime was "the new yoga."
Knitting is relatively easy to learn, requires few expensive materials, and is a portable project. The same is true for cross-stitching, which followed in its wake as the craft of choice for saucy modern women, and a few modern men. (I count myself among this group, having cross-stitched a portrait of my favorite writer, among other projects.) Early trendsetters included the brand Subversive Cross Stitch, which offers patterns for stitching rude and ribald slogans like "Don't Be a Dick," "Whatever," and "Shut Your Whore Mouth." Many of them, suffice to say, would not be fit to appear on the pages of a family newspaper, let alone your grandmother's sofa. Founder Julie Jackson's book, Subversive Cross Stitch: 50 F*cking Clever Designs for Your Sassy Side, was re-released in an anniversary edition in February and is the top-selling cross-stitch book on Amazon.
The contemporary embroidery trend has plenty of feminist cache. The Internet is overflowing with girl-power embroidered messages: "free tampons for all," "gender was never binary," and "don't tell me what to do." The best-selling book Notorious RBG, a celebration of Ruth Bader Ginsberg published last month, includes a cross-stitch image of the U.S. Supreme Court justice urging readers to "work for the things you care about." Matchar said in an interview that embroidery offers a special appeal as a craft for the politically minded: It can be used to write.
As for Hillary in particular, she's already the subject of plenty of fan art in stitchery. There's a pattern depicting smiling Hillary in a blue pantsuit, a small hoop-framed "Hillary 2016," inspirational Hillary quotes, and a needlepoint depiction of the famous photograph of the former secretary of state and her Blackberry. So it's no surprise at all that she would embrace embroidery to promote her campaign to become the first woman president. In 2015, cross-stitching is fun, fashionable, and feminist—and it would still look right at home in the Oval Office.