Here Are the Debate Statements Republicans Think [Hope] Will Come Back to Haunt Hillary Clinton
Her comments on 9-11, ISIS, and the 1960s all got shout-outs in the GOP's postdebate messaging.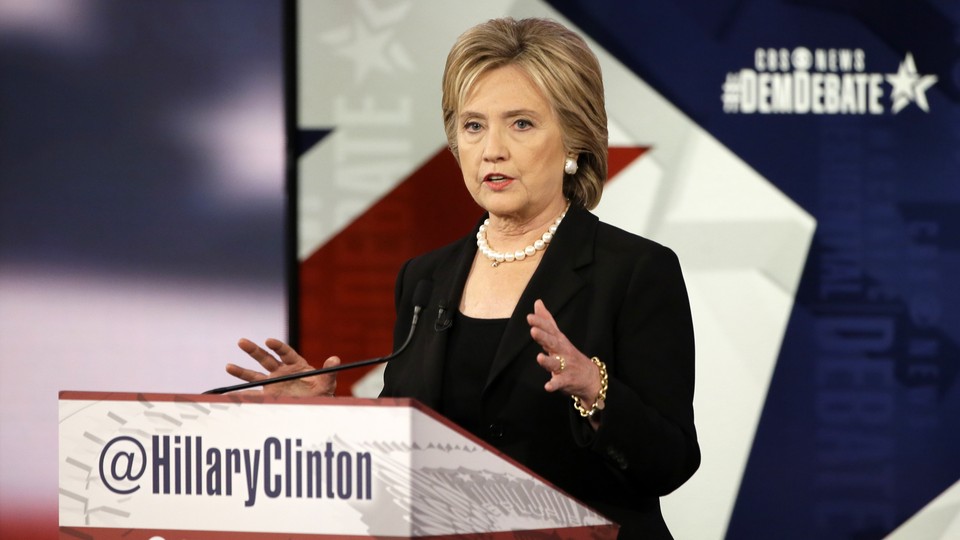 As the front-runner in the Democrats' 2016 presidential primary, Hillary Clinton has an easier task than her two opponents. She doesn't have to produce a game-changing moment, and she doesn't have to introduce herself to an unfamiliar audience. Instead, she has a straightforward (if not simple) two-pronged mission: She doesn't want to say anything that costs her big with the party base, and she doesn't want to anything that will haunt her in the general election.
Republicans are hoping that she failed on the second part of that mission entirely Saturday night.
Before the debate even ended, GOP operatives took to Twitter to point out the lines they say are—and what they undoubtedly hope are—gaffes that will haunt Clinton from now until Election Day. Here are three that stood out.
1) Tying Wall Street donations to 9/11
Clinton was already coming under fire for her suggestion that she received considerable campaign contributions from Wall Street companies because she helped them rebuild in New York after the September 11 attacks on the World Trade Center. The comment came after Bernie Sanders called into question her true intentions toward reining in Wall Street, given the campaign cash she's received from the community over the years.
"I represented New York, and I represented New York on 9/11 when we were attacked," she said. "Where were we attacked? We were attacked in downtown Manhattan where Wall Street is."
"I did spend a whole lot of time and effort helping them rebuild," she continued. "That was good for New York. It was good for the economy, and it was a way to rebuke the terrorists who had attacked our country."
2) Saying the United States is not at war with "Islamic terrorism"
In the first segment of the debate, a lengthy discussion of ISIS, terrorism in the Middle East, and Friday's attacks in Paris, Clinton was questioned on whether she believes that the United States is at war with "radical Islam."
"I don't think we're at war with Islam, I don't think we're at war with all Muslims, I think we're at war with jihadists," Clinton said, noting that Muslim countries will be key to responding effectively to the spread of ISIS and reminding people that former President George W. Bush also made clear to say that Islam itself is not the enemy. "... You can talk about Islamists who are also clearly jihadists."
The party has ripped President Obama for refusing to use the term, and they wasted no time transferring that attack to Clinton: "Yes, we are at war with radical Islamic terrorism," Jeb Bush tweeted. And from Mike Huckabee, there was this: "You're all grown up now. You can do it. Three words. Ten syllables. Say it with me: 'Radical Islamic terrorism.'"
3) The fight against ISIS can't be "an American fight"
During the foreign policy discussion, Clinton advocated for a strategy toward ISIS that involves American leadership but said it "cannot be an American fight," a line Republicans will likely use when critiquing the Obama administration's (and therefore Clinton's) handling of the rise of ISIS.
"I don't think that the United States has the bulk of the responsibility," she said. "I really put that on Assad and on the Iraqis and on the region itself."
Former Maryland Gov. Martin O'Malley quickly responded on stage, saying he disagreed. "I would disagree with—with Secretary Clinton, respectfully, on this score," he said. "This actually is America's fight. It cannot solely be America's fight."