Black Tape Over Black Faculty Portraits at Harvard Law School
An act of vandalism comes on a campus frequently divided over matters of race.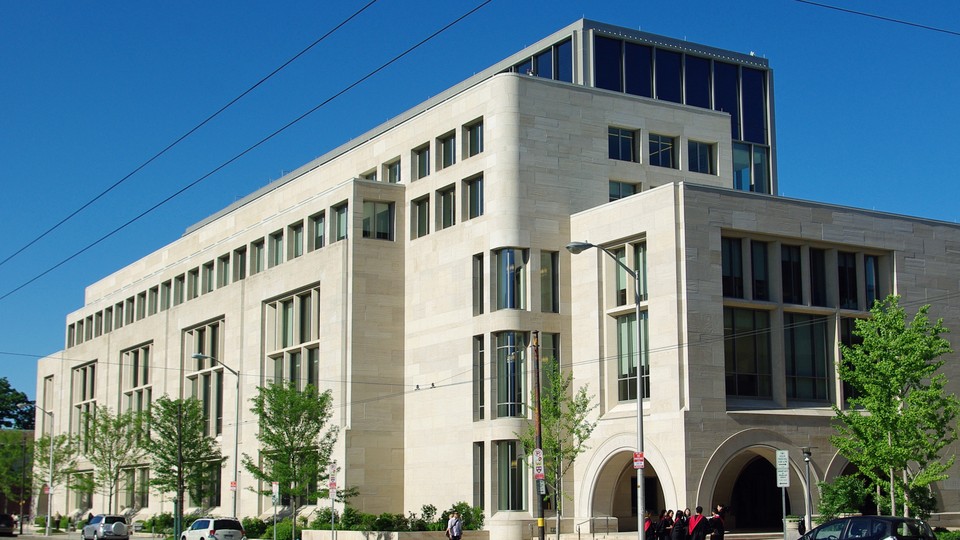 When students and faculty arrived at Harvard Law School's Wasserstein Hall Thursday morning, they found a disturbing sight. On a wall of portraits of the law school's tenured faculty, black tape had been placed over each of the African American faculty members.
A second-year student called the tape "a hate crime" in a widely shared Blavity post that included pictures of the portraits. Dean Martha Minow said that racism is a "serious problem" at the school. Police say they are investigating.
The tape isn't a non sequitur. As activism has swept college campuses, Harvard Law students have been mounting a charge against the school's crest. The emblem is taken from the Royall family, whose scion Isaac Royall Jr. endowed its first law professorship. The Royalls were also major slaveholders on Antigua, profiting handsomely from it before moving to the North American colonies, bringing some slaves with them. According to a statement from Royall Must Fall, the group campaigning against the seal, members had placed black gaffer tape over the seal around Wasserstein Hall on Wednesday night, and some of that tape was removed and placed on the faculty pictures.
There's a certain irony to defacing the wall of faculty pictures, since it already painted a fairly stark picture of the institution's tenured teaching staff as dominated by white men. As of 2014-2015, the law school had 91 tenured or tenure-track faculty. Nine of them were black. Less than a quarter of the tenured faculty were women. The numbers among less prestigious visiting faculty, who are not permanent, are slightly better: "During the 2013-2014 year, 24% of School's visiting professors were women and 21% were people of color. Additionally, during 2013-2014 the Law School's faculty approved 26 women for visiting appointments in future terms." HLS says its Class of 2018 is 47 percent female and 44 percent students of color.
The Harvard Crimson reports on the town-hall meeting where Minow made her remarks:
Law School students, faculty, staff, and administrators gathered for a "community meeting" at noon on Thursday to discuss the incident. Attendees filled Milstein Hall East, where students took microphones to speak, some describing the Law School as a sometimes racist and unwelcoming environment. Some student speakers directly criticized Minow, arguing that she does not do enough to support minority students.
Bitter battles over diversity, and particularly faculty diversity, are nothing new on the campus where Barack Obama became the first black president of the Harvard Law Review in 1990. In 1991, Derrick Bell announced he was going on unpaid leave until the school hired a single tenured female faculty member of color. (This protest became briefly newsworthy again during the 2012 campaign, when Breitbart tried to gin up a story with a video of Obama embracing Bell, a controversial legal theorist.)
Bell himself had been hired in 1969, when students demanded the law school add its first black professor. In response to Bell's own protest, Harvard hired Lani Guinier. (She was famously nominated and then withdrawn for the post of assistant attorney general for civil rights during the Clinton Administration.) The saga created serious tension on the faculty. Today, Harvard Law has several prominent black faculty members, including Guinier, Charles Ogletree, and Randall Kennedy. But the numbers still lag well short of proportional representation. (In 2013, the Crimson ran a series on how women were also underrepresented on the faculty.)
Despite the disparities, and despite Minow's statement, not everyone is convinced that there's a problem. Prominent Harvard Law Professor Alan Dershowitz blasted the string of campus protests around the nation to Business Insider.
"The last thing these students want is diversity," he said. "They may want superficial diversity, because for them diversity is a code word for 'more of us.' They don't want more conservatives, they don't want more white students, they don't want more heterosexuals." Dershowitz, who is white, straight, and male, received tenure at Harvard Law in 1967.