What the Republican Debate Looked Like From Harlem
Voters who came hoping to hear solutions to their economic worries mostly left disappointed.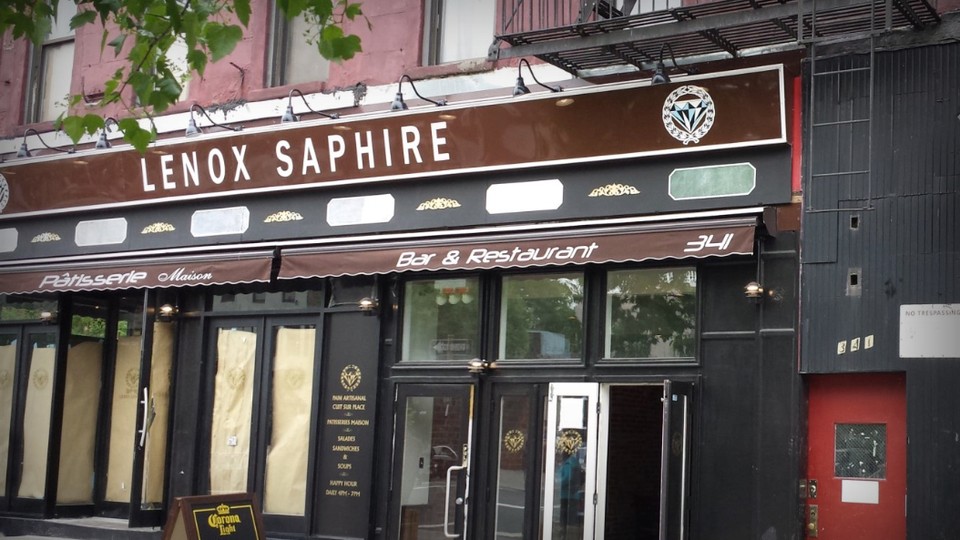 At the Lenox Saphire in Harlem, fliers detailing the rules for a Republican debate-party drinking game lay on the bar. If one of the eight candidates says "unemployment," watchers take one sip of whatever is in their glasses. If Ben Carson closes his eyes during the debate, two sips. If Donald Trump says "the biggest," "the best," or "the greatest," four sips. If any of the eight candidates mentions "emails" or "Benghazi," five sips.
On a chilly, rain-soaked night, this watch party for the fourth televised Republican debate brought a predominantly black crowd of about 60 Republicans, Democrats, and independents, many of whom had watched bits and pieces of the previous debates. They hold fear about the economy, anger about racial discrimination—most recently with respect to the University of Missouri protests and police-brutality issues—and worry about the rising cost of higher education.
The Lenox Saphire, a popular Senegalese-owned French and Moroccan bistro, dimly lit with exposed brick, has only been open for about four years on Lenox Avenue near 127th Street. Its brown and white awning is part of a once-blighted strip that now glitters at night as restaurant row. It sits in a heavily Democratic neighborhood where, in recent years, housing prices and commercial rents have soared, becoming affordable only to the upper-middle class. For some, the restaurant's arrival was part of a steady beat of economic redevelopment and the threat of gentrification.
"It's sad that this campaign is such a joke that I came here looking forward to a drinking game," said Andrea Anderson, a 50-year-old small-business owner sipping white wine at the end of the bar. She was closely watching the debate, which was shown with closed captions so a word or promise would not be missed over the din of conversation. "I'm ashamed that we have eight incompetent candidates running for president. I haven't heard one idea I can get behind."
On the other side of the screen, Trump and Carson were fighting to maintain their leads in the polls; Jeb Bush was fighting to revive his campaign; while Rubio, Cruz, and Kasich were fighting to emerge.
Harlem may seem like an unlikely place for a Republican debate watch party. In the past, such assumptions have limited the political conversation, and lead Democrats to take the community for granted, said Gena Lovett, a co-host of the debate party. "Democrats think people in the community won't listen to the other side," said Lovett, a self-described "yellow-dog Democrat" from Arkansas turned Republican strategist. "The Democratic machine is entrenched, and I think people are wiling to listen, and why not offer them that, to come in and listen to the other side. People hear Republicans want to cut taxes and social programs. They say they're rich and don't care, but people need to dig down deep on the issues."
As the candidates were introduced, "This party is in shambles," said Clifton Hawkins, who's been a registered Republican for more than 30 years, staring at one of the television screens, "because it doesn't speak to the needs of the people. Black Lives Matter. Criminal justice matters. Voting rights matter, especially when you go into rural areas." Hawkins had thought his daughters were simply bringing him out to celebrate his 66th birthday. He continued: "You take a state like Florida. Prisoners are counted in the census, but they can't vote. What kind of shit is that. They stack the deck against you." Hawkins then lashed at the housing-market bubble burst. "That stripped people of their wealth, and it's going to take them a couple of generations to get it back."
Hawkins grew up in the Bedford Stuyvesant neighborhood of Brooklyn, after his parents migrated from the Carolinas. Hawkins worked 39 years on the railroad, first as a dynamo man and rising up the ranks to chief power director, one of the first African Americans at the company to do so, he said. "So I know about work," he said, praising the value of hard, sometimes thankless labor and a firm handshake. Back then, Hawkins said, he and his wife, living in an apartment, had decent jobs. "And we didn't have anything," he said, when people he knew with less were buying homes, enjoying tax incentives, and sending their children to college. Hawkins saw the message of the Republican Party as pulling yourself up by your bootstraps. "That's what bought me into the bandwagon," he said.
A generation later, Hawkins complained about three of his oldest children, "I can't get them out" of the house, he said with a laugh. In large part, Hawkins cites the economy. "They're making minimum wage, so how are they going to get anywhere without financing?"
Sipping a maple-colored cocktail, Cedric McMillan, a 32-year-old, watched the debate, hoping that within the two hours someone would show some force against Trump and Carson. Halfway in, not yet. "They're doing a horrible job," said McMillan, who lives in West Chester and works as a case planner at a juvenile justice facility. "All you see is Carson and Trump. It looks like a sideshow. I haven't heard any plans from anybody."
Three large-screen televisions displayed the debate. People chatted while waiters brought out food such as calamari, fatayas, chicken wings, and rice dishes. The first question in the debate hit the heart of the economy. The moderator asked the candidates if they supported raising the minimum wage to $15 an hour.
"He talks around the question!" Demar Payne, a 32-year-old social worker who lives in Queens, said as Trump answered, throwing up her hands. Payne said she came to learn more about the candidates and what they stand for. She said she did support raising the minimum wage, but asked McMillan if he thought employers would in turn raise job qualifications, still putting a living wage out of reach. Trump eventually answered no. Carson also said no, holding up the values of education.
Listening to Trump, Hawkins, who has chocolate-colored skin and silver hair, folded his hands across his chest. "You would not increase the minimum wage," he said, glaring at Trump and shaking his head, "but you want them to work harder."
As the debate went on, many felt that rhetoric throughout the campaign had crowded out substance, with vows to shut down the IRS, build a immigrant-proof wall, and bring trillions of dollars back to American from overseas. "Trump is speaking as if he can snap his fingers and bring that money back," said Anderson, who owns a consulting business. "But some guy in West Virginia who has no job is going to believe that. It's scary, but I get why people like him, especially suffering white people who want America to be great again, to be some '50s America, and think Trump can just wave his magic wand."
"Everyone likes Trump because he's saying everything that everyone wants to say," said Hawkins, such as being forceful on immigration. "He's stirring the pot, but he hasn't made a plan that he's going to put us on the course to get this country together."
When the moderator pointed out that the Democratic presidential candidate Hillary Clinton, as first lady, a U.S. senator, and secretary of state, has more political experience than the Republican candidates on stage combined, Anderson snapped her fingers and cheered.
"People act like the government doesn't do anything useful," Anderson said. "It's ridiculous to say in our society that we don't need big government to keep things going. The reason we have problems with housing, education, and employment now is because we stopped investing in those things," she continued, pointing to the public works after World War II and the disinvestment of the Reagan era. "Yet these people act like the government doesn't do anything positive."
However, many at the party felt the Democrats were not speaking to their issues either. "She's expecting it," McMillan said of Clinton. "It's very stale," he added about the current state of the presidential race. "Nothing about it is interesting."
John Phillips, a retired pharmaceutical worker who lives in New Jersey, said he is an issues person. Eating insalata caprese while sipping a beer, Phillips said—led by the issues—he has voted both for Democratic and Republican candidates. For him, this election is about the economy. "People who need pay increases to keep up in the economy," he said. Phillips thought the question posed to the candidates was too specific with a fixed-dollar increase commitment. But, he said, "To me it was obvious they didn't support a minimum-wage increase period, whether it was $15 or a penny."
Halfway into the debate, as talk moved to Bashar al-Assad and Syria and tax credits, much of the crowd turned to their food and drinks. And before the debate was over, the crowd started to dwindle.
Robert Goldberg, the dean at a medical school on 125th Street, calls the restaurant "our kitchen" for him and other regulars, who dine here a few times a week and also to enjoy the live jazz. "There is a complete disconnect from reality," he said. "In the time it took Donald Trump to answer that question, he made more than what a minimum wage-worker earns in a week or month or longer. We're trying to decide who we want our president to be, to whom can we look for reassurance, comfort, and guidance. Where are they coming from?"