GOP Leaders Race to Get Ahead of Refugee Issue
The House will move separate legislation, as top Republicans hope to avoid a shutdown crisis over funding the resettlement program.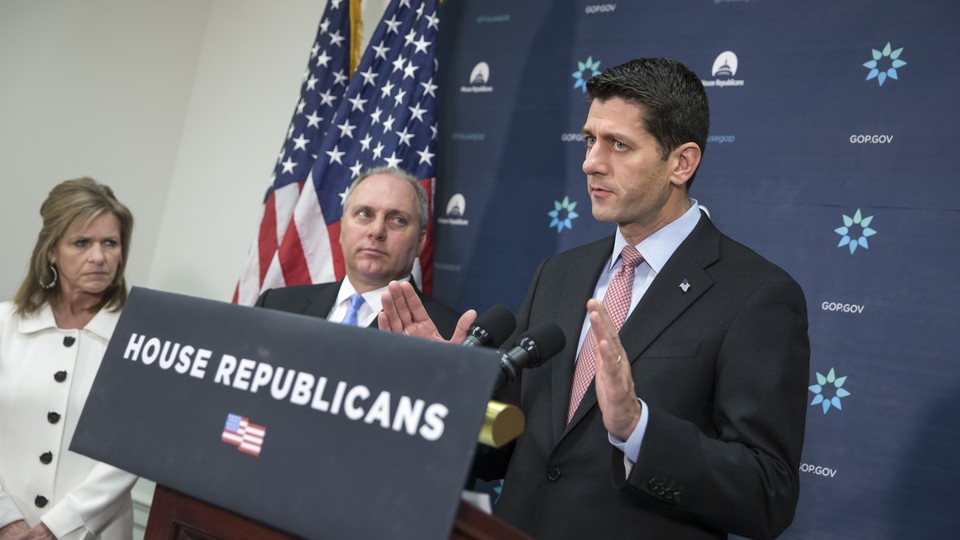 Under pressure to vote before the Thanksgiving break and defuse talk of a December government shutdown, Speaker Paul Ryan will bring to the floor a bill Thursday to halt resettlement of Syrian refugees into the U.S. until intelligence agencies can certify that they are not a threat.
The measure reflects a balancing act that Ryan faces in responding to American fears in the wake of a devastating terrorist attack in Paris last week. House Republicans feel that they must heed an outcry from their constituents who fear another terrorist attack could result from the Islamic State embedding terrorist cells among the refugees.
Yet pushing too hard on the issue could cause the White House and Congressional Democrats to balk and leave the House GOP in a situation where, for lack of any concrete action taken by Congress and signed by the president, their members push leaders to attach a measure to the upcoming omnibus spending bill that could risk a government shutdown.
As a result, GOP leaders are dropping some of the more contentious measures their members have called for amid the crisis, such as a blanket ban on Syrian refugees or giving preference to Syrian Christians fleeing the war-torn region. As many as 30 governors have pushed for some form of ban; the religion-based idea has been espoused by some presidential candidates, including former Florida Gov. Jeb Bush and Sen. Ted Cruz, but one that President Obama has called "shameful."
The bill will be introduced Tuesday night so the House can vote Thursday. It does not dictate how the intelligence officials should vet refugees, but instead would require the Homeland Security Department secretary and the directors of the FBI and the Director of National Intelligence to certify to Congress that every refugee admitted is not a security threat. It would also require the FBI director to certify that background checks have been completed before any refugee can be admitted and requires the DHS inspector general to audit 20 percent of the refugees admitted to make sure the vetting process is working.
The legislation came out of the task force convened by Majority Leader Kevin McCarthy after the Paris attacks and largely resembles a bill that Rep. Richard Hudson has been promoting. Ryan has discussed the bill with a circle of advisors that includes members from different coalitions within the conference.
To attract bipartisan support, Republicans have been reaching out to Democrats, particularly Minority Whip Steny Hoyer, Homeland Security Committee ranking member Bennie Thompson, and Rep. Zoe Lofgren, ranking member of the Judiciary Subcommittee on Immigration Policy and Enforcement. Some other Democrats have already signaled that they are on board, but Republican leaders feel if those members can be persuaded, they can bring many more Democrats along with them. Thompson's and Lofgren's offices said they are reviewing the bill.
Republican leaders have also been reaching out to conservative outside groups, such as Heritage Action and Numbers USA, to keep them abreast of the process. It is not clear that conservatives in the House Freedom Caucus would support the bill. Members of the group did not discuss the situation at their weekly meeting Monday evening. But there are signs that Republicans are willing to give Ryan the benefit of the doubt, as he has built up a cache of good will among conservatives so far by reaching out often before moving ahead with legislation.
Rep. Steve King, who is not in the Freedom Caucus but has taken a hard-line stance on immigration, said he wants to block refugees and believes the omnibus bill would be the best place to force the administration to do so, but also said he does not want to force Ryan's hand.
"The omnibus is the only place where we've got the hook. … I want to encourage it, but I don't want to put him in a trap," King said. "I don't want to put the speaker in a place where he's in an untenable situation."
Similarly, Democrats have shown some openness to working with Republicans on the issue. Senate Minority Leader Harry Reid said Tuesday that Ryan has "the right idea" in separating the refugee legislation from the end-of-the-year package, and Sen. Chuck Schumer said a pause might be necessary. Rep. Eliot Engel, ranking Democrat on the House Foreign Affairs Committee, said he could support a reassessment of the country's vetting process.
"I wouldn't be opposed to a reassessing of what we're doing in terms of vetting," Engel said. "If it's really a pause to reassess for a limited amount of time, it's something I could go along with. If it's a ruse to stop anybody from coming into this country, then I think it's the wrong thing to do."
Still, it is not clear that Democratic leaders will ultimately support the bill. While 2,000 Syrian refugees have been resettled, the U.S. has committed to resettling 10,000 more next year, and this bill would halt that until the FBI can institute a more rigorous vetting process, which, realistically, could put an end to those resettlements indefinitely. Reid noted that the resettlement process as it is takes on average 18 to 24 months, adding, "If somebody comes here today, there's a pause."
Furthermore, Democrats could be reticent to vote on a bill that could be viewed as a rebuke of the current screening system, especially if Obama would not sign the bill. The administration has not yet weighed in on the specific legislation, but in a press call Tuesday, administration officials defended the vetting system, which includes, after registering with the United Nations High Commissioner for Refugees, fingerprint and biographic checks, in-person interviews, and the coordinated review of multiple intelligence and law-enforcement agencies. Syrian refugee applicants are subject to further, enhanced review.
"The thing I most fear about this current discussion going on in the United States is that we will lose the bipartisan support for this program that it has enjoyed for decades, through Democratic administrations, through Republican administrations, through different majorities in the House and Senate," said one senior official. "This is a very precious thing, I think. In the current day and age, it's been a rare thing."
FBI Director James Comey and Homeland Security Secretary Jeh Johnson briefed House members Tuesday night and will do the same for senators on Wednesday.