GOP Grasps For Leverage Over Paris Climate-Change Deal
The latest gambit: Withhold cash unless the Senate gets to vote on the potential accord.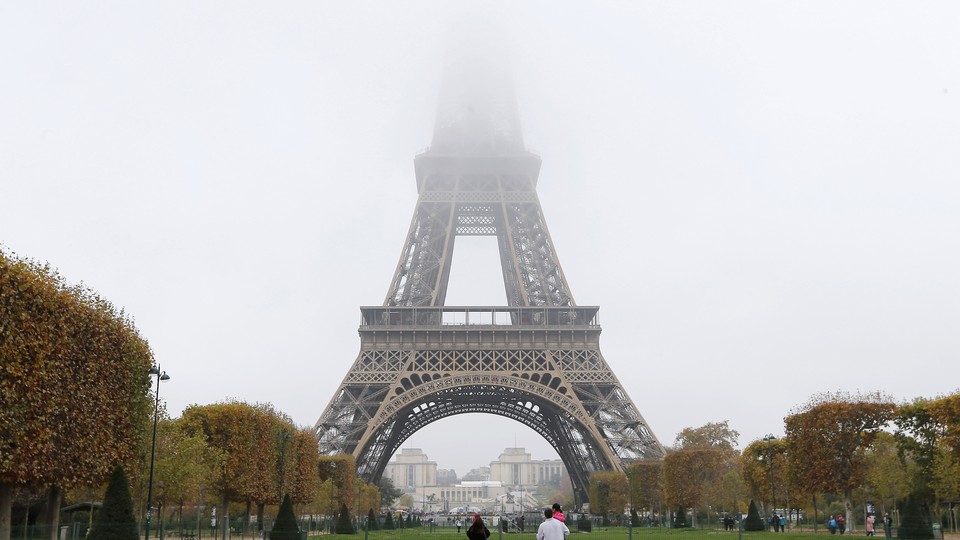 Republicans are furious that President Obama plans to join a sweeping new global climate-change pact that will probably leave Congress on the outside looking in. So they're trying to find political leverage where they can.
That's why GOP senators are making a new threat ahead of the United Nations climate summit that begins Nov. 30 in Paris: They won't provide a dime for a major White House pledge to help developing nations fight climate change unless Obama agrees to submit the climate deal to the Senate for its advice and consent.
Sens. John Barrasso and James Inhofe are circulating a letter among colleagues that targets Obama's late 2014 pledge to steer $3 billion into the Green Climate Fund, a multinational effort that supports developing nations' efforts to cut emissions and become more resilient to the effects of global warming.
"While the Executive Branch and Congress both play an important role in the foreign policy of our nation, Congress ultimately holds the power of the purse. We pledge that Congress will not allow U.S. taxpayer dollars to go to the Green Climate Fund until the forthcoming international climate agreement is submitted to the Senate for its constitutional advice and consent," the planned letter to Obama states.
Republicans' effort is aimed squarely at the other nations negotiating with the U.S. on the accord that Obama hopes will be a big piece of his green legacy. "If there is one message that I would like to send to the international community ahead of the international climate-change conference, it is this: Without Senate approval, there will be no money," Barrasso said at an Environment and Public Works Committee hearing Wednesday.
The White House did not comment on the letter. The White House budget request submitted to Congress early this year asks for $500 million of the $3 billion pledge, and while Republicans are no fans of climate programs, Secretary of State John Kerry recently predicted that Obama would get money from Congress.
"We'll get there, because the trade-offs of the budget are such that when something is a high enough priority for a president, you have a way of getting it done, even though it's opposed by people" Kerry told The Financial Times last week, even hinting that Obama would veto spending legislation that omitted it.
The Green Climate Fund is part of wider efforts under the U.N. negotiations to mobilize $100 billion annually in climate finance from public and private sources by 2020.
The letter is the latest effort by Republicans to influence the pact that the Obama administration and governments from nearly 200 nations hope to reach during the high-stakes talks in Paris. Republicans are seeking to show that the U.S. might not follow through on commitments that Obama is making. But thus far, the efforts have been largely messaging by a party that doesn't have a seat at the table.
The Senate passed a pair of GOP-led bills yesterday that would block sweeping EPA regulations to cut carbon emissions from power plants, rules that would help the U.S. to meet the pledge it offered in the climate negotiations to cut its greenhouse gas emissions 26-28 percent below 2005 levels by 2025. The House is likely to follow suit, but the measures are largely symbolic because they already face a firm White House veto threat.
Sen. Shelley Moore Capito, a West Virginia Republican helping to lead the GOP effort, said ahead of the vote that lawmakers are trying to send a message to the Paris talks. "[President Obama] is getting ready to enter into a global climate agreement. I think by showing that we disapprove of this regulation, [it] shows that the country is not behind the policies he is putting forward," she told reporters in the Capitol.
There's more to come. Sen. Mike Lee and Rep. Mike Kelly will soon introduce resolutions demanding that the planned Paris agreement will be submitted to the Senate for ratification.
But Republicans, lacking a veto-proof majority, have very limited options when it comes to demanding a say in the outcome of the Paris talks.
The emerging Paris plan is likely to be structured in a way that won't be a new treaty that requires Senate sign-off. That's partly because it's all but impossible to imagine that Republicans—many of whom dispute human-induced global warming—would allow the two-thirds Senate vote needed to ratify new treaties.
Unlike the 1997 Kyoto Protocol (which the U.S. never joined), the Paris deal appears extremely unlikely to impose internationally binding emissions-cutting targets on any nations. Instead the U.S. and other nations are submitting domestic carbon-cutting targets that will not be internationally binding.
However, under the hybrid approach that the U.S. and some other countries are pushing, other provisions of the pact—such as verification and monitoring of action on national pledges—would indeed be internationally binding.
Barrasso argues that those portions at the very least need lawmakers' approval. "Any agreement reached in Paris that contains legally binding requirements on the American people must come to the Senate for a vote," he said at Wednesday's hearing.
But while the accord is still being hashed out, U.S. officials won't pledge to submit even the potentially binding portions for Senate approval. A senior administration official said Wednesday that it's too early to know what the accord will contain."With respect to whether any agreement in Paris requires advice and consent of the Senate, the negotiations are ongoing and it is premature to judge what an agreement's ultimate legal form would be," the official said.
Todd Stern, the State Department's top climate negotiator, noted at a recent Senate Foreign Relations Committee hearing that it's common to have important international agreements that do not require Senate ratification. "Whether you're talking about the Atlantic Charter or the Helsinki accords or any number of nuclear arrangements, the notion of agreements being entered into in some form other than advice and consent is actually quite common," he said.
And at the same hearing last month, liberal Democrat Ed Markey noted that the Senate ratification of an earlier climate treaty, the 1992 United Nations Framework Convention on Climate Change, gives the U.S. running room to strike new agreements under that pact.
"There is an existing treaty, you're negotiating under that treaty, which is an authority which Congress gave to you. And I just think we should make that clear. You're not in violation of any historical precedence," Markey said to Stern. "I mean, it's something that we want you to do and it's something that the Congress passed."