Gillibrand, McCaskill Hope to Derail Greek-Backed Campus-Sexual-Assault Bill
The two Democrats want to convince national sorority groups not to support the controversial legislation.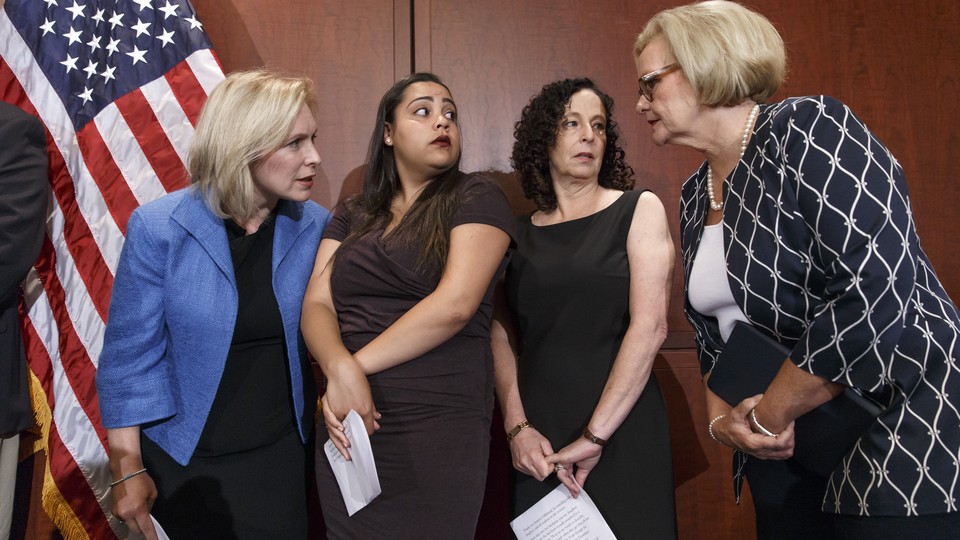 Sens. Kirsten Gil­librand and Claire Mc­Caskill will sit down Thursday with the lead­ers of na­tion­al fra­tern­it­ies and sor­or­it­ies, hop­ing to earn al­lies and to kill le­gis­la­tion sponsored by the Greek groups to com­bat cam­pus sexu­al as­saults—a bill that, the sen­at­ors say, would ac­tu­ally be harm­ful to vic­tims.
The Safe Cam­pus Act, writ­ten by Re­pub­lic­an Reps. Matt Sal­mon and Pete Ses­sions, would re­quire vic­tims of sexu­al as­sault on col­lege cam­puses to re­port their at­tack­ers to the po­lice. It also al­lows schools to in­crease their stand­ards of evid­ence for sexu­al-as­sault cases. The bill is backed by the na­tion's ma­jor fra­tern­ity and sor­or­ity or­gan­iz­a­tions, who hired a lob­by­ing team, in­clud­ing former Sen­ate Ma­jor­ity Lead­er Trent Lott, to sup­port the bill just last month.
But the le­gis­la­tion is op­posed by hun­dreds of ad­vocacy groups for the vic­tims of sexu­al as­sault. On Monday, 220 of those groups co-signed a let­ter to mem­bers of Con­gress de­rid­ing the bill as well as sim­il­ar le­gis­la­tion. The groups ar­gue that re­quir­ing vic­tims to re­port sexu­al as­saults to the po­lice will re­duce the num­ber of as­saults that are re­por­ted.
Sal­mon and Ses­sions ar­gue that the po­lice are much bet­ter able to in­vest­ig­ate sexu­al-as­sault claims than school ad­min­is­trat­ors, or as is the case at some col­leges in the U.S., stu­dent-led pan­els and ath­let­ic de­part­ments. "The in­volve­ment of our justice sys­tem in these pro­ceed­ings is an ex­cel­lent way to en­sure that all parties' rights are pro­tec­ted," Sal­mon said in a state­ment.
Al­low­ing the schools to handle the cases, Sal­mon spokes­man Tristan Daedalus ar­gued, is in­suf­fi­cient giv­en their lim­ited abil­it­ies to pun­ish proven pred­at­ors. "You're just loos­ing a sexu­al pred­at­or onto so­ci­ety at large," he said.
The bill would al­low schools, however, to open up their own cases as soon as a vic­tim re­ports to po­lice. The school could then sus­pend an ac­cused rap­ist for 15 days while it pro­ceeds with its own pro­cess and hold ad­di­tion­al hear­ings to sus­pend the ac­cused stu­dent in 30-day blocks after that.
Re­quir­ing stu­dents to re­port to law en­force­ment as­sures due pro­cess for both the vic­tim and the ac­cused and en­sures that evid­ence is col­lec­ted in a timely man­ner, Sal­mon be­lieves. But he's also open to mak­ing changes to strengthen the bill, Daedalus said.
Gil­librand said in an in­ter­view in her of­fice Tues­day that she can see why Greek or­gan­iz­a­tions back­ing Sal­mon's bill be­lieve that in­volving law en­force­ment seems like the right and ob­vi­ous thing to do. It makes sense, she says, un­til you talk to vic­tims. "The reas­on why this crime is so un­der­re­por­ted is be­cause that pro­cess in and of it­self is so up­set­ting and so hard for them, it just nev­er gets re­por­ted," Gil­librand said.
That's why she and Mc­Caskill are so sur­prised to see na­tion­al sor­or­ity groups sup­port­ing the le­gis­la­tion. The sen­at­ors had pre­vi­ously planned to single out the sor­or­it­ies to try to get them to dis­avow the bill, un­con­vinced that the wo­men's groups truly un­der­stood the im­plic­a­tions of the le­gis­la­tion they were so pub­licly back­ing. "Hon­estly, if they will­ingly are par­ti­cip­at­ing and sup­port­ing this bill and with know­ledge, that would be shock­ing," Gil­librand said.
"I have not con­ceded that the sor­or­it­ies sup­port this al­tern­ate meas­ure. … I think someone around them was a grave dis­ser­vice to them and did not prop­erly de­scribe the im­pact of this oth­er le­gis­la­tion," Gil­librand con­tin­ued. "And so I want to give them an op­por­tun­ity to per­haps re­ject what their col­leagues have done."
But Gil­librand and Mc­Caskill were beaten to the punch by the Na­tion­al Pan­hel­len­ic Con­fer­ence and the North Amer­ic­an In­ter­fra­tern­ity Con­fer­ence—which rep­res­ent both fra­tern­it­ies and sor­or­it­ies across the coun­try—who re­ques­ted the meet­ing them­selves.
The two um­brella groups have in­creased their pub­lic vis­ib­il­ity on the is­sue of cam­pus sexu­al as­saults and have held hun­dreds of meet­ings on Cap­it­ol Hill. Giv­en the pres­ence of fra­tern­it­ies, in par­tic­u­lar, in high-pro­file sexu­al-as­sault cases and ac­cus­a­tions over the past sev­er­al years, the groups hope to play a ma­jor role in re­du­cing cam­pus as­saults.
Their re­quest fol­lows a let­ter the two Demo­crats sent to the NPC last week ar­guing that the Safe Cam­pus Act would "stifle re­port­ing and force vic­tims down a one size fits all pipeline against their wishes."
Gil­librand and Mc­Caskill are pro­pos­ing an­oth­er solu­tion, and they hope to en­list the Greek or­gan­iz­a­tions to sup­port their own bill. Sal­mon, for his part, has not yet taken a po­s­i­tion on the Sen­ate le­gis­la­tion.
The Cam­pus Ac­count­ab­il­ity and Safety Act, which has 34 Sen­ate co­spon­sors in­clud­ing 12 Re­pub­lic­ans, would re­quire col­leges and uni­versit­ies to des­ig­nate a "Con­fid­en­tial Ad­visor" who would as­sist vic­tims, provide in­form­a­tion on the dif­fer­ent re­port­ing op­tions avail­able to them, and guide them through whatever pro­cess they choose.
That choice, Gil­librand and her staff say, is key. Their le­gis­la­tion is in part in­spired by the suc­cess­ful part­ner­ship between the Ash­land, Ore­gon, po­lice de­part­ment and South­ern Ore­gon Uni­versity, which de­veloped a sim­il­ar "Campus Choice" pro­gram that saw twice as many vic­tims de­cide to re­port those crimes to the po­lice in its first year.
The con­fid­en­tial ad­viser, Gil­librand said, would lay out op­tions for stu­dents rather than, as the Safe Cam­pus Act re­quires, for­cing them to go to the po­lice first. "[The ad­viser can] say, these are all your op­tions: You either go through the school sys­tem or you go through law en­force­ment. In the school sys­tem, all they can do is ac­com­mod­a­tions—the highest pen­alty is kick­ing [the as­sail­ant] out—but if they don't have evid­ence, they will do noth­ing and the best thing they can do is change your class. So you bet­ter get that rape kit," Gil­librand said.
Al­low­ing vic­tims to make the choice to ap­proach po­lice of­ficers on their own sched­ule can be hugely be­ne­fi­cial, Gil­librand said, both to the vic­tim and to the po­lice. "If you lose her on that first day be­cause you've in­tim­id­ated or scared her or made her feel guilty, you've lost your wit­ness," she said.
But even in cases in which vic­tims de­cide not to go for­ward with leg­al pro­ceed­ings, Gil­librand said, re­port­ing can still give au­thor­it­ies the op­por­tun­ity to link sim­il­ar cases. And that, in turn, can lead to re­duced sexu­al vi­ol­ence on col­lege cam­puses. "If there's two oth­er vic­tims, [the ini­tial vic­tim will] say, 'Oh, my God, so it wasn't me; it wasn't that I was drink­ing; it wasn't my fault.'  … They'll be more in­clined to say, 'Of course I will testi­fy against him,'" Gil­librand said.
The Gil­librand-Mc­Caskill bill would also re­quire train­ing for school em­ploy­ees on sexu­al-as­sault pre­ven­tion and re­sponse, and re­quire schools to co­ordin­ate re­sponse plans with loc­al law en­force­ment.
The two sen­at­ors are hope­ful that their pitch will be well-re­ceived by the Greek or­gan­iz­a­tions, po­ten­tially killing the Safe Cam­pus Act in fa­vor of their own le­gis­la­tion.
Gil­librand summed up their pitch Tues­day: "If you man­date re­port­ing to a po­lice of­ficer for any­thing to be done and then you say noth­ing can be done by the col­lege un­til they're done, well, in­vest­ig­a­tions can take months, months, months—can take a year. I mean, you're just talk­ing about, ar­gu­ably, a rap­ist on cam­pus. So if you ex­plain that to someone who's not been fully in­formed, they'll say, 'Oh, my good­ness, I would nev­er want that to hap­pen.'"
And if that doesn't work, she and Mc­Caskill are work­ing on next steps: reach­ing out fra­tern­ity and sor­or­ity alum­nae and mem­bers across the coun­try. "They need to know what their or­gan­iz­a­tions are do­ing with their dues," Gil­librand said.