From a Prison ​Cell​ to the Mayor's Office
On Tuesday, the voters of Bridgeport elected Joseph Ganim, who served seven years on corruption charges since the last time he led the city.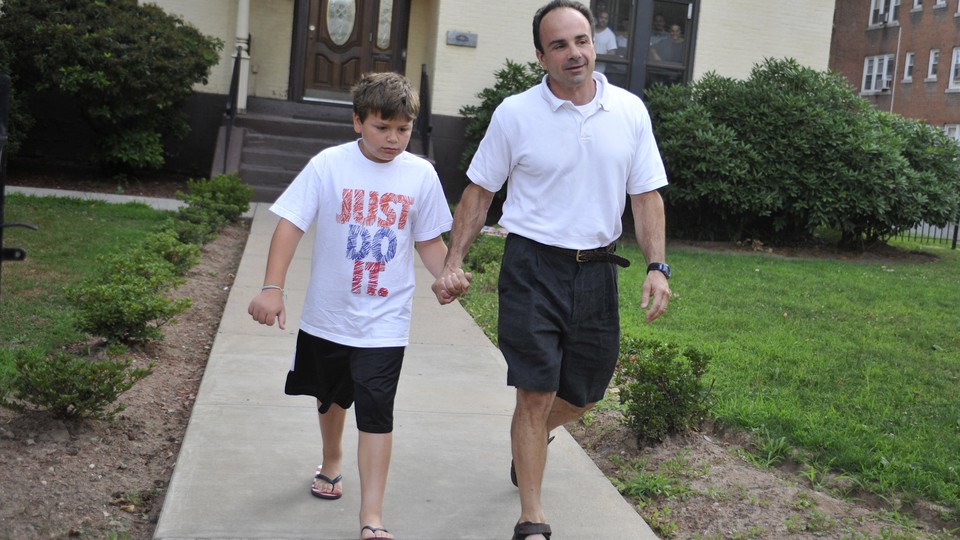 The most irresistible storyline in politics is the comeback. Richard Nixon won the presidency in 1968 six years after California voters rejected his bid to be governor. Bill Clinton earned his famous nickname "The Comeback Kid" after the New Hampshire primary in 1992, a contest he didn't even win. (He finished second.) More recently, Mark Sanford was censured and nearly impeached as governor of South Carolina over an adultery scandal but won back his old seat in Congress four years later.*
Yet as comebacks go, none of those guys have anything on Joseph Ganim, the once and future mayor of Bridgeport, Connecticut.
On Tuesday, voters in the Nutmeg State's largest city picked Ganim from a field of seven candidates for mayor. When he takes office in January, it will be 13 years since he last ran the city. He spent seven of those years in federal prison, serving a punishment for convictions on 16 felony counts of racketeering, bribery, mail fraud, conspiracy, and tax evasion. As the Hartford Courant reminded its readers on Wednesday, Ganim accepted more than half a million dollars "in cash, diamonds, expensive wine, tailored clothing, high-priced meals, and home renovations in a widespread kickback scheme that led to the convictions of 10 of his associates." All that occurred during his first three terms as mayor. When he got out of prison, the state supreme court refused to return his law license. And yet improbably, the voters of Bridgeport took him back.
"Some will call this a comeback story. For me it is a city that I never left," Ganim told his supporters. His victory was his second shocker of the season. In September, Ganim knocked off the city's two-term incumbent, Bill Finch, in a three-way primary by a margin of 400 votes. After Finch failed to make the November ballot as a petitioning candidate, Ganim beat back a university executive, Mary-Jane Foster, and a Republican candidate to claim victory in Bridgeport, which is overwhelmingly Democratic.  "I couldn't be more surprised," Foster told The New York Times.
She wasn't the only one. Dannel Malloy, Connecticut's Democratic governor, issued a terse statement of congratulations after repeatedly refusing to endorse Ganim. For his part, Ganim has promised to lower taxes, create jobs, and bring down crime—perhaps by not contributing to it himself this time around. Along with Connecticut's other urban centers, Bridgeport has long struggled with high crime, poverty rates, and poor public schools.
And like the neighboring states of New York and Rhode Island, Connecticut is plenty familiar with corrupt politicians. A year after Ganim's conviction, Governor John Rowland resigned in the face of charges that he accepted free work on his vacation home from contractors doing business with the state. (Don't expect a political comeback from Rowland anytime soon: He was recently sent back to prison for the second time in a decade on charges that he hid payments he received for working on congressional campaigns.)
With his victory Tuesday, Ganim joins the late D.C. Mayor Marion Barry and Providence's Buddy Cianci in the annals of American municipal comeback stories. Washington voters returned Barry to City Hall in 1995 after he served a six-month sentence for cocaine possession, and Cianci served as mayor of Providence for a second time years after pleading no contest to an assault charge. (He didn't spend time in prison until after his second stint as mayor; he lost another comeback bid after that.)
Ganim's victory is a glaring exception in the Year of the Outsider. Yes, Bridgeport voters tossed out an incumbent mayor, but only to give a king of corruption a second chance in office. As with Barry and Cianci, Ganim's moral and legal failings mattered less than his loyalty and familiarity to voters who often feel neglected. "He was just one of the ones that got caught. He didn't hurt anybody but himself. He didn't take anything from me," one Ganim supporter, Louise Gregory, told the Times in September. It's a message that might explain Ganim's hard-to-fathom comeback, even if sounds far too empathetic for the anger-fueled politics of 2015.
---
* This article originally stated that Mark Sanford resigned as governor. We regret the error.