Remembering Fred Thompson
The former senator, lawyer, and actor died Sunday at the age of 73.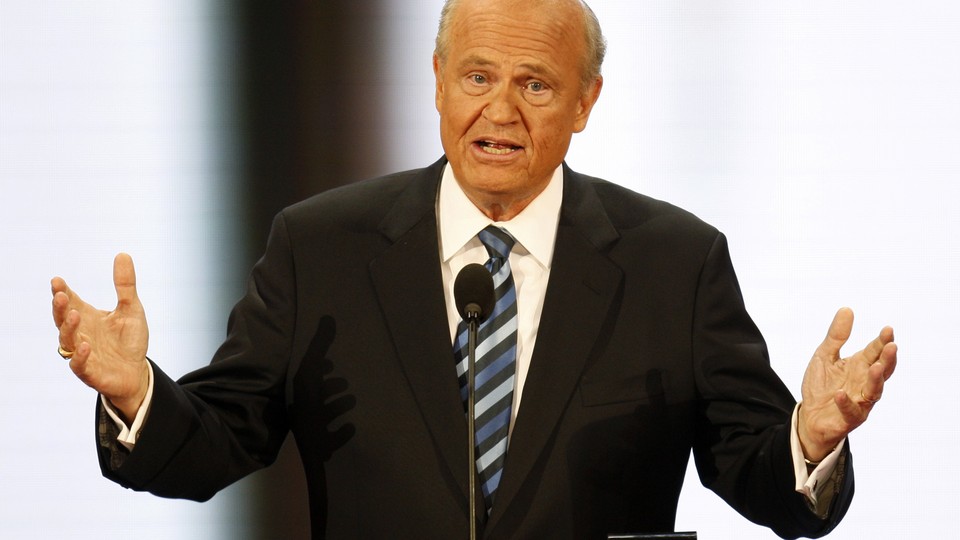 Fred Thompson, a former senator from Tennessee, died Sunday. He was 73.
The Republican lawmaker died of a recurrence of lymphoma, his family said in statement, according to The Tennessean.
"It is with a heavy heart and a deep sense of grief that we share the passing of our brother, husband, father, and grandfather who died peacefully in Nashville surrounded by his family," the statement said.
Thompson had an illustrious career that spanned several industries. He served as an assistant U.S. attorney in the 1960s and 1970s, and provided legal counsel to the Senate Watergate Committee on its investigation of the Watergate scandal that led to the resignation of President Richard Nixon. Thompson worked in both the private and federal sectors in the eighties, as counsel and lobbyist. He served in the Senate between 1994 and 2003. In the last months of his congressional career, Thompson began appearing on NBC's Law & Order. He went on to star as Arthur Branch, a Manhattan district attorney, for five years. He also appeared in several films, including Die Hard 2 and Secretariat. In the fall of 2007, Thompson announced his bid for the Republican presidential nomination, but dropped out of the race in early 2008.
"Fred once said that the experiences he had growing up in small-town Tennessee formed the prism through which he viewed the world and shaped the way he dealt with life," his family said in the statement. "He enjoyed a hearty laugh, a strong handshake, a good cigar, and a healthy dose of humility. Fred was the same man on the floor of the Senate, the movie studio, or the town square of Lawrenceburg, his home."
Republican Senator Lamar Alexander, who succeeded Thompson in office, said Sunday that "very few people can light up the room the way Fred Thompson did."
"He was my friend for nearly 50 years," Alexander said in a statement to The Tennessean. "I will miss him greatly."
Bob Corker, Alexander's fellow Tennessee senator, praised Thompson's "common sense approach to public service."
"From the courtroom to Capitol Hill to Hollywood, his larger than life personality was infectious and had a way of making all of those around him strive to be better," Corker said in a statement Sunday.