Finally, Clinton and Sanders Camps Get Scrappy
Gloves start to come off in Democratic presidential race.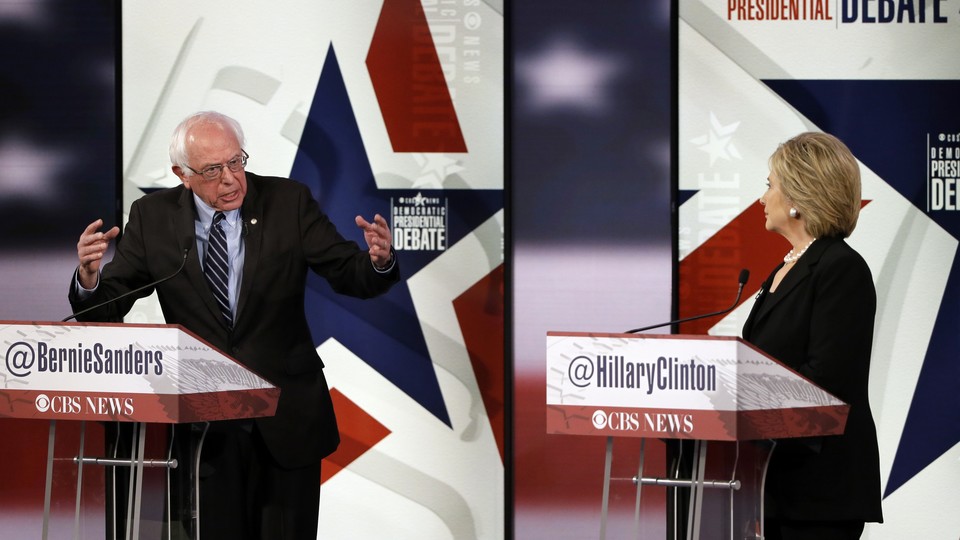 A month ago, Democratic candidate Bernie Sanders was giving Hillary Clinton a pass on one of the biggest issues her campaign has faced, saying the American people had heard enough about her "damn emails." But on Sunday, his campaign dismissed her latest tax proposal as "Republican-lite."
The gloves, it seems, have finally started to come off in the Democratic primary.
While Sanders and fellow Democratic candidate Martin O'Malley have long needled Clinton over her shift in positions on issues such as the Trans-Pacific Partnership trade deal, the Keystone XL pipeline, and even her 2002 vote in support of the Iraq War, the Democratic primary has seen far less intra-party vitriol than the massive Republican field. But with the primaries getting closer, the candidates and their campaigns are starting to take a sharper tone. That's been very clear between the Sanders and Clinton camps since the second Democratic debate earlier this month.
Some of this is just the natural way of things—there are less than three months until the first primary votes are cast in Iowa, so candidates are bound to spend more time contrasting themselves with their opponents—but it still represents a noticeable change in tone from the first six months of the Democratic primary.
The day after the most recent debate, Clinton went on stage at a rally in Iowa and suggested—without actually saying Sanders's name—that the Vermont senator would raise taxes on the middle class and "scrap" the Affordable Care Act. She told the crowd that middle-class Americans "need a raise, not a tax increase" and said she's the only Democrat in the debate who has pledged to work toward that goal.
Sanders pushed back, calling on Clinton to explain the details of her plan for family-leave benefits. "What is her program? What does she intend to do other than talk about it?" he said in an interview with the Des Moines Register.
Later that week, Clinton's campaign fired back, arguing that Sanders's health care proposals would result in a 9 percent tax hike on middle-class Americans.
"If you are truly concerned about raising incomes for middle-class families, the last thing you should do is cut their take-home pay right off the bat by raising their taxes," Clinton spokesman Brian Fallon said in a statement. "Yet Bernie Sanders has called for a roughly 9 percent tax hike on middle-class families just to cover his health care plan, and simple math dictates he'll need to tax workers even more to pay for the rest of his at least $18-20 trillion agenda."
That prompted Sanders's team to put out a release criticizing Clinton over her ties to Wall Street and her response during the Nov. 14 debate in which she linked donations from Wall Street firms to her involvement in helping New York recover after the 9/11 attacks.
"Clinton Campaign Wants To Talk About Anything Other than Wall Street Coziness," the release read. "During the CBS Democratic debate … former Secretary of State Hillary Clinton tried to use the tragedy of 9/11 as a political excuse for her coziness with Wall Street interests, including the millions she has received in Wall Street campaign funding over her career. That defense of the Clinton campaign's corporate fundraising has been widely assailed in the media and on social media."
A memo from Sanders pollster Ben Tulchin further goes after Clinton on the Wall Street issue, noting that she "has real vulnerabilities within the Democratic primary electorate, particularly on 'being too close to special interests and Wall Street.'"
The race isn't at the point where Sanders and Clinton themselves are criticizing each other directly very often—in fact, Clinton spends most of her time on the campaign trail lambasting Republicans, rather than Sanders. But as Iowa gets closer, the rhetoric will likely get even more heated.