The Races Worth Watching on Election Day 2015
Kentuckians elect a governor, Ohioans decide whether to allow recreational marijuana, and more important ballot issues across America.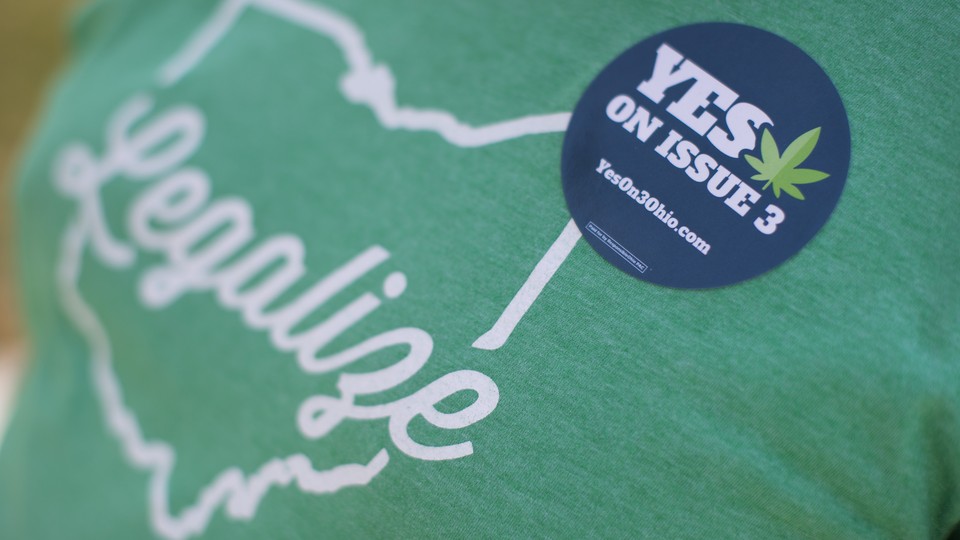 It's Election Day in America. Nope, sorry—it's not 2016 yet, but just because it's an odd-numbered year doesn't mean there's not an election. In fact, Tuesday's balloting will decide a slew of important questions: whether Democrats can cling to control in Kentucky, whether Mississippi's legislature will be required to fund the state's schools, and who will lead some of America's biggest cities.
Those issues will likely be decided by a minuscule portion of the populace. As bad as turnout is during midterm elections (or even in presidential years), odd-year elections draw hardly any voters. That doesn't mean they won't have wide-ranging implications, though. Here's a rundown of the races to watch on this not-so-super Tuesday.
Kentucky Governor
The Bluegrass State has remained unexpectedly blue in the Obama era. Even as Democrats are washed out across the South, and even though Kentucky boasts two Republican senators, Democrats still hold the governor's mansion and House in Frankfort. Outgoing Governor Steve Beshear even made Kentucky a leader in implementing the Affordable Care Act. But Beshear is term-limited, and so the seat was meant to be an easy pickup for Republicans, especially because Democrat Jack Conway, the current attorney general, isn't seen as a strong campaigner. Then Matt Bevin won the GOP primary, as my colleague Russell Berman explained. The Tea Party-aligned Bevin has run a shambling, strategically dubious campaign and squandered much of his advantage. Conway has long led in the race, and even Bevin's own polls show him tied at best, though some recent surveys suggest the race is tightening.
Ohio Marijuana Measures
Voters will determine whether Ohio will become the Buck-high state on Tuesday. (I'm sorry, but have you seen what those leaves resemble?) But like figuring out how to get to Taco Bell after that last blunt, the situation is devilishly complicated. First, there's Issue 3, which would amend the state constitution to legalize recreational marijuana use. If it passes, Ohio will be the fifth state (plus D.C.) to allow recreational use, and the first to do so without first allowing medical marijuana.
Here's the catch: Issue 3—which is bankrolled by members of the prominent Taft family as well as Nick Lachey, formerly of 98 Degrees—would give its backers exclusive rights to grow pot. That's a bitter pill (or a lot of stems and seeds in the bag—choose your analogy) for many supporters of legalization, who don't want to see big companies—or even worse, an oligopoly—capture the market. Two big pro-pot groups, the Drug Policy Alliance and the Marijuana Policy Project, have elected not to weigh in, while another, NORML, has gritted its teeth and backed Issue 3.
Making things even more complicated, the state legislature has placed its own measure onto the ballot in an attempt to undercut Issue 3. That measure, Issue 2, would prevent the granting of special monopoly privileges to any group in the state constitution. A recent poll from the University of Akron found support for Issue 3 roughly evenly split. Meanwhile, a plurality backed Issue 2, but many voters were undecided. What happens if both measures pass? No one really knows. Issue 2's backers say it would invalidate Issue 3. Issue 3's backers say that's not true. It could result in a huge court battle, which would likely be more enjoyable entertainment that trying to watch the rest of the Browns' season.
Mississippi School Funding
Since 1997, the Mississippi Adequate Education Program has mandated how much the state should spend per child to provide an education in the state's public schools. In that time, legislators have matched what the formula demands only twice. There are vast disparities between the quality and quantity of offerings at urban and rural schools, and in poor and rich districts.
As a result, campaigners have lined up Initiative 42. While the state constitution calls for a free system of public schools, 42 would amend the constitution to mandate that it be an "adequate and efficient system," and would empower the state judiciary to enforce that. As in Ohio, the state legislature has presented an alternative plan to try to outflank Initiative 42. Their plan, called Alternative 42, is backed by many of the state's Republican officeholders, including Governor Phil Bryant. Alternative 42 would require the legislature simply to maintain and support "an effective system of free public schools," with no language about adequacy and no judicial enforcement.
Virginia Senate
The control of the upper house of the legislature is up for grabs in Virginia, which has emerged as one of the nation's most interesting and important swing states commonwealths. When Governor Terry McAuliffe, a Democrat, took office in 2014, his party controlled the Senate, but lost it when a member unexpectedly resigned (under mysterious circumstances). Now the Macker is out to win it back. "Folks, I'm pretty jacked up! But as you know, I'm always jacked up!" he says, rightly. But as The Washington Post notes, it's not clear how much real political gain he'd get if his party wins the Senate back, since Republicans will still control the House.
Mayorships
Several of the nation's largest municipalities vote for mayors today. As Democrats lose control of statehouses, big cities have become more and more important to the party—as outposts of liberal control, and as incubators for party talent.
In Houston, pathbreaking Democratic Mayor Annise Parker is term-limited. Polls show Democrat Sylvester Turner, a member of the state house, leading a crowded field, but if no candidate gets a majority, there will be a December 12 runoff.
In Philadelphia, Mayor Michael Nutter—another Democrat with a national profile—is also term-limited. Democrat Jim Kenney, who recently resigned from City Council to run for mayor, is favored.
In San Francisco, incumbent Democrat Ed Lee is expected to sail to reelection.
In Columbus, Ohio, Democrat Michael Coleman isn't running for reelection. Two fellow members of his party, Andrew Ginther and Zach Scott, are facing off to replace him. The race has been shaken by a bizarre bribery scandal over the summer. (It's not the weirdest mayoral race in Ohio. In Toledo, one of the seven candidates says God told her to run. In Akron, the mayor's office is up for grabs after the city's long-time mayor abruptly resigned, followed by his interim successor and presumptive heir's own abrupt resignation in a sex scandal.)
In Indianapolis, Republican incumbent Greg Ballard is not running for reelection. Businessman Charles Brewer, a first-time candidate, is facing a tough race to hold the election for the GOP, running against Democrat Joseph Hogsett. A Hogsett win would be a major shift, as Indianapolis is one of the few major cities where Republicans have historically dominated the mayor's office.
In Charlotte, voters will choose between Democrat Jennifer Roberts and Republican Edwin Peacock. There's no incumbent in the race—current Mayor Dan Clotfelder took office in 2014 when Patrick Cannon resigned after being charged with corruption, but Roberts defeated Clotfelder in the Democratic primary. Polls favor Roberts. (Charlotte follows the rest of the Old North State in reflecting a strong urban-rural divide. Other North Carolina cities likely to reelect Democratic mayors on Tuesday include Durham and Greensboro, while Raleigh may elect an all-Democratic city council.)
Local Issues
In addition to the offices up for grabs, several cities and counties are voting on important local issues with national resonance.
---
Related Video