Donald Trump Goes Shopping
The real-estate mogul put down $300,000 for 60-second radio ads set to run in early primary states starting Friday.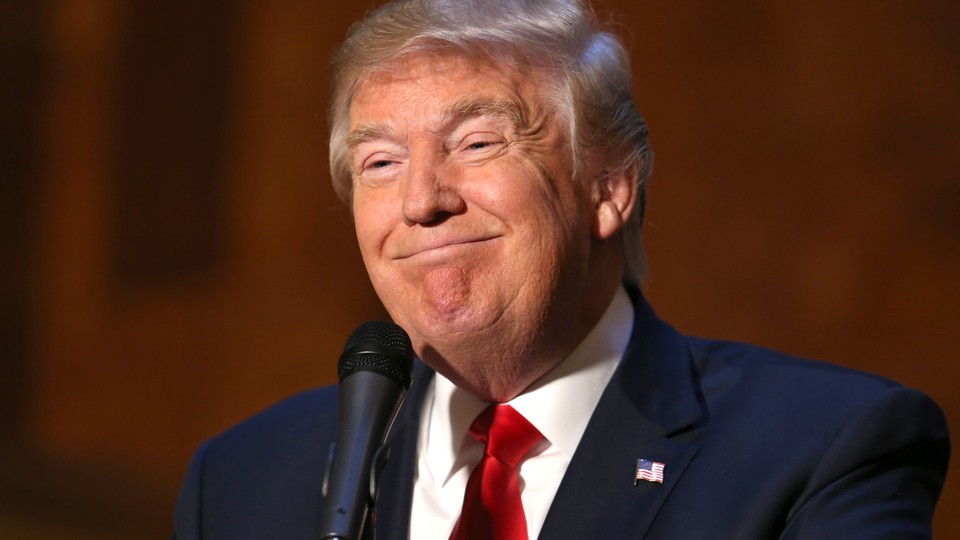 Donald Trump is hitting the airwaves.
On Thursday, Trump's campaign announced its purchase of slots for 60-second radio ads that will air in Iowa, New Hampshire, and South Carolina. The ads, "valued at $300,000," will begin airing tomorrow and run until the end of the month. "This ad buy is the first time the campaign has spent money on advertising," the campaign said in a statement.
The ads, one narrated by a woman and the other by Trump, do not attack Trump's rivals—at least not by name. Instead, they capitalize on Trump's status as a political outsider. "Donald Trump is running for president because politicians are all talk and no action. They will never make our country great again," the woman says. "Our country is in deep trouble because let's face it, politicians are all talk and no action," Trump says in the second ad. The spots also highlight several of Trump's regular talking points, like building a wall on the border and negotiating the "greatest trade deals."
Trump is digging into his pockets to pay for the ads, a move that may signal increased seriousness. The Republican presidential candidate has touted his self-funding campaign repeatedly on the campaign trail, but had not previously shelled out for advertising. Even the $300,000 going toward radio ads is chump change in comparison to the money typically put forward for television ads.
The cost differential between radio and television ads is substantial, and there's no indication yet that the campaign intends to invest in television, or even in additional radio spots. Trump's campaign did not respond to requests for comment.
Several Super PACs have already purchased television ads on behalf of his rivals. In September, the New York Times reported that a Super PAC backing Jeb Bush will spend $37 million on ads before February. Super PACs can accept unlimited sums of money and spend lavishly on ads. The same report noted that other Super PACs and groups are expected to spend millions to run television ads for Chris Christie, Marco Rubio, and Bobby Jindal.
Stations can charge Super PACs huge amounts of money to run television ads, but that's not the case for candidates. According to the Federal Communication Commission, stations cannot charge a candidate "more per unit than the station charges its most favorite commercial advertisers." Stations "may sell higher-priced non-preemptible or fixed time to candidates" but only if such an offer is available to "both candidates and commercial advertisers." The gap between what candidates and Super PACs can be charged is significant—even for a billionaire like Trump.
Trump's decision to purchase radio ads comes as Ben Carson has overtaken him in some polls. Although Trump is mentioned more often than any of his rivals on television newscasts, that gap has narrowed sharply over the past month. Carson is drawing closer in the national polls. Of those surveyed in a new Fox News survey, 26 percent support Trump and 23 percent support Carson.
In Iowa, where Trump's ads will be airing, the Super PAC of the Club for Growth has spent $1 million on ads attacking the mogul. It recently released a poll showing that Carson has 21 percent support in comparison to Trump's 16 percent, claiming credit for the reversal.
On the Today show Thursday morning, Trump dismissed the idea that Carson's surge is the reason for his ad buy. "I don't think so. I mean, Fox came out with their polls last night, a big one, and I was substantially in the lead, and I'm leading in almost every poll, but I will tell you, I've had heat because I haven't spent any money," he said.
If he's serious about campaigning, and wants to retain that lead, this expenditure on advertising will have to be the first of many.