Is Donald Trump Serious About Registering Muslims?
Asked how ideas he has endorsed would be different from Nazi enrollment of Jews, the Republican frontrunner simply said, "You tell me."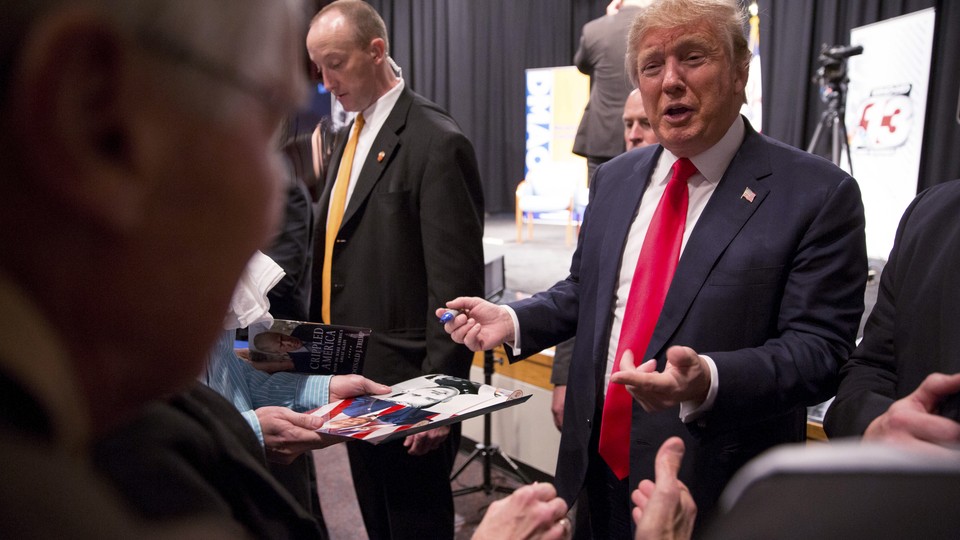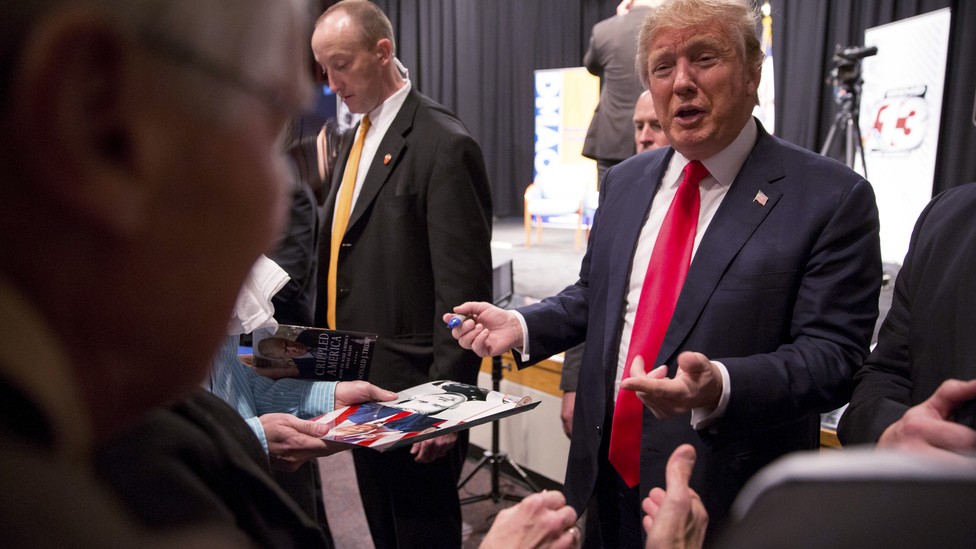 Updated on November 20 at 2:10 p.m.
Being Donald Trump means, among other things, never backing down and never saying you're sorry. He is a Mitt Romney book title come to life.
On Thursday, Yahoo News published an interview in which Trump seemed to assent to reporter Hunter Walker's suggestions of requiring Muslims to register in a database or giving them a form of special identification attached to their religion. Walker wrote, "He wouldn't rule it out." Trump's own comments were much vaguer: "We're going to have to—we're going to have to look at a lot of things very closely. We're going to have to look at the mosques. We're going to have to look very, very carefully."
Trump's defenders, and some folks who also aren't Trump defenders, felt this was a little unfair. After all, Walker had fed the ideas to Trump. Were they really Trump's? It doesn't seem like too much to ask that Trump repudiate ideas like this, but gaffes happen.
Trump demolished that defense Thursday night. He declined the chance to walk back his comments. At an event in Newton, Iowa, NBC asked him whether there should be a database to track Muslims. "There should be a lot of systems, beyond databases. We should have a lot of systems," he said.
Then, a reporter asked him how such a system would be different from Nazi Germany mandating the registration of Jews. "You tell me, you tell me. Why don't you tell me," Trump replied.
Trump sure doesn't lack political courage. It's not uncommon for politicians and operatives to accuse their rivals of espousing Nazi-like ideologies, but it's hard to remember a time when a supposedly mainstream candidate had no interest in differentiating ideas he's endorsed from those of the Nazis.
Perhaps not coincidentally, the U.S. Holocaust Museum waded into the debate with a press release on Thursday:
Acutely aware of the consequences to Jews who were unable to flee Nazism, the United States Holocaust Memorial Museum looks with concern upon the current refugee crisis. While recognizing that security concerns must be fully addressed, we should not turn our backs on the thousands of legitimate refugees.  

The Museum calls on public figures and citizens to avoid condemning today's refugees as a group. It is important to remember that many are fleeing because they have been targeted by the Assad regime and ISIS for persecution and in some cases elimination on the basis of their identity.
Trump's antics would seem to be politically suicidal. Who wants to vote for the guy who can't say how he'd be different from the Nazis? But throughout the campaign, Trump has defied every expectation about what a candidate could say without being banished from polite society, much less the leading position in the Republican Party's nomination contest. Like clockwork, an NBC poll released Friday morning finds Trump retaking the lead by a wide margin over the balance of the GOP field.
Update: Trump tweets Friday afternoon that these aren't his ideas; they came from someone else:
I didn't suggest a database-a reporter did. We must defeat Islamic terrorism & have surveillance, including a watch list, to protect America

— Donald J. Trump (@realDonaldTrump) November 20, 2015
But does he still think they're good ideas? He hasn't said anything to suggest otherwise.