Does Labor Actually Like Hillary Clinton?
And how does she feel about labor?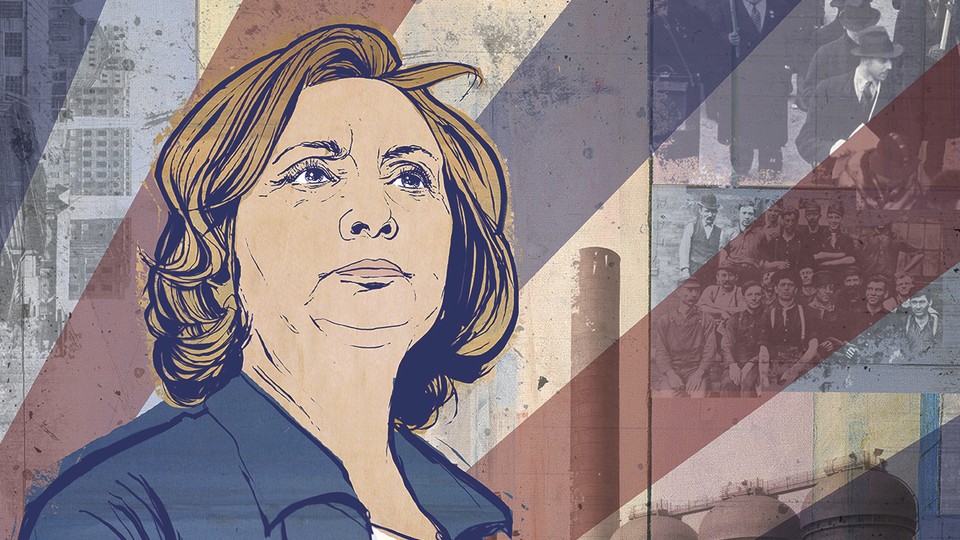 It was around 9 o'clock on a Saturday night in early October when Tom Springowski and I pulled up to the steel mill. The plant—immense as a fortress, its smokestacks as imposing as watchtowers—unfurls across nearly three miles of Lorain, Ohio, a town perched on Lake Erie. At one time, it employed thousands of people. "When I was a kid, they'd just be belching smoke out of there," Springowski, a former United Auto Workers negotiator, told me. "This place was, like, orange."
Until quite recently, the plant had been a point of civic pride, a holdout on a shorefront pocked with manufacturing ruins. But earlier this year, U.S. Steel idled large parts of the mill and laid off about 600 employees, most of its remaining workforce. Now, the rusting hulk looms over Lorain—population: 64,000—just behind a string of used-car lots, shot-and-beer joints, and boarded-up Polish and Slovenian social clubs.
I had met Springowski a few hours earlier at a fundraiser for a local labor leader who was mounting an independent bid for city council. The TVs in the Derby Sports Bar and Grille were tuned to the Ohio State–Indiana football game; dozens of supporters—many of them union officials—were sporting Buckeye red and drinking beer from plastic cups.
I was in northeast Ohio on a mission to find out how organized labor is feeling these days about Hillary Clinton. Seven years ago, Clinton captured a majority of union households in Ohio, en route to a 10-point primary victory against Barack Obama. In Lorain County, her margin was even more resounding: 57-to-41.
At this fundraiser, however, skepticism toward Clinton was definitely in the air. Of the nine union members I interviewed, just one was supporting her. (Four were undecided, three were backing Bernie Sanders, and one was leaning toward Marco Rubio.) Some associated her with the unpopular trade policies of her husband. Others said she had been tainted by controversy, past and present. Most questioned her commitment to labor.
"I think Hillary says the right things," said Jim Slone, head of the Lorain County UAW's political action committee. (Slone voted for Clinton in 2008.) "I don't think she really believes in all those things."
Ron Adkins, chief steward of Machinists Union Local 1802 and a Hillary voter seven years ago, told me his national union had endorsed Clinton too early in the 2016 cycle. "I'm not saying she wouldn't be a good candidate," he said, "but I'm personally tired of voting for these politicians that support free trade and do nothing for labor-law reform."
Mary Springowski, Tom's wife and a UAW member who voted for John Edwards in 2008, called Clinton a "Pretend-o-crat." "These politicians don't represent labor anymore," she said. "I'm living in a city that is dying, and they don't care."
Tom Springowski, who voted for Obama in the 2008 primary, wanted to show me why people felt this way. So we piled into his 1998 Ford Taurus and rumbled into downtown Lorain. Though it was a Saturday night, we spotted only a handful of revelers: smokers puffing outside the Palace Theater, killing time before an Arlo Guthrie show. We drove down the main drag, past Bootlegger's Den (a biker bar), Midtown Bail Bonds (whose neon sign depicted the Monopoly man in jail garb), and the Glass House (a head shop advertising a bong shaped like Felix the Cat). Springowski pointed out a post office that had been remade into a store promising "Cash for Gold." Later, we passed a shuttered gypsum plant where Obama had promised to spur manufacturing in 2008. Listening to the presidential candidates today, "I don't hear of any attempt to try and bring industry back into this country," Tom told me. "There's no plan."
In 2008, while campaigning in Ohio, both Clinton and Obama pledged to renegotiate the North American Free Trade Agreement—NAFTA may as well be a curse word in Lorain—and to cast a wary eye on future trade pacts. In the years since, however, Obama has repeatedly infuriated union members in places like Lorain: by championing the Trans-Pacific Partnership, which, in union parlance, is "NAFTA on steroids"; by instituting the so-called "Cadillac tax" on high-cost health care plans, the kind enjoyed by many union members; by failing to pass card-check legislation, which would make it easier for labor to organize.
When I was in Lorain, Clinton was still dithering on whether to support TPP. A few days after I left, she came out against the deal. Recently, I called back some of the people I'd met that night to gauge their reaction to Clinton's announcement:
"Why did it take her so long?" Mary Springowski asked. "To me, that's hollow."
"She hasn't gone far enough on it," her husband said, "but it's a step in the right direction, for sure." He said he was looking for Clinton to offer "specifics and particularly tariffs."
"Saying, 'It doesn't meet my standards,' doesn't satisfy me," Slone explained. Clinton, he said, needs to assure voters that she is not "using some of the same standards her husband did" with NAFTA. "Can you really trust her to do what she has said she's going to do?" he asked. "I think, when push comes to shove, she would sign TPP."
"I'm still a little suspect. I think she's pandering to labor," Adkins told me.
On the other hand, one of the undecideds I'd met at the fundraiser—John Gallo, former president of United Steelworkers Local 6621 in Lorain—told me that Clinton's TPP statement had pushed him off the fence. "She came out against it," he said. "That's good enough for me."
Such are the complexities of Hillary Clinton's in-some-ways-warm-but-in-other-ways-cool relationship with organized labor—a relationship I set out to document recently by interviewing about 40 union members in several towns in northeast Ohio as well as about 30 more in Nevada, another key state where organized labor looms large. (Clinton's campaign declined to comment for this piece.) On the surface, Clinton and labor would appear to be strong allies. She would almost certainly be a more pro-union president than any of her plausible Republican opponents. And it's therefore no surprise that at least 12 national unions have endorsed her. It's also a near-certainty that she will win a majority of union voters next November.
Yet look a bit closer, and the politics get cloudier. Clinton's record on labor issues, stretching back many years, is contradictory and difficult to decipher, and organized labor is very far from universally enthusiastic about her candidacy. Sure, most union members will vote for her, but it's still an open question whether she can gin up the excitement and decisive margins she will need next November among this important constituency.
In recent weeks, Clinton has seemed to sense that she has work to do vis-à-vis organized labor. Not only has she come out against TPP, but, just before I arrived in Ohio, she also endorsed repeal of the Cadillac tax. The question is whether these moves can overcome the baseline skepticism that I heard from many union members—especially in Ohio—and resolve what appears to be a split opinion about her within the world of organized labor. "She's gotta convince people, particularly workers, that she means what she says and she says what she means. And that's her challenge, I think," says AFL-CIO president Richard Trumka. "I think as her positions have clarified, she's demonstrated, I think, more and more, that she's on the right side of the ledger with the issues. … In the past, she acted like she wanted our vote. Now she's actually acting like she wants our support. Major difference. Major difference. And she needs our support—the support of working people—to win."
CLINTON'S FATHER, according to Carl Bernstein's biography A Woman in Charge, was a staunch conservative who despised unions. But as Hillary grew up, she moved left on the political spectrum, and as a law student, she helped to expose the squalid living conditions imposed on migrant farmworkers. She also collaborated with union organizers to register Latino voters along the Texas border while working on George McGovern's presidential campaign.
In Arkansas, however, Hillary ended up having a sour relationship with the main teachers' union, the Arkansas Education Association. During his governorship, Bill appointed her to head a task force charged with overhauling the state's education system. Ultimately, one of the group's recommendations was that educators should be required to take a basic-skills test in order to keep their jobs. "It was overwhelmingly Hillary's idea," Dick Morris, the Clintons' on-again/off-again strategist who played a key role in the education overhaul, told me. "It was the most courageous thing she's ever done."
The teachers' union was outraged. But the teacher test proved popular with Republicans and independents, giving the Clintons the votes they needed to pass the education-reform package. "Originally, we conceived of it as a political maneuver, but when we saw the groundswell of support it generated," the Clintons knew they had found a transformational issue, Morris told me. He recalled conducting polling on Clinton's governorship in 1990 and found that, seven years later, teacher testing was the top issue voters identified with him. "There was no other issue that came close," Morris told me. "It animated his entire governorship."
Another sore spot for labor from those years was Hillary's tenure on the board of Walmart, the Arkansas-based retail giant that has long resisted unionization drives. In 1986, Sam Walton, the company's founder, tapped Clinton to sit on the 15-member board of directors. In her 2003 memoir, Living History, Clinton said Walton "taught me a great deal about corporate integrity and success." She also noted her work promoting a "Buy America" program, which "put people to work and saved jobs around the country."
But in the run-up to her last presidential campaign, she returned a $5,000 donation from Walmart, citing "serious differences" with its practices. When her board tenure emerged as an issue in 2008—Obama used it to question her commitment to labor—she said she believed that Walmart workers should be able to unionize and bargain collectively. Her supporters, including her husband, argued that in Arkansas—a right-to-work state—she had little leverage to change the company's culture. "We lived in a state that had a very weak labor movement," Bill Clinton said in 2008. "She knew there was no way she could change that, not with it headquartered in Arkansas, and she agreed to serve."
Now, with the United Food and Commercial Workers targeting Walmart—the union aired ads during last month's Democratic debate featuring workers lamenting low pay, erratic schedules, and sparse benefits—Clinton's ties to the company will almost certainly return to the forefront. Joe Thayer, former president of the Lorain County AFL-CIO, told me Clinton's service was troublesome because Walmart is "100 percent against anything and everything that labor should be taking a stand for." Harriet Applegate, head of the North Shore Federation of Labor in Ohio, noted that Clinton's stint on Walmart's board was a factor for some of her affiliates' members. "How could anybody who relates to labor ever, ever, ever, ever say yes to being on the board of Walmart?" she asked. "That's so many orders of magnitude removed from a labor perspective. I think that's really telling. … Anybody who could say yes to that would have to be not one of us or even close to being one of us. … I don't care when in her career it was. Walmart was never a good guy."
BILL AND HILLARY'S years in the White House only further complicate the question of how she feels about organized labor. Among the biggest mysteries in retrospect: where she really stood on NAFTA. "My own recollection is that, in the 1992 campaign, when Gov. Clinton was trying to decide whether to endorse NAFTA, Hillary was more skeptical than others on our team," Clinton adviser Paul Begala recalls. "So count her as a NAFTA skeptic." Once Bill took office, Hillary was singularly focused on health care reform and, according to her chief of staff, Melanne Verveer, was frustrated that more centrist items—NAFTA and deficit reduction—initially consumed so much time on the president's agenda.
And yet, Hillary also publicly supported NAFTA, saying in 1996 that it was "proving its worth." "I think it's fair to say she's for trade but not for trade for trade's sake," says Verveer. "It's got to be smart." On NAFTA, she says, Hillary "certainly worried about the fact that we needed to be very clear on labor standards and environmental standards, and that was something she raised consistently in conversation. But in the end, she was the first lady and not the president."
NAFTA came up again when Clinton was campaigning for the Senate in union-heavy New York in 2000. This time, she sounded a cautionary note, calling the agreement "flawed" and noting that it had originated in the first Bush administration. "We inherited an agreement, [and] we didn't get everything we should have got out of it, in my opinion," she said.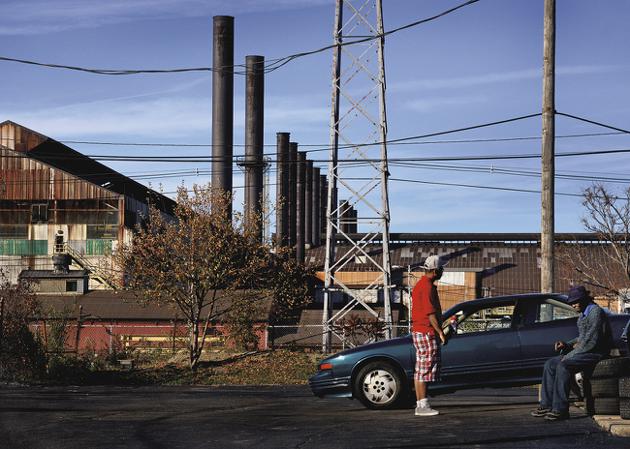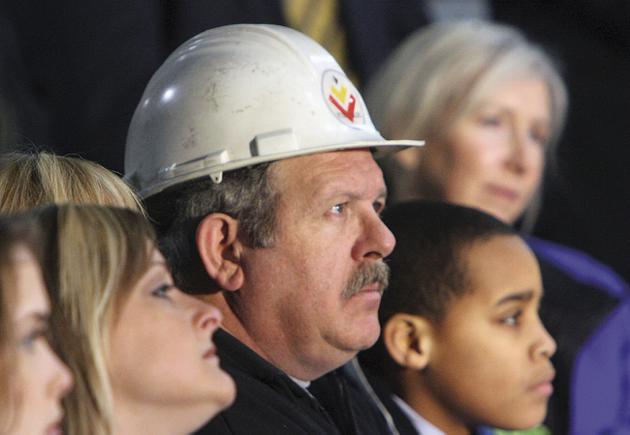 That year, Clinton made the rounds with New York's powerful labor leaders. She pledged to defend organizing rights and immigrant rights, and she reiterated her commitment to overhauling the health care system. Unions quickly rallied behind her campaign. Denis Hughes, former head of the New York State AFL-CIO, told me that Clinton demonstrated an ease among union members and a deep understanding of labor issues. "I would say that she intuitively understood where I was going with these things. It didn't take a lot of convincing to get her to agree to where we were," he said. "She came to New York, she could be as open about labor as she wanted to be. She didn't have to worry about the consequences. She became much more of an advocate than she had been before."
As a senator, Clinton co-founded the Senate "manufacturing caucus," a bipartisan group of lawmakers who pushed to preserve the country's dwindling manufacturing industry. On trade, she took a nuanced approach, informed, she would later say, by a study she commissioned on the effect of NAFTA on New York businesses, particularly farmers, who found it difficult to export their products to Canada. While Hillary ultimately voted for a series of small trade deals—saying in 2005, "I believe that properly negotiated trade agreements can increase living standards and foster openness and economic development for all parties"—she opposed the Central American Free Trade Agreement, which Bill publicly supported. Speaking on the Senate floor, she cited weak labor and environmental standards, and said the pact did not contain provisions to help American workers who lost their jobs.
During the 2008 presidential nomination battle, NAFTA once again became a campaign issue for Hillary, as Obama sought to run to her left on trade. "You know, I have been a critic of NAFTA from the very beginning," Clinton insisted. "I didn't have a public position on it, because I was part of the administration." In Ohio, she sought to neutralize her NAFTA problems with charges of her own—seizing on a report that one of Obama's economic advisers had told Canadian officials that his opposition to NAFTA was largely campaign rhetoric, not sincere policy. Striking a populist pitch, she weaved tales of downtrodden, working-class people into her stump speech and portrayed herself as an indefatigable pugilist. Ohio loved it. As Dan Balz and Haynes Johnson wrote in The Battle for America: 2008, Clinton had become "the embodiment of the voters who had the power to save her candidacy."
Later, as with the battle over NAFTA, the TPP saga seemed to bring out some stark contradictions in Clinton's instincts on trade and labor. While serving as secretary of State, she said that the deal "sets the gold standard in trade agreements"; then, in her 2014 memoir, she wrote that, while she was optimistic about TPP, "it makes sense to reserve judgment until we can evaluate the final proposed agreement"; and last month, she announced her opposition to the deal.
THE HOSTILITY TO TPP I heard in Ohio—the third-largest manufacturing state in the country—made clear just how imperative it was for Clinton to eventually come out against the deal. "She's been very, very cagey about it, and that scares our members," Jose Arroyo, a staff rep for the United Steelworkers, told me in early October.
A few weeks later, when I called Arroyo to get his reaction to Clinton's new TPP position, he wasn't especially impressed. He had just overseen two plant closures and was preparing to host a job fair for unemployed workers. "She's going to say what she has to say," he told me. Clinton's TPP opposition reminded him of her long delay on the Keystone XL pipeline: "Her position was, 'Let me see what's popular, let me not take a stance, and I'll get back to you in six months when the topic dies down and fizzles out.' "
TPP is, simply put, a toxic issue in the state right now. When I asked former Gov. Ted Strickland, a Clinton supporter who is running for U.S. Senate, whether he opposed TPP, he took a step back and stared at me as if I were crazy. A full five seconds of silence passed. "How strongly can I put this," he said—and then he proceeded to put his opposition strongly. As if to leave no doubt, he added, "I had the good sense to oppose NAFTA." When I told him that Clinton had not been so clear and that her cautious approach was driving doubts among union members, Strickland paused again. He told me that she and her labor record would fare well against the eventual Republican nominee. "I think working people understand that there would be no comparison," he said. Then he returned to his own stance on TPP: "I made my decision early on, and I'm sticking to it."
I'd met both Arroyo and Strickland at an event at McMenamy's Restaurant in Niles, a working-class city of 19,000. There, in the mirrored banquet hall, hundreds of union officials had gathered for the annual fundraiser of the Mahoning-Trumbull AFL-CIO. Most wore suits, though some donned bright-yellow union T-shirts over their button-up shirts. Without much prompting, many labor leaders I spoke to readily ticked off a list of grievances with the Obama administration—TPP, card-check, the Cadillac tax, new environmental regulations on coal.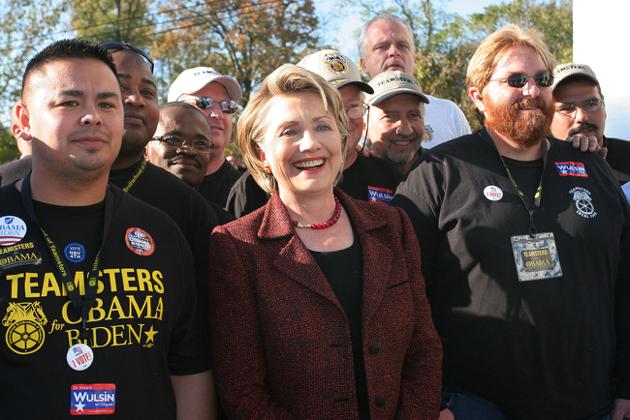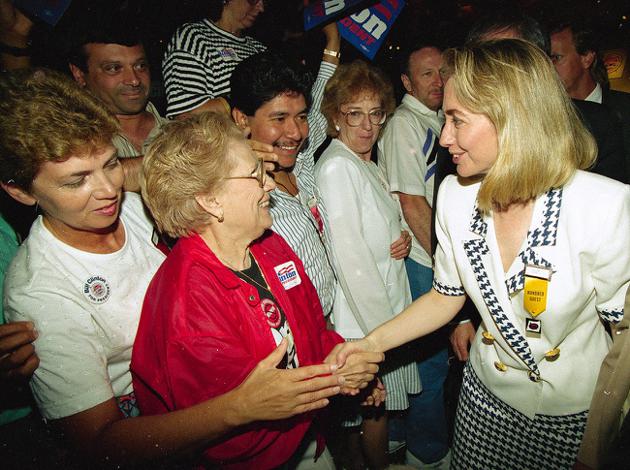 At the event, Joe Rugola, the former head of the Ohio AFL-CIO and now executive director of the state's 38,000-member association of non-teaching school employees, predicted that Clinton—while popular with many—would face scrutiny. "I think she retains the connections she made with Ohio workers, but, of course, the world has shifted dramatically" since 2008, he said. After Obama, unions want to "force candidates to explain themselves more clearly, and I think that's all for the better."
The keynote speaker was Ed Schultz, the liberal firebrand talk-show host who, though he did not mention any candidates that night, has elsewhere served as a surrogate for Clinton's chief rival for the Democratic nomination, Bernie Sanders. (As for another rival, or rather then-rival: Only a few people I spoke to in Ohio mentioned interest in Joe Biden. The vice president has long cultivated ties to labor, but I didn't get the impression that he was a big factor in most union members' thinking. Two weeks after I got back from Ohio, he announced he wasn't running.) In a blistering rant, Schultz tapped into the frustration in the room and castigated the Obama administration. Throughout the night, many told me they were supporting or leaning toward Sanders; several said their reason for doing so had as much to do with his relatively clean image as with his labor record. Clinton's Benghazi and email controversies came up repeatedly. "I feel like Bernie is a better candidate at this point," said Mike Nemkovich, of the International Brotherhood of Electrical Workers Local 573. "I think he's looking out for labor, and I don't think he has the issues that Clinton has. … It just seems like a lot of issues, a lot of dirt."
Even Clinton's supporters acknowledged the strong perception among union members that she was being weighed down by months of negative press. "We like her," said Ray Raschilla, president of United Steelworkers Local 2155-7, "but we do have concerns about all the baggage she brings with her. It starts to wear on our members when they ask, 'Why are we supporting someone who has all these issues?' "
I was struck, traveling around northeast Ohio, by how people spoke with a deep sense of resignation about the economy. Democratic Rep. Tim Ryan, who represents the Youngstown area, told me that after decades of decline, voters in the region are still moving through the Rust Belt's version of the stages of grief. "It was very much denial and anger, and that lasted a long time," he says. "I think we're into an area of disappointment now, where, yeah, the GM plant is going, but it's at 3,000 people, not 15,000. Yeah, Delphi is going. It's at 2 or 3,000 people, not at 13,000. There's a level of disappointment that we've not been able to figure it out."
Given the frustration with the status quo, it should probably come as no surprise that some union members find themselves drawn to the ultimate anti-politician: Donald Trump. On a Thursday afternoon in the city of Warren, I met Kevin Scott, a 44-year-old shop chairman at the GM plant in Lordstown. He was angry over TPP and told me that Washington was disconnected from the rest of the country. In voting for Obama, "I followed my union's direction, but it bit union workers in the ass both times," he said. "I'm not going to be sold out" in 2016, he added, noting that he was not interested in "being a sucker three times."
In talking about Clinton, Scott cited NAFTA and told me she represents "the other generation that put America on the sidelines." He likes Trump because "he's the only guy who's mentioned the UAW and the Ford plant going to Mexico." Scott told me he had recently gotten into a heated argument with his 12-year-old daughter when he saw her eating Oreos. He told her she should be "ashamed" for supporting a company that moved a factory to another country—an example Trump often cites in his stump speeches. "That's personal shit to us," he told me. "Bottom line, if you don't support America, you won't win."
It was a sentiment I heard again the following day at Bill's Place, a dimly lit union hangout with Michelob stained-glass windows in Austintown, a working-class suburb of Youngstown. A television was tuned to an Obama press conference, where the president condemned Russian air strikes in Syria. "Weak," a truck driver and Teamsters member named Tim said. "Just weak." Although he's a Democrat (who backed Obama in the 2008 primary and general election), he's now rooting for Trump. "He's talking like a businessman. I'm tired of the politicians," he told me. As for Clinton, he said, "I just don't trust her."
OF COURSE, the views of union members in one particular state or one particular industry aren't necessarily representative of union members everywhere. Consider Nevada. Like Ohio, it's a swing state where union voters will play a key role next November. But in stark contrast to Ohio's relatively white unions, Nevada's service industry is heavily Latino. (More than half the members of the powerful Culinary Union—which represents 55,000 casino workers in Las Vegas and Reno—are Latino.) This means, for one thing, that immigration is a key issue alongside other labor concerns like trade. It also gives a built-in advantage to Clinton, who, in general, fares better among Hispanic voters than she does among whites.
In 2008, the Culinary Union officially endorsed Obama. But Clinton's campaign spent months organizing the casino workers, and in the hours before the caucus, Bill Clinton hopscotched from casino to casino on behalf of his wife. In the end, Hillary won the majority of caucus sites on the Las Vegas Strip, which were heavily populated by Culinary members. And she won Nevada, taking nearly 51 percent of the vote, compared with Obama's 45 percent.
It's clear that at least some of this enthusiasm for Clinton still exists. I saw it up close last month when—in town for the Democratic debate—she stopped by a Culinary protest at Donald Trump's gold-sheathed Las Vegas hotel. Though the union had extended an open invitation to all the Democratic candidates, Clinton was the only one to accept. Wearing a bright-red top that matched the union's crimson T-shirts, she pledged solidarity with workers trying to unionize the Trump International Hotel. "You have to say no to efforts to prevent you from organizing, to prevent you from having the kind of working conditions you deserve, the kind of wages that are going to give you a living wage, and that means saying no to Donald Trump," she said. Later, as she slipped into a black SUV, the crowd chanted: "Hil-lar-y!" "Hil-lar-y!" "Hil-lar-y!"
Diana Thomas, a housekeeper at the Flamingo and a Culinary member, tried to get a glimpse of Clinton as her security caravan sped away. "She's for the people," she told me. "We need the Clintons back in the White House, because when they ran before, they helped people who were underprivileged."
Danny Thompson, head of the Nevada AFL-CIO, told me that Clinton remains the favorite among union members in Nevada. "She's got a leg up, or three," on her Democratic rivals, he said. "She's been at the forefront of a lot of the fights and people know her. So I think that's translated into support this time." And her opposition to TPP (she had declared her views on TPP days before the Nevada debate) has helped solidify that support, he noted: "Coming out against that trade deal—qualified or unqualified—is a big deal. American workers can't compete with slave wages and no environmental laws and no safety laws and no regulatory process at all. I think the fact that she's taken a stand is important to people."
Even in Nevada, however, I heard some of the same reservations as in Ohio. D. Taylor, president of the Culinary Union's parent organization, Unite Here, told me there's a good deal of disappointment among his members in Nevada over Obama's failures to deliver on campaign pledges, including comprehensive immigration reform. The top complaint, however: the Cadillac tax on health care plans. While Clinton has said she supports repealing the levy, the union is pushing her and the other candidates to be more specific—to support existing legislation and to call on Obama to sign a bill this year. "They can show it's not just a promise," Taylor says. "They can endorse those bills right now."
Some organizers are working to tamp down rank-and-file enthusiasm for Clinton in order to win more concessions from the candidate. "Hillary Clinton is very popular," especially among Latinos, says Efrain Becerra, a room-service attendant at Harrah's who's also a Culinary Union organizer. "I feel it's my job to inform them, 'Yes, we do like what she's saying, but we don't want just empty promises. We've heard all that before, and it didn't turn out the way we hoped.' I'm telling them, 'Just sit back, there's a long time until we hit the polls.' "
IT ISN'T JUST on the ground in places like Ohio and Nevada that one hears divergent opinions within organized labor about Clinton. That same split—between purists and pragmatists—is playing out at the leadership level as well.
RoseAnn DeMoro, executive director of the 185,000-member National Nurses United, told me that her union endorsed Sanders over Clinton because of the Vermont senator's consistency. "He's not going to become president and all of a sudden have a change of policy," she said. "He's fought for the very same things for his entire career, so they know they can trust him. It's trust at a fundamental level."
Mark Dimondstein, president of the American Postal Workers Union, put it like this: "Myself and a lot of other people are sick of business as usual. And we interpret her history and her campaign as more business as usual. And business as usual isn't helping the labor movement or the working class survive or thrive."
Those supporting Clinton are not blind to these concerns, but they view them through a different lens—one more sympathetic to pragmatism. "Some people would doubt the ability of Jesus Christ to solve our problems. What I care about is somebody who gives it a real try," Tom Buffenbarger, president of the International Association of Machinists, told me. "I want someone seeking office who might know how to find the right ways to get to where you want to go."
Randi Weingarten, head of the American Federation of Teachers, recalled how Clinton battled to pass a post-9/11 bill to help ill rescue workers and suggested that she is more liberal on labor issues than people realize. "I don't think Hillary gets enough credit," Weingarten said. "If you look at the way she ran in '08 and you look at her positions now, she is a progressive Democrat. She knows and understands that wages and attacking income inequality are the issues of this election."
In the end, for organized labor, it's something of a guessing game—about how Hillary Clinton really feels on their issues, and how they, in turn, should feel about her. "I think in her heart of hearts that she is probably as progressive as she now sounds," Robert Reich, who was Labor secretary under Bill Clinton and has known Hillary for five decades, told me. "But that's not to say that she will stay this progressive during the general election or if she's elected president."