D.C. Moms—and Babies—Campaign for Paid Leave
A Washington proposal making its way to hearings would offer up to 16 weeks for new births or to care for a relative.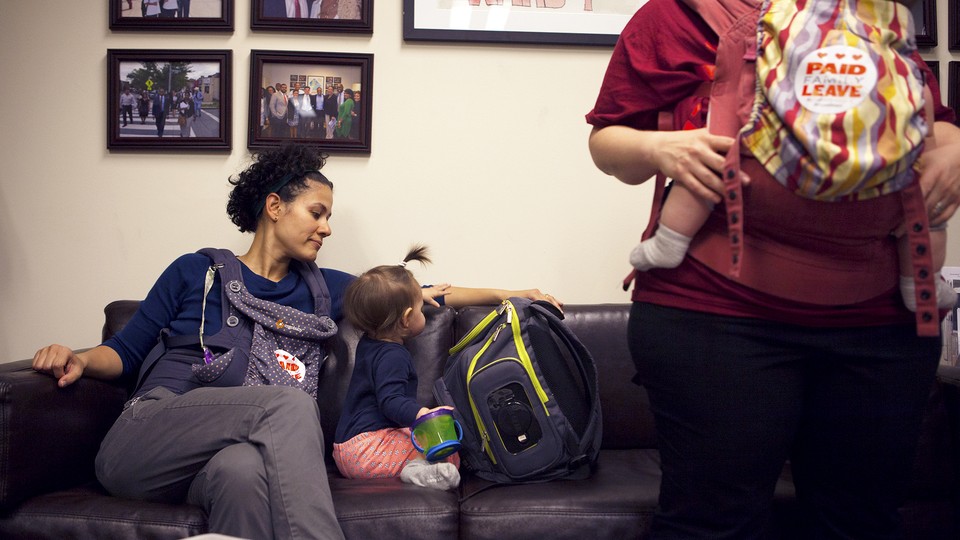 Gurgles, giggles, and coos filled the halls of the John A. Wilson District Building Thursday morning as a handful of mothers, mothers-to-be, and infants associated with the grassroots organization MomsRising circulated City Hall delivering signed petitions and stories in support of the DC Universal Paid Leave Act, which will see its first of three hearings on Dec. 2.
The bill, which was introduced in October, would give all Washington, D.C. residents and those employed in the district up to 16 weeks of paid family and medical leave every 24 months for qualifying life events, including a new child, serious health conditions, or caring for an ailing family member.
To fund the bill, nonfederal employers would be required to contribute to a new tax for a family and medical leave fund managed by the city. Federal government employees or residents working outside of the city would contribute to the fund based on their annual income. Freelancers would have the option to opt out of contributing.
While the Act is sponsored by seven Council members and has received support from the Obama administration, the group expressed hope that their petitions and personal stories could reach the other council members who have not yet taken a stand on the issue.
Below are some of the moms and moms-to-be who participated.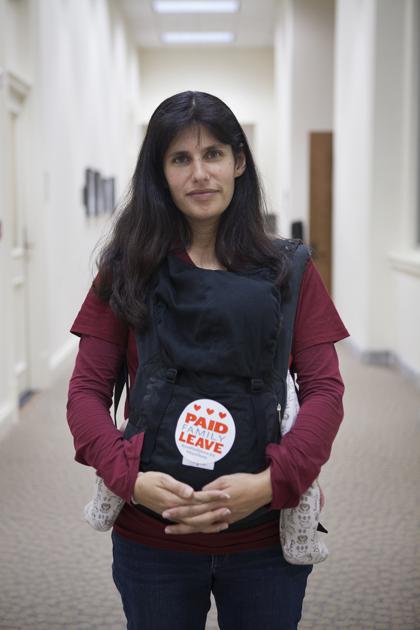 Tanya Snyder and 7-month-old Milo Evans-Snyder
"I realized how important it is for both parents to have time off, because when it's just the mom—and the dad needs to get a good night sleep [for work] so even when he is there, can't really be taking shifts at night—it becomes a very oppressive experience. What parenting should be—a very transformational, blissful, exciting time—becomes really quite oppressive. This is one of the things really worth taking time off for."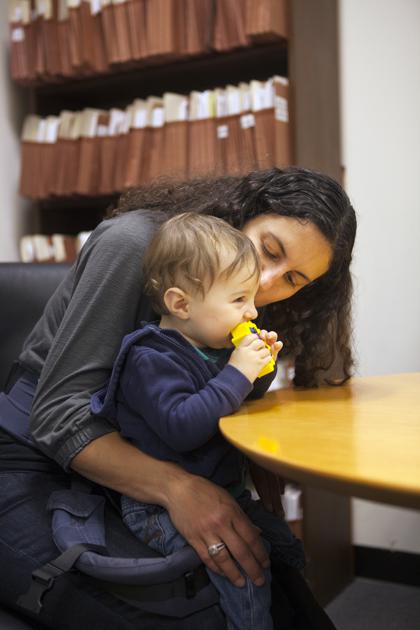 Jamie Davis Smith and 11-month-old Adam Smith
"My oldest daughter was born with significant medical issues and spent a long time in the NICU. I was able to piece together time to spend with her through donated leave at that time, but I think it's really appalling that if you have a sick baby ... you have to basically depend on the kindness of strangers, to be able to spend time with that baby. Even nine years later, it's just heartbreaking to me to think about all the babies that were alone all day in the hospital ... not having anybody with them, and they were very seriously ill, because their parents didn't have any paid time off."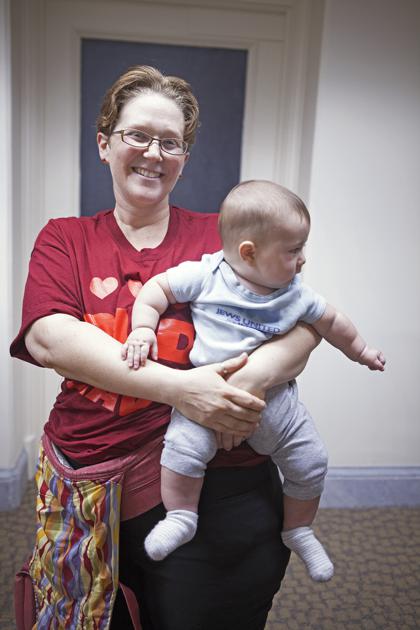 Jessica Champagne and 5-month-old Benjamin Toth-Champagne
"My husband and I are both lucky enough to work at places with paid family leave, and I knew that I appreciated that, but I don't think I fully understood it until Benjamin actually came along and we were at home trying to figure out what to do and how to live on no sleep. Benjamin had trouble gaining weight, so we were back and forth to the doctor a lot. [Paid family leave] was something that was really amazing for our family, and I hope that everyone can have that."
Sarah Lowery, four months pregnant with first child
"We're one of the only developed countries that doesn't have national paid leave. It's crazy. Families are the backbone of the economy."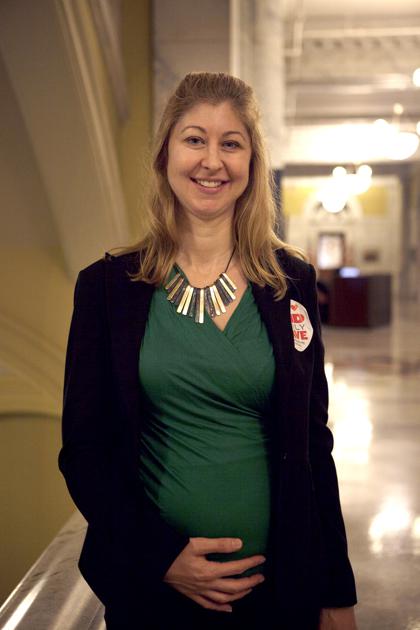 Zaida Espada and 11-month-old Zoe Espada
Espada is a freelance TV producer.
"It's worth it for me to have the memories with her instead of sending her to daycare."