David Vitter's Democratic Rival: You Lie, Cheat, and Steal
The Louisiana governor's debate turned personal when the conversation devolved into a near-shouting match over Vitter's prostitution scandal and a recent spying episode.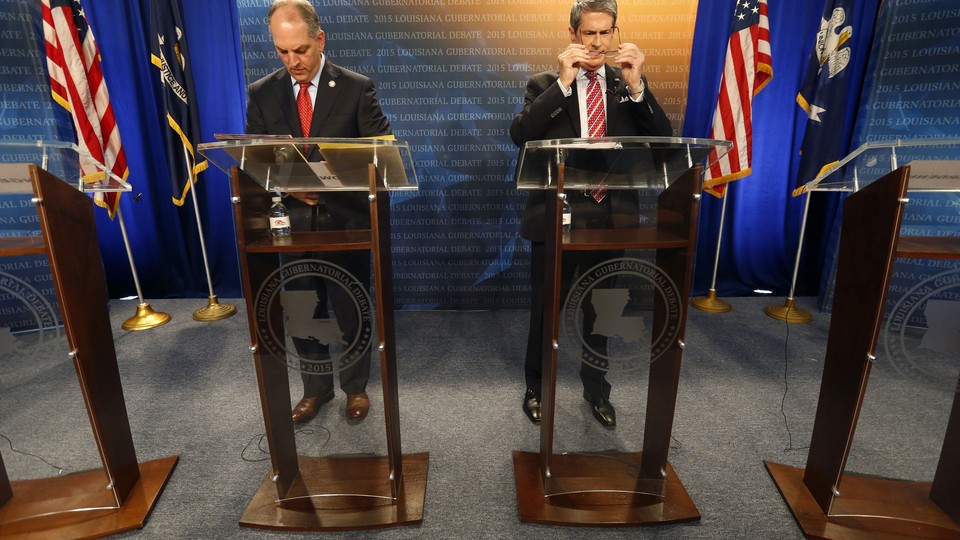 The tension in the Louisiana gubernatorial runoff over Sen. David Vitter's prostitution scandal and a more recent episode involving a Vitter-paid private investigator spilled out into a heated verbal brawl Tuesday night during the final 10 minutes of the first televised debate of the runoff between Vitter and his Democratic opponent, state Rep. John Bel Edwards.
At the debate, sponsored by Louisiana Public Broadcasting, Edwards defended his choice to take on Vitter's past directly. "With respect to the negative ad, if it's a low blow, it's only because that's where you live, Senator," Edwards charged. "It's 100 percent truthful. The fact of the matter—you didn't say it was untrue. You want me to take it down because you don't like it. I understand that you don't like it. It hits you where you live."
In the debate's final minute, Edwards and Vitter were nearly shouting over one another. Before the two men were cut off for a final time by the moderators, Edwards heatedly lobbed at Vitter, "You are a liar, … you are a cheater, you are a stealer, and I don't tolerate that."
Vitter's response: "You're not living by the honor code John Bel, you're living by the lawyer's code, trying to parse words and create technicalities that don't exist."
The debate's heated conclusion was emblematic of one of the nastiest and most personal gubernatorial campaigns in recent years. Edwards launched a controversial TV ad last week that took direct aim at Vitter over his prostitution scandal. The ad accuses Vitter of choosing "prostitutes over patriots" by skipping a 2001 Senate floor vote to honor fallen soldiers to take a call from a D.C. prostitution ring. The ad prompted a mea-culpa ad this week from Vitter, in which he obliquely admits, "15 years ago I failed my family." Vitter didn't contest the content of the Edwards ad, except to express disappointment that some veterans were offended by the ad's use of images of Arlington National Cemetery.
Edwards, a West Point grad and former Army Ranger, regularly uses his military background as the framework through which he draws a contrast with Vitter and the prostitution scandal, citing the West Point honor code, which reads: "A cadet will not lie, cheat, steal, or tolerate those who do."
In Tuesday's debate, Vitter and Edwards also had a heated back and forth over the use of trackers and private investigators in the race. A private investigator hired by the Vitter campaign was caught recording a local sheriff, an Edwards donor, a Republican state senator, and a separate P.I. just before the October primary, prompting Edwards to describe Vitter's tactics as "Nixonian." Jefferson Parish Sheriff Newell Normand, the sheriff in question in the October incident, held a press conference Tuesday claiming video footage on the phone of the Vitter investigator showed Vitter's campaign was worried about suppressing renewed news coverage of Wendy Ellis, the woman who came forward in 2007 claiming Vitter as a former client at a New Orleans brothel.
Vitter repeatedly accused Edwards in Tuesday night's debate of acting "holier than thou" because Edwards claimed his campaign hasn't employed trackers, though outside entities supporting Edwards's campaign do. Vitter partially brought the discussion of his scandal on himself Tuesday night. In the final segment, Vitter complained, "In terms of negative campaigns, there's nobody who's been the target of more negative campaigning than me," and singled out one PAC—the Louisiana Water Coalition—which ran TV ads questioning Vitter's ethics in relation to his prostitution scandal. Vitter's claim led to the heated exchange over Edwards's latest ad.
During the early stages of the debate, tension over Vitter's past stayed at a low simmer. Edwards at one point accused Vitter of being "unfaithful" to Louisiana taxpayers and later claimed in response to a Vitter jab over Edwards's low voting score from a statewide business association, "When it comes to voting records, I don't intend to give anybody 100 percent, except for my wife." 
The first 50 minutes of the hour-long debate were dominated by a much more civil discussion over the two candidates' governing styles, education (particularly Common Core), the state budget, taxes, workforce development, health care (including Medicaid expansion), and infrastructure. But it was the final line of questioning under the category of "issues related to each candidate's campaign" that turned up the heat.
The more policy-oriented bulk of the debate featured repeated attempts by Edwards to cast Vitter as a third term of Gov. Bobby Jindal, who took part in the Wisconsin Republican presidential primary debate Tuesday. Vitter, meanwhile attempted to tie Edwards to President Obama and Senate Minority Leader Harry Reid.
"I'll say, you constantly refer to Bobby Jindal, and I get that politically. The fact of the matter is that I've on several occasions publicly fought, butted heads, disagreed with Bobby Jindal on important things," Vitter said, claiming he dragged Jindal "kicking and screaming to propose and pass" a specific lawsuit reform measure. "In contrast, when have you ever publicly disagreed strongly with your party leader, Barack Obama?"
Edwards and Vitter will meet for a second and final televised debate November 16 before the runoff election takes place on November 21. There was no live studio audience at the Tuesday debate. There will be for the pair's final debate next week, sponsored by WVLA-TV.
Most public polling has shown Vitter trailing Edwards by a significant margin, damaged by the renewed debate over his past.