David Vitter Is Desperately Seeking Redemption in the Louisiana Governor's Race
The GOP senator's decade-old prostitution scandal has become the defining issue in the race, but he's still hoping conservatives rally to his side in the campaign's final days.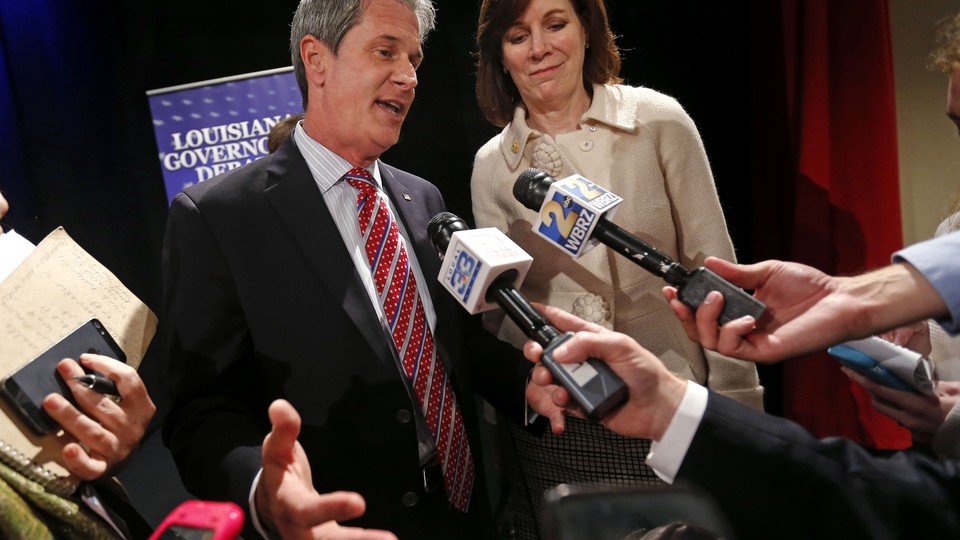 BATON ROUGE, La.—Sen. David Vitter and his wife were walking in a parking lot to their car late Sunday afternoon after campaigning at a church-sponsored chili-gumbo cook-off in a rural town west of Baton Rouge. After the pair piled into an SUV driven by a young staffer, there was a resounding boom and then silence. The car had backed directly into the car of another Vitter aide. The two cars were dented and the taillight of the SUV shattered.
If that's not a metaphor for a bruised and battered Vitter campaign days out from this Saturday's Louisiana campaign for governor, it's not clear what is. Vitter's campaign is rolling toward the finish line at full speed, dragging the damage of self-inflicted wounds like a detached bumper.
Polls show Vitter badly trailing Democrat John Bel Edwards—a West Point grad and former Army Ranger who has positioned himself as a pro-gun, pro-life centrist. Recognition that the end could be near seems to have sparked a change in Vitter at the race's close. Vitter has famously dodged reporters since 2007 when news of his connection to the D.C. Madam prostitution ring broke. But at events across the state, and after a raucous final televised debate Monday night, Vitter stood before reporters and finally, after years of silence—faced personal questions about the sordid scandal.
The Monday debate featured a series of heated exchanges between Edwards and Vitter over his scandal. A defensive Vitter at one point yelled in exasperation, "It was 15 years ago!" The live audience added to the high-stakes drama. Both campaigns packed the high school auditorium with supporters. Vitter fans yelled, "Move on," and "We're over it," every time the scandal came up—which was early and often.
"That is the most important experience of my life, earning that redemption," Vitter said, explaining why he finally chose to speak to his past. Vitter's choice to meet the press now—at the 11th hour—likely reflects an awareness of just how deeply damaged he has been by a resurgent debate over his past in the gubernatorial race. In the final weeks of the race, he has aired ads apologizing for his past misconduct.
Vitter's wife, Wendy, stood by his side for the post-debate press scrum and at every single campaign stop over the weekend—posing in pictures, standing next to her husband at podiums, and offering polite conversation to passersby. By her estimation, the two attended 10 events in two days—part of a rigorous schedule in hopes of a late upset. At campaign events, her presence shielded Vitter against any uncomfortable questions from critics. Wandering around the church cook-off on Sunday Wendy Vitter gently nudged reporters in the direction of strong Vitter supporters: "If you're trying to talk to people, did you hear that? He said he's voted for David every single time."
On the trail, David Vitter projected a tone of subdued optimism. Both Vitter and his wife said they hoped voters would focus on the issues in the final days, not "that"—as they each referred to the senator's past dalliances.
"I know he doesn't accept it. He's a hard campaigner. So he will fight to the very end to try to figure out how to change the conversation," said former Democratic Gov. Kathleen Blanco, who is supporting Edwards.
Vitter's friends and supporters said they were surprised that Edwards and allied outside groups have attacked him so directly and aggressively over his past personal scandal. "When the dark ad came out last week, it took everybody by surprise," said Ascension Parish Sheriff Jeff Wiley, a Vitter supporter, referring to an Edwards ad accusing Vitter of prioritizing prostitutes over national security.
Asked why he's trailing in the polls, Vitter blamed his woes on the unpopularity of GOP Gov. Bobby Jindal. "I think it's two big factors. I think it's Bobby Jindal. I think he has set the stage for this race that makes it more difficult for Republicans. And No. 2, I think it's $8 million in attack ads against me, very vicious ads, all focused on me throughout the primary, and that clearly took a toll," Vitter said.
Using Jindal as a scapegoat doesn't sit well with Jindal loyalists, who don't think the Republican brand at-large has been sullied—only that of Vitter. "Sixty percent of primary voters voted for Republicans," said Brad Todd, a GOP pollster working for Jindal's super PAC. Among Vitter's two Republican opponents in that October 24 primary, Lt. Gov. Jay Dardenne is supporting Edwards and Public Service Commissioner Scott Angelle is staying neutral. Angelle spent the weekend duck hunting.
Trailing in the polls, Vitter has aired a series of provocative ads designed to fire up the most conservative Louisiana voters. In the wake of the terrorist attacks in Paris, Vitter homed in on security issues, particularly the potential influx of 10,000 Syrian refugees into the United States, including some to Louisiana. The campaign is now airing an ad alleging: "Obama is sending Syrian refugees to Louisiana, and John Bel Edwards pledged to work with him to bring them here!" Vitter is also hyping Edwards's decision to go to a meet-and-greet at a "hip-hop" nightclub in New Orleans instead of a socially conservative forum last Thursday—also the subject of a last-minute attack ad.
Vitter also recruited on-the trail help over the weekend from conservative figures, including Tony Perkins, the president of the Family Research Council, and Jenny Beth Martin, founder of the Tea Party Patriots. Two Republican presidential candidates, Ted Cruz and Rick Santorum, came to bat for Vitter by recording robocalls. Vitter's campaign also talked with Donald Trump's campaign about having Trump assist in some way, but it never panned out. "I know there were some discussions, but it never got that specific at all. As far as I know, it was a very general discussion and it just didn't work out," Vitter said.
At a watch party for the LSU-Arkansas football game Saturday, Vitter told supporters: "At this point, the debate is pretty much over. At this point it's all about who shows up." Vitter pollster John Diez said the campaign's internal polls show Vitter slowly increasing support among conservative white voters. Edwards needs about 30 percent of the state's white vote to prevail, a number that polls show well within reach.
"There are a lot of people that don't know what decision to make. I get phone calls all the time about it, asking 'What do I do? Do I stay home, do I vote for John Bel or do I vote for David Vitter?' And I think a lot of Republicans are going to stay home," said Ryan Cross, Angelle's campaign manager. Cross bluntly predicted: "David can't win."
Democrats are careful to couch their optimism with a heavy dose of caution. "We're extremely excited. We know that we have the lead, we have the momentum," Edwards said. "Look, the race always gets tighter towards the end. That's going to happen, I suspect."
"We haven't walked the whole walk yet. We still have a few days," cautioned Blanco.
One local Democratic operative put it this way: In Louisiana, "there's nobody more fearful than a Democrat with good news."