Congress's Partial Victory on Transportation
The House and Senate are close to finishing a long-term highway bill for the first time in a decade. But they're still short on cash to pay for it.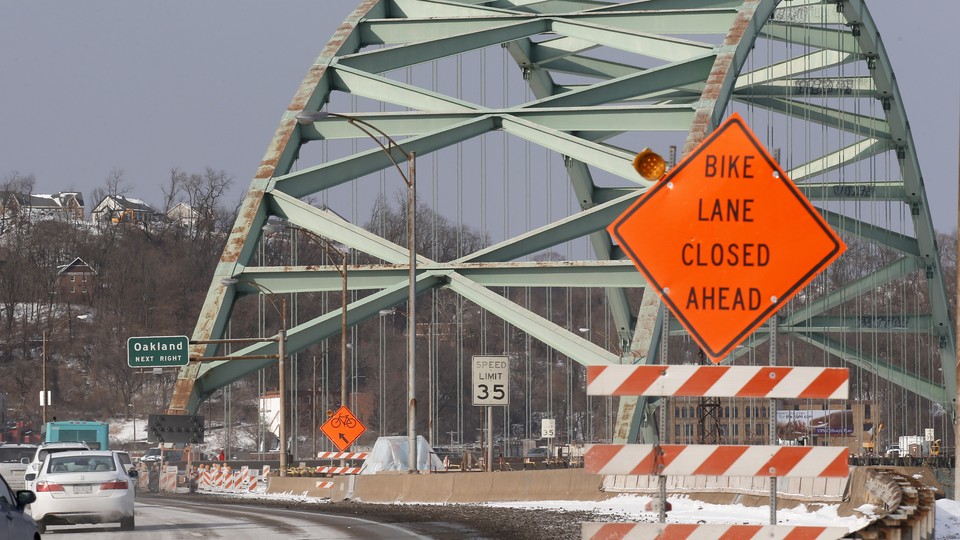 Congress is on the verge of doing something it hasn't done in a decade—passing a long-term transportation bill that authorizes billions of dollars in funding to build and repair roads and bridges.
At first glance, it's an impressive achievement for Paul Ryan. In his first full week as speaker, the House approved, on an overwhelmingly bipartisan vote, a nearly $340 billion measure supported by business and labor, liberals and (many) conservatives. The proposal is very similar to legislation already passed by the Senate, so President Obama could have a final bill to sign within a few weeks.
The action on Capitol Hill will draw deep sighs of relief from statehouses and city halls across the country. For years, state and local governments have been begging Congress to pass a long-term highway bill so they can plan major projects with the knowledge that the federal government would chip in. The House and Senate have repeatedly passed short-term patches to replenish the nearly empty Highway Trust Fund, but those offer little help in an industry where building a new road or replacing a shaky bridge takes years of planning and financing. At times, the uncertainty in Congress has led states and cities to slow or halt projects, at a cost to local construction jobs and economic growth. The final bill is also likely to include reforms aimed at giving states more flexibility and speeding the approval process so projects can get off the ground faster.
"They made a very, very big step forward, and we're thrilled," said Ron Eidshaug, a vice president at the U.S. Chamber of Commerce.
Yet the bill passed by the House is really only a partial victory. It reauthorizes transportation programs for six years but only pays for them for three. The $340 billion in funding sounds like a lot, but it's much less than the $478 billion that Obama proposed or that advocates in both parties say is needed to repair and replace the nation's aging infrastructure. And perhaps most significantly, the legislation does nothing to identify a long-term, sustainable funding source for highway programs going forward. Despite an improved economy and low fuel prices, lawmakers never seriously considered raising the 18.4 cents-a-gallon gas tax, which hasn't been touched in more than two decades. Before he became speaker, Ryan had tried negotiating with Senate Democrats on a plan that would use revenue from changes to the international tax system to pay for infrastructure, but they couldn't strike a deal in time. And so the search for funding goes on.
"The goal is not just to achieve a multiyear bill but a well-funded transportation bill," said Robyn Boerstling, the director of transportation and infrastructure policy at the National Association of Manufacturers. "We are in an infrastructure deficit in this country, and if we continue to go at it with status quo funding levels, or just slight adjustment for inflation, we're not going to begin to solve any of the challenges." To that end, the association is cheering on the Senate as the two chambers try to reconcile their bills in a conference committee, since its bipartisan proposal called for somewhat higher spending levels than the House.
For Ryan, passage of the highway bill is a victory in process as much as on policy. After taking office last week and pledging to empower rank-and-file members of the House, he set up the transportation measure to do just that. The House considered hundreds of amendments to the bill and voted on dozens, allowing both Republicans and Democrats much more input than usual. And the Republican leadership consented to one major policy it did not support: reauthorization of the moribund Export-Import Bank, which conservatives tried but failed to strip out. (There were limits to Ryan's generosity, however: Republicans blocked Democrats from voting on amendments to raise the gas tax.)
On the whole, the highway bill is in keeping with a pattern of activity in Congress this year. After years of partisan stalemate, and despite the recent upheaval in the House leadership, bipartisan coalitions have begun to assert themselves. Lawmakers approved a significant fix to Medicare spending that ended a decade's worth of stress for doctors, even if they've yet to solve the program's long-term funding imbalance. Republicans and the White House passed trade legislation and later struck a budget agreement, bypassing the usual standoff over the debt ceiling. The Ex-Im Bank will be restored, and criminal-justice reform is still moving forward. Final passage of the highway legislation will solve one half of an elusive puzzle in transportation policy. "I'm just happy we have a bill," Boerstling told me on Thursday. It may be modest, but it's not nothing, and for many lawmakers and advocates, it's enough for now.