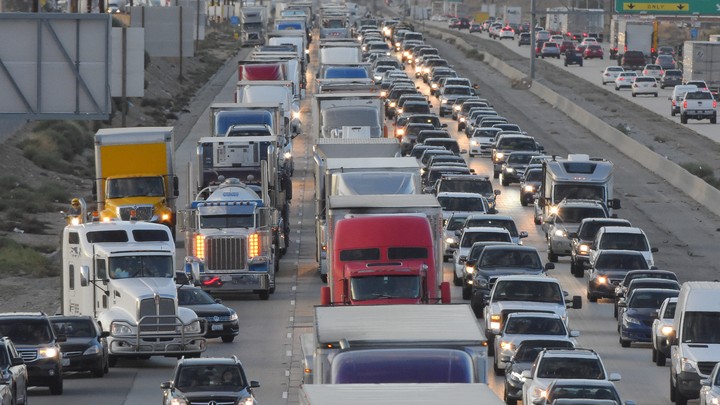 After two years of debate, lawmakers agreed Tuesday to raise the gasoline tax for the first time in nearly two decades in order to raise much-needed cash for roads and bridges.
That was in Michigan.
In Washington, D.C., nothing remotely similar is in the offing, even though the federal gas tax has been frozen for 22 years and money for transportation infrastructure is rapidly running out.
As the House worked its way through dozens of amendments on a transportation bill ahead of an expected final vote on Thursday, financing was notably absent from the discussion. The bill, which has passed the Senate, covers six years of policy but only has a hodgepodge of pay-fors that cover, at most, three years.
"It's all junk, basically," said Rep. Peter DeFazio of Oregon, the lead Democrat on the Transportation and Infrastructure Committee. "They won't confront the fact that we haven't raised the gas tax since 1993, and they won't look at alternatives."
DeFazio was one of several Democrats who had offered amendments to the House transportation bill to raise the gas tax or create some sort of other user-fee system to pay for roads, bridges, and transit projects.
But none made it to the final rule. In fact, no amendments were made in order to deal with the finance section of the bill. Instead, it appears that the House will simply move the title passed by the Senate, which relied on a jumble of financing measures, including sales from the country's emergency petroleum reserve and cuts to di­vidends paid to large banks.
The unease with that funding scheme is bipartisan.
"We can't continue to use gimmicks and other industries to pay for highways," said Republican Jim Renacci of Ohio. "I'm not sure I can vote for anything that's just three years, especially with gimmicks."
Renacci, who serves on the House Ways and Means Committee, had pitched a bipartisan amendment that would have triggered an increase in the gas tax after three years if a congressional task force did not come up with a better solution in the interim. Renacci said he wasn't necessarily itching for a tax hike, but rather something to give "long-term funding and predictability," which he said now doesn't seem in the cards.
"That's what I'm frustrated about," he said.
Initially, there was grand talk in the House of pairing the highway bill with a broader deal on tax reform, a priority of former Ways and Means chairman Paul Ryan. But that deal never came together, and Ryan left the committee to become speaker, leaving the House to simply pick up the Senate's language.
"I think there's less political opposition to the gas tax than what they've got here," said Rep. Earl Blumenauer, a long-time advocate of raising the tax. "Will this process be rational? I don't know."
The lack of amendments on the gas tax or other financing mechanisms caused a flare-up on the House floor Wednesday morning in the debate over the rule. As Democrats streamed to the floor to protest a lack of talk about long-term funding, Republican Rob Woodall of Georgia had to defend the process and the bill. He said he doubted whether a drastic funding change could be dealt with in a "nine-and-a-half minute debate" and wondered why members were so displeased with "the best transportation bill and rule this body has seen in a decade."
It's possible that the funding language could be changed, either on the floor or in a conference with the Senate. But it doesn't seem likely that a gas tax will be a part of the mix.
The gas tax has not been raised or indexed to inflation since it was set at 18.4 cents per gallon in 1993. That has reduced the Highway Trust Fund's revenue stream to a trickle. But raising the tax has been a political no-no. Proposals from both parties have gone nowhere, even as Republicans sought to shift the language to focus on the gas tax as a "user fee" for roads.
Even earlier this year, as oil prices dropped to lows not seen in four years, the idea of bumping the gas tax couldn't gain significant traction on the Hill.
Outside of D.C., however, it's a different story.  Many states, including seven with Republican governors, have raised the tax. (That includes Michigan's Republican Governor Rick Snyder, who is expected to sign that state's bill.)
In a statement on the highway bill, the U.S. Chamber of Commerce, while supportive of the overall legislation, said it was "disappointed that this bill does not provide full funding for the entire six-year duration." The group added that "all options need to be on the table—including an increase in the gas tax—to expand funding."
Indeed, a period when oil prices are low and the impact of a gas-tax hike would be less severe seems the ideal time to put all options on the table in the transportation bill. So will members grit their teeth and at least have a discussion about it?
"Apparently not under this leadership—they're afraid of it," said DeFazio. "But the people, they get it. They're tired of potholes and detours, and they realize this is the best way to deal with it."
We want to hear what you think about this article. Submit a letter to the editor or write to letters@theatlantic.com.
Jason Plautz
is a Colorado-based reporter covering energy and environment policy.