Color Scheme
Rep. Gene Green's stand-out idea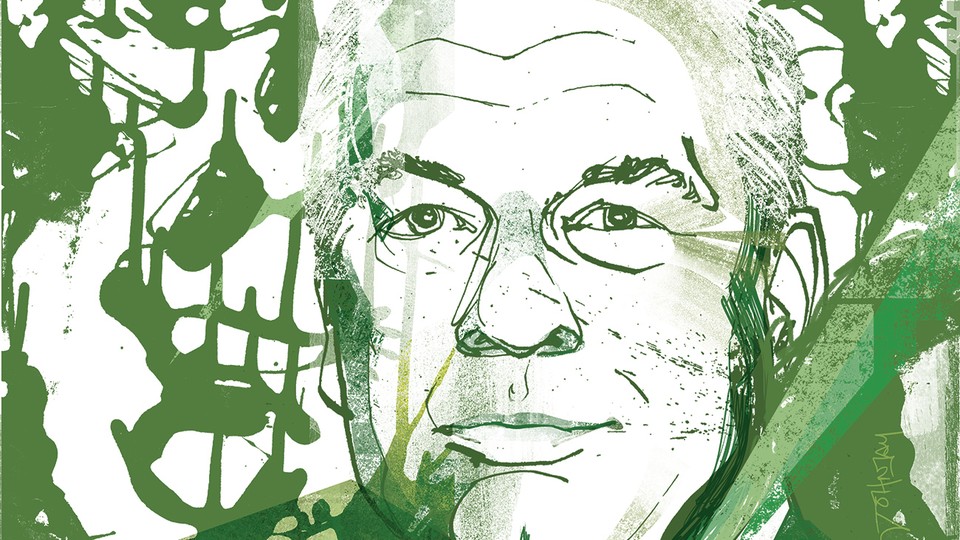 It was early 1993, and Rep. Gene Green's people were just getting the newly elected Texas Democrat's congressional office up and running when, as Moses Mercado, Green's then–chief of staff, recalls, an aide came in and announced that they had a small problem: Green ink wasn't available. But that wasn't a small problem, Mercado says. It was a huge one.
For his entire public life—since he first won election to the Texas House of Representatives, right out of college, in 1972—Green had been doing all his official business in the hue with which he shares his name. It was, quite literally, his signature color: He signed everything in green ballpoint ink. This had never been a problem in the Texas Statehouse (there was also a Brown out of San Antonio who liked to do everything in brown) or in the state Senate, to which Green ascended in 1985.
Washington, D.C., however, proved to be another matter. Official business was done in blue or black, period. "Gene, he was having a reaction," says Mercado, now with Ogilvy Government Relations. " 'We're gonna get green ink, right?' " Letters from constituents had started to come in, asking the office for help, and staffers had been sending out the release forms that would give them the authority to assist with certain issues. The letterhead on those forms was blue; Green "wanted them all in green," Mercado says.
Mercado made his way down to the printer's office, then housed in the basement of the Rayburn building. Was it possible, he asked, to get everything in green? Not without permission of the House Administration Committee, the printer said. Mercado took the news back up to his boss, and Green decided to take his case to the committee chairman, Charlie Rose—but only after he and Mercado tracked down a picture of Rose (because Green was so green he wasn't quite sure what the North Carolina Democrat looked like).
Leaning back in his chair when I visit him in his office last month, Green continues the story, replaying, in his slight Houston drawl, the argument he made to Rose. The chairman, Green says, had expected him to complain about the broom-closet-sized offices and cast-off furniture that new members get. "But I said, 'You only do printing, stationery, in blue and black.' And he said, 'Yeah, that's how Congress is done.' But I said, 'I was a printer.' " (Green had paid his way through college with a job in the business, which he stuck with until 1990.) " 'It's no more expensive to put green ink on that press than to put blue or black, and I promise you we'll use all that green ink you buy.' " Rose thought it over and agreed.
Exactly how far does Green's obsession go? All office business cards are embossed in green, as is the stationery. He carries around green pocket cards that contain information on his bills, to hand out to other members and lobbyists. His staffers show up to events in matching green polo shirts. The folders they clutch as they dart in and out of his office are—unlike those in most House offices—roughly the color of a spruce tree.
After more than 20 years in Congress, the legislator thinks his constituents would be surprised if he sent something over that wasn't in green—although not all of them have been entirely charmed by his colorful way of expressing himself. "I did have a constituent four or five years ago—she never liked me," he says. "So, she called, I returned her call, and she was complaining about something, and she said: 'And why do you always use green? I think it's narcissistic.' And I said, 'Well, ma'am, everyone has to have a gimmick, and that's my gimmick.' "
These days, however, he has some friendly competition. When fellow Texas Democrat Al Green arrived in the House in 2005, he hopped on the green bandwagon—but he signs his name with felt pen instead of a ballpoint. ("I got him to co-sign a letter with me yesterday," Gene Green tells me when we meet, "and I said, 'I'm sure glad we used different kinds of green.' ")
Why does Al Green do it? "I'm trying to prove to Kermit that it is easy to be green," he says. He pauses. "Kermit—he made famous the song 'It's Not Easy Being Green,' and some days it isn't, but I want to let people know that being green does have its advantages." He tells me he likes to print his boarding passes on green paper and hear the comments as he checks in about his name matching his ticket. But if he's signing something important—a letter to the president, maybe—and someone suggests that blue or black might be more appropriate, he reluctantly complies.
Gene Green takes a harder line with his ballpoints. His letters to the president are signed in green. But he does make the very occasional exception: Green's press secretary says that she was on the phone recently, talking through Green's official passport renewal with House Administration, and the person on the other end of the line begged her to have her boss sign, just this once, in blue or black. (He did.)
Beyond the sporadic ink-related concession, there is one other realm in which Green finds himself backing away from his preferred color: environmental policy. He tells me that when Energy Secretary Ernest Moniz gave him a call to discuss the December climate-change negations in Paris, Moniz said, "I know you're a lighter shade of green than most Democrats."
"I think he called you a pale-green Democrat," says Green's press secretary. Green nods. "I'm not a green like most Democrats would be," he explains. "I have a blue-collar district."