Clown Question, Bro: White House Refuses to Rank Terrorism vs. Global Warming
A senior adviser to President Obama declined to say which of the two threats was more important.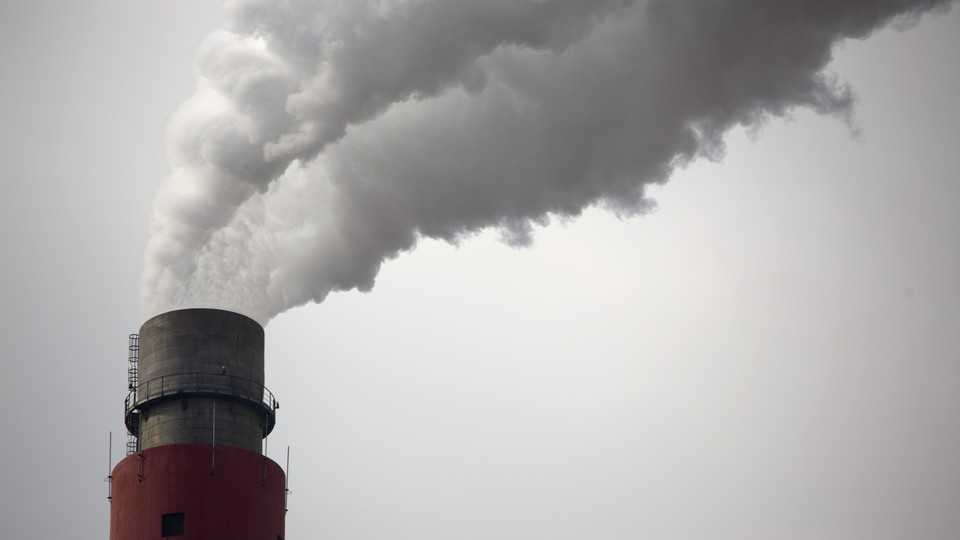 The White House wants no part of the "terrorism versus climate change" threat-ranking game.
Republicans have long pounded top Democrats—including Hillary Clinton, Bernie Sanders, and John Kerry—for deeming climate change a danger on par with (or ahead of) terrorist attacks, saying their statements underscore a failure to take groups such as ISIS seriously.
But when Ben Rhodes, President Obama's deputy national security adviser, was repeatedly asked on Monday how the two stack up, he refused the premise.
"They are both critically important, and we have to do both at the same time," Rhodes said at a news conference in Paris. "They pose different threats. Obviously there is an immediate threat from terrorism that has to be dealt with to protect the American people, to protect our allies and partners, and to root out the cancer of terrorist networks that we see not just in Iraq and Syria but in different parts of the world.
"I think over the long term, clearly we see the potential for climate change to pose severe risks to the entire world," he said at a briefing at the Paris climate-change summit that Obama is attending.
Asked again, Rhodes replied: "I am not going to rank them because they are different.
"You have to do several things at once. Look, we have a threat of terrorism. We are dealing with it by going after ISIL in Iraq and Syria. We have a threat from nuclear proliferation, which is why we committed significant effort to getting the Iran deal in place, so you would not have the further spread of nuclear weapons. And you have a threat from climate change that, again, poses a national security challenge."
Defense and intelligence analysts have for years warned that climate change could worsen prob­lems, such as drought and flood­ing, that can make weak or chaotic states more unstable, and help to fuel migration and conflict. But more tangibly, it's difficult to link any one weather event to climate change.
The threats of climate change and terrorism—and the nexus between them—have gotten fresh attention during the 2016 election cycle and more recently still in the run-up to the United Nations climate talks in Paris that began Monday.
Early last year, former House Speaker Newt Gingrich and Republican Sen. John McCain bashed Kerry for calling climate change "per­haps the world's most fear­some weapon of mass de­struc­tion" and a threat on par with risks including ter­ror­ism, epi­dem­ics, and poverty.
In September of 2014, before she was a presidential candidate, Clinton called climate change the "most con­se­quen­tial, ur­gent, sweep­ing col­lec­tion of chal­lenges we face." That drew swift pushback from Rand Paul at the time. (Clinton downshifted slightly in her formal campaign launch last June, calling climate change "one of the defining threats of our time.")
The issue flared again in mid-November when Bernie Sanders said at a debate that climate change is the greatest security threat facing the U.S. Sanders said climate change is "dir­ectly re­lated to the growth of ter­ror­ism," a comment that drew a more direct link than experts and scientists who study the issue have offered.
And public debate on the issues intensified when Obama said last week that going ahead with the Paris climate summit is a "powerful rebuke" to ISIL after the radical group's deadly attacks in that city. Republicans including Carly Fiorina and Jeb Bush seized on those comments.
"The president said something that I found breathtaking in its naiveté, which is that the best way to show our differences with ISIS is to convene a meeting about climate change," Bush told conservative radio host Hugh Hewitt last week. "That'll show 'em," he said in mocking Obama.
But Obama stood his ground on Monday in his speech at the opening of the United Nations climate talks in Paris, where diplomats hope to finalize a new pact to stem global warming.
"We salute the people of Paris for insisting this crucial conference go on, an act of defiance that proves nothing will deter us from building the future we want for our children," Obama said.