Clinton Tries to Carve Her Own Path on National Security
The former secretary of State carefully tried to put some distance between her policies and those of Obama.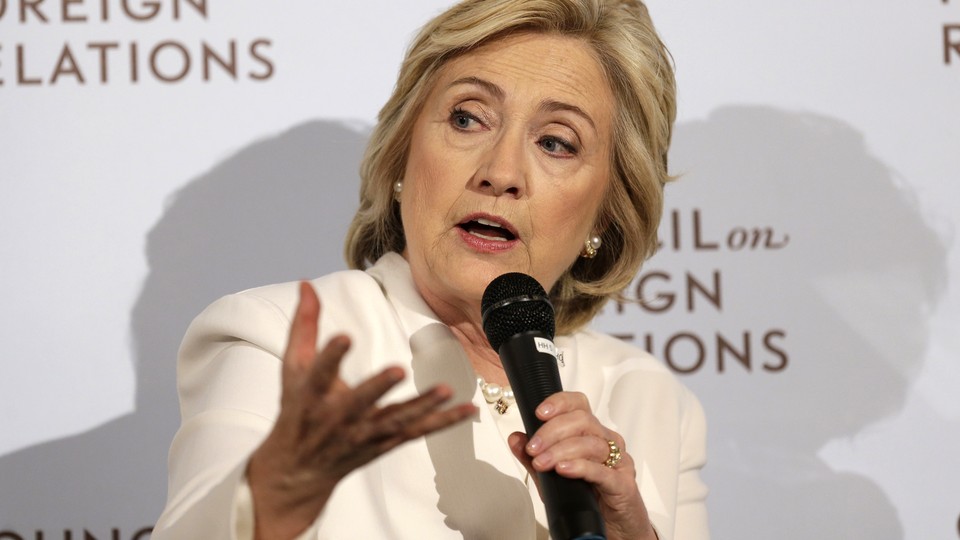 Hillary Clinton often tells crowds on the campaign trail that President Obama doesn't get enough credit for a series of domestic accomplishments, from health care reform to the economic recovery.
But on Thursday, in a presidential campaign suddenly reframed by terrorist attacks in Paris and a rising sense of danger in the American electorate, she moved to place some distance between herself and a president who has taken criticism from both parties for appearing weak and out-of-step on foreign policy.
Speaking at the Council on Foreign Relations in New York, she used her sweeping speech on global terrorism to break from Obama—albeit gingerly—in both substance and tone. In contrast to the president's emphasis on "strategic patience and persistence," Clinton called for a "new phase" in the fight against the Islamic State, detailing a plan to increase airstrikes, deploy additional U.S. special forces to Syria, and institute a no-fly zone to provide safe areas for refugees.
"We have to break the group's momentum and then its back," she said, breaking with Obama's previous comments that the Islamic State had been "contained" in Iraq and Syria. "Our goal is not to deter or contain ISIS, but to defeat and destroy ISIS."
Her appearance was also designed to bolster her image as a potential commander in chief after an uneven Democratic debate last week in which she repeatedly found herself on the defensive over her past support for the Iraq war and her record as Obama's secretary of State. Discussing the fight against ISIS, she declared in the debate, "This cannot be an American fight." On Thursday, she offered a more forceful approach, saying, "This is a worldwide fight—and America must lead it."
Clinton is walking a fine line in trying to draw distinctions with Obama, who remains overwhelmingly popular among Democratic primary voters, and advocating a more aggressive approach to a war-weary electorate. But last week's attacks in Paris, which killed 129 people and wounded hundreds more, seem to have reordered the political landscape. Polls show that a large majority of Americans—including the bulk of Democrats—feel the fight against ISIS is going badly, and the terrorist group now tops the list of concerns of voters.
A new Bloomberg poll released Thursday, however, showed that Americans are sharply divided over whether to send U.S. troops to Iraq and Syria, with 44 percent for the idea and 45 percent against it. And on that count, Clinton echoed Obama, saying deployment of ground troops is "not the smart move to make here."
"If we have learned anything from 15 years of war in Iraq and Afghanistan, it is that local people and nations have to secure their own communities," she said. "We can help them and we should, but we cannot substitute for them."
That stance sets up a stark contrast with Republican presidential candidates, including former Florida Gov. Jeb Bush, who are calling for sending more ground troops to fight the Islamic State.
She also drew distinctions with her GOP rivals by standing firm with Obama on helping refugees fleeing war-torn Syria. Several Republican presidential candidates and a raft of the party's governors have demanded that the administration suspend plans to resettle thousands of refugees, raising concerns that terrorists could slip through the screening process and attack the U.S. Some candidates have suggested that Christian refugees should be given preference over Muslims.
While Clinton said the U.S. should be vigilant in screening refugees and review existing safeguards, she added, "We cannot allow terrorists to intimidate us into abandoning our values and humanitarian obligations. Turning away orphans, applying a religious test, discriminating against Muslims, slamming the door on every single Syrian refugee—that is just not who we are. We are better than that."
Without naming her Republican opponents, she also cited some of their recent remarks about the Islamic State and portrayed them as reckless and harmful to the overall fight.
"The obsession in some quarters with a 'clash of civilizations' or repeating the specific words 'radical Islamic terrorism' is not just a distraction, it gives these criminals, these murderers, more standing than they deserve, and it actually plays into their hands by alienating partners we need by our side. Our priority should be how to fight the enemy," Clinton said. "In the end, it didn't matter what kind of terrorist we called bin Laden, it mattered that we killed bin Laden."
Ultimately, Clinton's speech was about recasting and reclaiming a part of her legacy that had become a liability. "I know how hard this is because we have done it before," she said, talking about her work as secretary of State.
"We have to use every pillar of American power—military might but also diplomacy, development aid, economic and cultural influence, technology, and the force of our values," she said. "That is smart power."