Clinton, Sanders Strategizing In March Primaries and Caucuses
Hillary Clinton is hoping to lock up the nomination in March, but Bernie Sanders expects grassroots enthusiasm will translate into caucus support.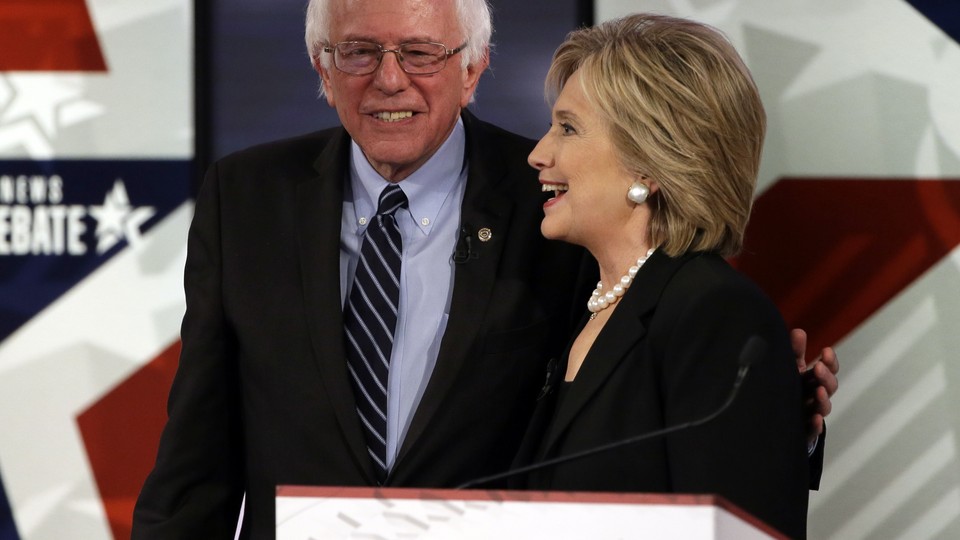 CLEVELAND, Ohio—Bernie Sanders traveled to Cleveland on Monday for his first event in Ohio, which holds its primary on March 15. Meanwhile, Hillary Clinton spent Tuesday in Texas and heads Friday to Tennessee, two states that vote on March 1.
It's not just about Iowa and New Hampshire anymore.
With less than three months until the first votes are cast in the Democratic primary, Sanders and Clinton are still focusing the bulk of their organizing efforts on the four first-in-the-nation states. But the two leading Democratic presidential campaigns are actively thinking beyond them, too—and are slowly starting to mobilize in the states that cast their votes in the month of March.
Once the early states of Iowa, New Hampshire, Nevada, and South Carolina vote, the calendar quickly picks up: 28 states are slated to vote in March, including 11 on Super Tuesday (March 1) alone. That means that more than half of the 4,000-plus pledged delegates for the primary will be accounted for by the end of the month.
For Clinton, a strong showing in the first several weeks of March could put her over the top in delegates for the nomination, or at least make it clear that she has an insurmountable lead. If she struggles in Iowa or New Hampshire, the diverse, delegate-rich states serve as a firewall that would allow her to get momentum back. And for Sanders, March is his only chance to prove that the grassroots enthusiasm that has drawn big crowds and fueled his fundraising success can be turned into a real volunteer operation outside of just the early states.
Clinton's campaign has slowly shifted its focus from the fall—when it focused primarily on Iowa, New Hampshire, Nevada, and South Carolina in anticipation of a competitive primary—to touting its work to building her organization outside of the four early states.
Some of that has come in the form of campaign rallies, town halls, and other events in these states: Of the 11 states that vote on Super Tuesday, for example, Clinton will have visited nine by the end of the month. Her campaign is also focused on building up its volunteer operations as part of its organizing strategy. The campaign put temporary paid staffers on the ground in all 50 states; those staffers were in every state—including in Ohio—from April until July 1, shortly after the former secretary of State's official campaign kickoff rally.
Clinton benefits, too, from long-standing ties in some of the March states where she did well in 2008. In Ohio, for example, Democrats say Clinton's 2008 victory there gives her an edge and a base of support that's already in place.
"Hillary has a big advantage because she already ran here in a Democratic primary in 2008," said Democratic Rep. Tim Ryan. "So she has kind of a built-in volunteer base, a built-in friend base. She did a lot of events here, and Bill Clinton did a lot of events throughout his eight years … so they have some really deep friendships."
Those ties are on display in the dozen "Leadership Councils" that Clinton's campaign has released over the last few weeks, which highlight the fact that elected officials heavily favor Clinton over Sanders—including in Sanders's own state of Vermont. Clinton's Vermont Leadership Council, for example, included Gov. Peter Shumlin, Sen. Patrick Leahy, and former Gov. Howard Dean. Similar councils have been announced in Maine, Virginia, New York, Tennessee, Colorado, Minnesota, Georgia, Oklahoma, Missouri, Florida, and Maryland.
Sanders adviser Tad Devine said that, while it's still early, there are a handful of March contests that look promising for the candidate. Colorado, and Minnesota (March 1) are both caucus states—a system that typically rewards candidates with strong grassroots followings like Sanders. Others on March 1 that are top priorities for Sanders's team are Massachusetts, Oklahoma, Texas and potentially Georgia—and Sanders's home state of Vermont. Beyond March 1, Devine named Maine (another caucus state), Ohio, and Michigan as other March states in which the campaign could put significant resources.
"Our view of this process is, if we're going to win, we're going to have to run an extensive campaign that moves into the early-March states as well," he said. "Our goal is, by the time we get to a place like Wisconsin in early April, we will have demonstrated that Bernie is the guy who can win the most pledged delegates."
While the Sanders campaign only has paid staffers in one of the March states (Texas), aides say the Vermont senator's exuberant rallies across the country have been a good catalyst for getting people involved. Of the rallies he's had around the country, several large ones—including in Colorado, Minnesota, Maine, and Massachusetts—have been in March states that the campaign is potentially looking to target.
In Ohio, especially, the need for volunteers is imminent: In order to qualify for the ballot here, candidates must submit between 1,000 and 3,000 valid signatures by Dec. 16. With less than a month remaining, early organizing power here is essential to making sure the candidates have the chance to appear on the ballot. (That's also true in other states with heavy signature requirements, like Virginia, which requires 5,000 signatures from across the state's congressional districts to be filed by Dec. 10.)
At Sanders's Cleveland rally Monday night, members of "Bernie's Ballot Brigade" roamed the hallways and walked up and down the lines of supporters outside, circulating clipboards with ballot petitions on them. Kevin Keefe, a member of that team, spoke to the 7,000 people gathered in Cleveland State's Wolstein Center about the importance of gathering those signatures now and said the campaign was aiming to collect 6,000 signatures.
"We only have 29 days to get this baby done," he said, to cheers from the audience. "Bernie needs your help, and Bernie needs your help tonight."
CORRECTION: The original version of the article reported Sanders didn't have any paid staff in March primary states. He has paid staff in Texas, which holds its primary on March 1.