The Killing of Laquan McDonald
Prosecutors indict a Chicago police officer for first-degree murder and release a "deeply disturbing" video of the shooting.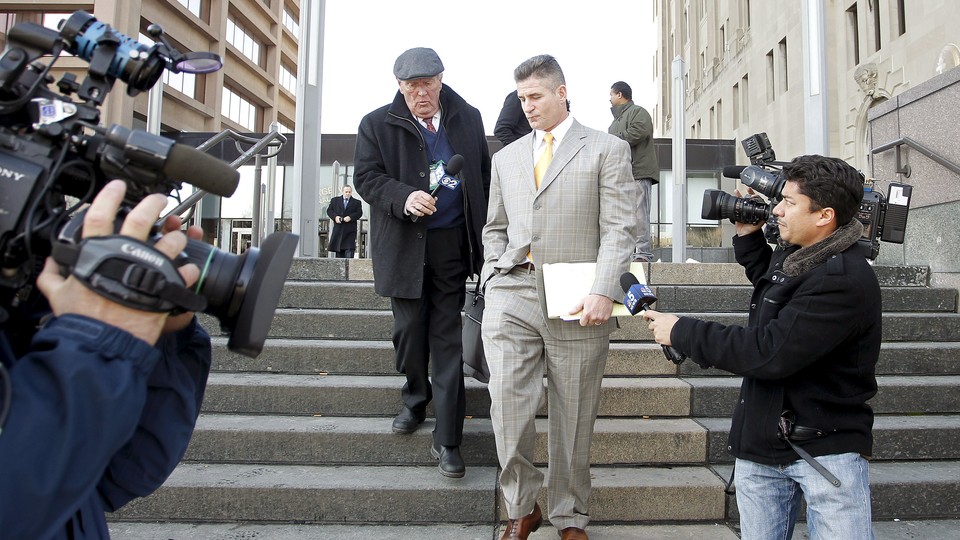 Updated at 1:25 a.m on November 25.
The city of Chicago released the dashcam footage of Laquan McDonald's final moments Tuesday evening, one day earlier than they had originally announced. City officials gave journalists a link to a third-party site where they would have a one-hour window to download the six-minute and fifty-three-second video clip. (City officials bizarrely cited "limited bandwidth" as the reason for for the time limit.) The website crashed almost immediately, but DNAinfo Chicago uploaded the entire video to YouTube.
The clip begins with a 45-second disclaimer then shows the police vehicle on which the dashboard camera was mounted travel to the scene. Five minutes and fifteen seconds pass before McDonald first appears, walking in the middle of a mostly empty city street near two other police vehicles. McDonald is walking at a brisk pace while carrying something in his left hand. (Police reports say it was a knife.)
McDonald veers away from one of the vehicles as he walks down the street, out of which come two officers in armored vests with their guns drawn and aimed at him. The dashcam's car parks at an angle, leaving McDonald visible in the far left and the two officers completely off-camera.
As the camera stops moving, McDonald spins and falls to the pavement as he is struck by gunfire. McDonald then lies on the ground, still moving in a semi-fetal position, for another twelve to fifteen seconds. The video lacks audio, making it hard to tell when the shots are being fired at him. Only the small puffs of smoke on his body mark the entry of additional bullets. Sixteen gunshots struck McDonald, according to the coroner's report.
After about twenty seconds from when McDonald first appears to be struck, an officer walks over to his body and kicks the knife out of his hand. The video continues for another minute as more officers arrive and as McDonald lies on the ground. No attempt to render first aid is shown on the clip.
The video sharply contradicts what police initially claimed about McDonald's death, as shown by a Chicago Tribune article published on October 21, the day after the shooting.
About 9:45 p.m. Monday, Chicago Lawn District officers received a call about a person breaking into cars in the 4100 block of South Karlov, according to a statement from Chicago Police.

Officers found the 17-year-old "with a strange gaze about him" carrying a knife which he refused to drop when police ordered him to do so, Fraternal Order of Police spokesman Pat Camden said.

The teen used the knife to puncture the front passenger-side tire of a squad car and damage its front windshield before leading officers on a foot chase, police said.

Other officers used a squad car to try and box the boy in against a fence near 41st and Pulaski, Camden said. An officer shot him in the chest when he "refused to comply with orders to drop the knife and continued to approach the officers," police said.
Protesters peacefully took to the streets throughout Chicago on Tuesday night in response to the video's release. More demonstrations are slated to take place throughout the week.
---
Prosecutors in Chicago filed first-degree murder charges on Tuesday against a white police officer who fired 16 shots in 15 seconds at a black teenager last year, as the city braces for the public release of footage from the incident.
Cook County State's Attorney Anita Alvarez charged Chicago Police Department officer Jason Van Dyke on Tuesday for his role in the shooting death of 17-year-old Laquan McDonald in October 2014. Van Dyke is the first on-duty Chicago police officer to be charged with first-degree murder in almost 35 years, according to the Chicago Tribune.
City officials resisted legal challenges to release the footage for almost a year. Then, on November 19, a Cook County judge ruled that the city had violated open-records laws and ordered the footage to be made public. Alvarez told reporters during a Tuesday press conference that while she had decided to charge Van Dyke in recent weeks, she felt compelled to file charges ahead of the footage's release "in the interest of public safety" after the judge's ruling. She added that the footage was "deeply disturbing" and "would tear at the hearts of all Chicagoans."
Van Dyke shot McDonald during an encounter in Chicago's Southwest Side on October 20, 2014. According to The New York Times, officers answered a 911 call to investigate reports of a man breaking into vehicles with a knife. Police officials say they found McDonald at the scene carrying a folding knife, that they instructed him to put it down, and that McDonald began walking or jogging away from the officers after not complying with their instructions. The officers followed him onto Pulaski Road, where Van Dyke shot him sixteen times. A dashboard camera on one of the police vehicles captured most of the incident, including its conclusion.
That footage depicts a far more gruesome scene than police officials first indicated. In a court filing on Tuesday, the Cook County state attorney's office revealed that Van Dyke opened fire only 30 seconds after arriving on the scene and just six seconds after exiting his vehicle. "An analysis of the video establishes that 14 to 15 seconds passed from the time [Van Dyke] fired his first shot to clear visual evidence of a final shot," the filing states. "For approximately 13 of those seconds, McDonald is lying on the ground. Of the eight or more officers on the scene, only [Van Dyke] fired his weapon."
Prosecutors also said that, based on eyewitnesses and the video itself, McDonald was neither advancing on Van Dyke nor physically threatening him when Van Dyke opened fire. "None of the [other] officers observed McDonald attempt to throw his knife at [Van Dyke], jump or lunge toward Van Dyke, raise his hand as if to stab [Van Dyke]" or do anything else not depicted in the video that could be interpreted as threatening, the filing states.
The police department transferred Van Dyke to paid desk duty in the aftermath of McDonald's death while the Cook County state attorney's office and the FBI opened a joint investigation into the shooting. City officials reached a $5 million settlement with McDonald's family before the family had filed a lawsuit; the city council approved the settlement without discussion, dissent, or viewing dashcam footage of the shooting.
Chicago Mayor Rahm Emanuel and other city officials vociferously fought to prevent the footage from being made public, citing the ongoing state and federal investigations. Freelance journalist Brandon Smith filed a freedom-of-information request to obtain the footage, triggering a legal battle that reached Cook County judge Franklin Valderrama. On November 19, Valderrama ruled in Smith's favor and ordered the footage to be made public.
Another reason the city fought to keep the video away from the public is its reportedly gruesome content. Tribune columnist John Kass wrote earlier this month that viewers told him that it "shocks the conscience" and is "worse than anything that's come out this summer on police cases anywhere." Even Daniel Herbert, an attorney representing Van Dyke, told reporters it was "graphic" and "difficult to watch at some points." Herbert also maintained that his client feared for his life and acted within the law and departmental policy.
The video's imminent release appears to have spurred city officials into action over the case. Before Alvarez filed charges on Tuesday, Emanuel described the video as "profoundly hideous" in a call with community leaders and pastors on Monday, according to the Tribune. Chicago Police Superintendent Garry McCarthy ordered most of the police force into uniform on Tuesday morning as the city prepares for demonstrations after the video's release.
Mass protests erupted in major U.S. cities like St. Louis, Baltimore, New York City, and Los Angeles after high-profile police shootings of black men and women in recent years. But Chicago has largely escaped a similar public reckoning despite its own deep history of police brutality and excessive force.
In perhaps the most notorious case, Chicago police commander Jon Burge and his unit used torture to extract confessions from more than 200 defendants over a three-decade span between 1972 and 1991. Some of those defendants received death sentences as a result of their coercion, and the ensuing scandal led Illinois Governor George Ryan to commute the state's entire death row in 2003. In April, activists successfully convinced the Chicago City Council to create a $5.5 million reparations fund for victims of police torture. More recently, The Guardian reported that Chicago police officers held over 7,000 people at a "off-the-books interrogation warehouse" at Homan Square over the past decade.
McCarthy also called for the firing of officer Dante Servin, who was acquitted of involuntary manslaughter earlier this year in the 2012 shooting death of Rekia Boyd. Although her case antedated the Black Lives Matter movement, protesters throughout the country frequently invoked Boyd's case as an example of wrongful police killings of unarmed black men and women.