The Chicago Protests Aren't Just About Laquan McDonald
Activists are clashing in the streets with the same police force whose actions they're protesting.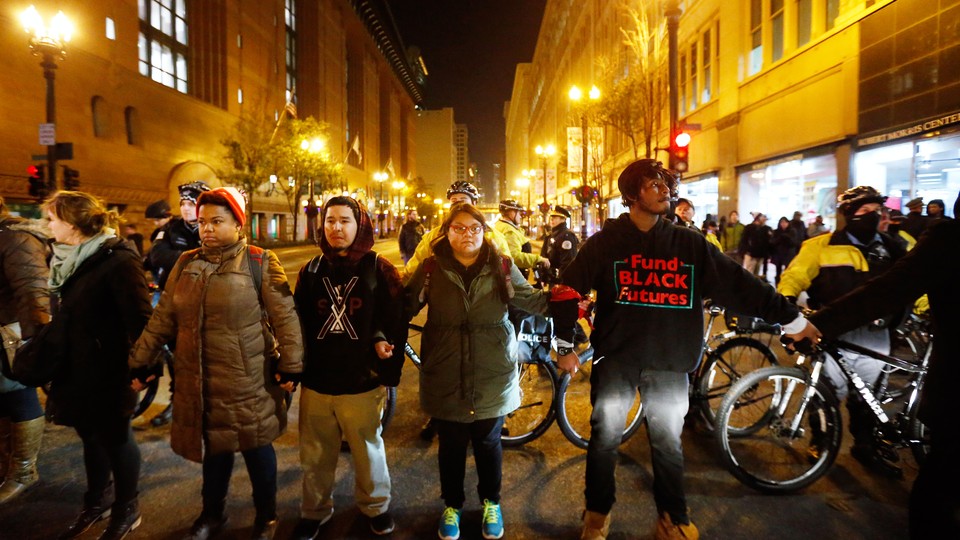 Updated on November 25 at 3:06 p.m.
Marchers took to the streets of Chicago Tuesday night, protesting the death of Laquan McDonald. McDonald, a 17-year-old black man, was shot by Officer Jason Van Dyke in October 2014, but video of his death was only released Tuesday, the same day Van Dyke was charged with first-degree murder. In general, the protests seem to have remained calm. Police said there were few scuffles and fewer arrests.
But there's at least one notable exception: Malcolm London. The 22-year-old Chicagoan was arrested and charged with aggravated battery to a police officer, a felony. (Update: Prosecutors dropped the charge against London Wednesday afternoon.) London isn't just any marcher, though. He's a high-profile activist who has been particularly outspoken about McDonald's death and has called for the firing of Police Commissioner Garry McCarthy. A well-regarded slam poet, he delivered a Ted Talk two years ago.
What happened to lead to London's arrest? Police say London took a swing at an officer, who was treated at a hospital and released. A Chicago Tribune reporter tweeted a picture that may show the moment, but it's impossible to tell from the single frame whether London is actually punching anyone:
Meanwhile, fellow activists are furious. Black Lives Matters leaders, including DeRay Mckesson, say that London didn't punch anyone, and they hope to find video to prove it. They also say the police can't be trusted to tell the truth about London's arrest.
That gets to the heart of this protest. The official account of McDonald's shooting, published the day after he died in the Chicago Sun-Times*, turned out to be almost completely contradicted by the video. Then, police and city authorities stonewalled the release of the video of McDonald, making it public only when ordered to do so by a judge. While the contents of the video had been known for some time, a prosecutor announced the first-degree murder charge only Tuesday, hours before the video went public. (She said she had decided to charge Van Dyke weeks ago but was announcing the charges because of public-safety considerations.)
Given all that, protestors demand, why should anyone believe what the police say about London or any other activist?
The paradox is that people are marching in the streets, accusing the Chicago Police Department and Mayor Rahm Emanuel of committing and failing to stop huge violations, including murder. Yet it is those same city authorities who are charged with pacifying the protests that are aimed at them.
This is exactly what happened in Baltimore after the death of Freddie Gray: Police tried, and largely failed, to calm people who had lost all faith in their probity. So far, the Windy City protests have been more controlled than their counterparts in Charm City. But in other ways, Chicago authorities seem to have learned surprisingly little from what happened in Baltimore this spring.
In Baltimore, Mayor Stephanie Rawlings-Blake seemed to realize the gravity of the situation after Gray's death. While authorities are widely seen to have botched their crowd-control, they quickly appealed to calm after Gray's death, suspended the officers involved, and promised a quick investigation. Chicago can't claim anything like that sort of urgency. For one thing, it took 400 days for authorities to take any action more concrete than suspending Van Dyke. They fought tooth and nail against the release of the video. While Van Dyke was suspended from police duties after the shooting, his pay only stopped on Tuesday
"What happened here is wrong. There is no justification and it's profoundly hideous, in my view," Emanuel, a Democrat, said during a short call with ministers on Monday. "And it's a shock to your conscience of what happened, and it should not have happened." Yet the mayor himself said he had not yet watched the video, although the city approved a $5 million settlement with McDonald's family in April.
"Jason Van Dyke violated both the standards of professionalism that come from being a police officer, but also basic moral standards that bind our community together," Emanuel said during his press conference on Wednesday. "Jason Van Dyke will be judged in a court of law. That's exactly how it should be."
He also spoke at length about members of the Chicago community coming together. These remarks seems to risk misunderstanding the anger sparked by the McDonald video. For one thing, Emanuel's emphasis on shared community responsibility provoked criticism that he is passing the buck on accountability, a case that a pair of scorching Chicago Tribune columns made Wednesday. (Somewhat jarringly, Emanuel also went from a news conference about the video to the jolly occasion of a Christmas tree lighting.)
Meanwhile, the focus on Van Dyke's actions skips over the extent to which McDonald's death, while horrifying in its own right, has become a symbol of a much longer and broader critique of the Chicago Police Department. "Jason Van Dyke does not represent the police department," Emanuel said, but many activists very clearly believe that he does, and they bring a long series of damning statistics and stories to make that case. As my colleague Matt Ford wrote Tuesday:
In perhaps the most notorious case, Chicago police commander Jon Burge and his unit used torture to extract confessions from more than 200 defendants over a three-decade span between 1972 and 1991. Some of those defendants received death sentences as a result of their coercion, and the ensuing scandal led Illinois Governor George Ryan to commute the state's entire death row in 2003. In April, activists successfully convinced the Chicago City Council to create a $5.5 million reparations fund for victims of police torture. More recently, The Guardian reported that Chicago police officers held over 7,000 people at a "off-the-books interrogation warehouse" at Homan Square over the past decade.
A recent study found that officers were very seldom disciplined despite many citizen complaints. Those statistics, of course, only became public after a long legal battle that the city resisted. Of 400 police shootings since 2007, the city's independent review board found only one to be unjustified. And that doesn't even get into the thorny questions specific to the McDonald case, like the alleged deletion of Burger King security-camera footage.
One other difference between how Chicago and Baltimore have handled their cases is that, in Baltimore, prosecutor Marilyn Mosby moved swiftly to bring an unusually strong set of charges against six officers involved in Gray's death. Cook County State's Attorney Anita Alvarez did bring what is reportedly the first first-degree murder charge against an on-duty Chicago cop in 35 years, but it also came only after 400 days. She, too, is coming in for harsh criticism for her slow pace.
It's surprising that despite watching similar protests unfold in Baltimore other cities, Emanuel seems to underestimate the depth of the anger that has built up against the police department. It's much less surprising that activists don't believe the official story about Malcolm London's arrest.
---
* This article originally said the account was published in the Chicago Tribune. We regret the error.